Seniors, caregivers of elderly patients to get more support under 'refreshed' national plan for successful ageing
SINGAPORE — Caregivers of elderly folk, and seniors themselves, can look forward to receiving more support under an updated national plan on ageing.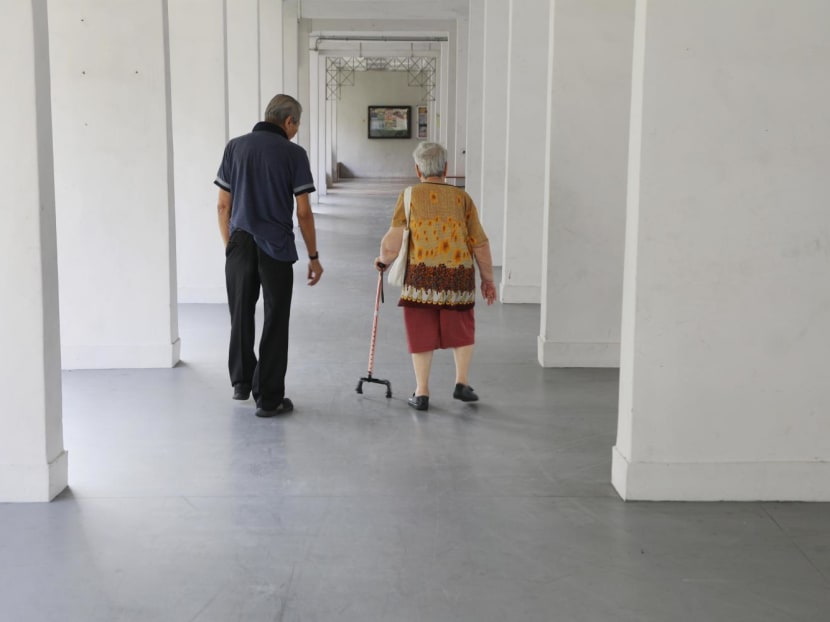 More support for seniors and their caregivers will be rolled out under the Action Plan for Successful Ageing 2023
The plan comprises a wide range of initiatives including funding support to encourage seniors to contribute actively through work and volunteerism
Programmes and infrastructural improvements will also be rolled out to help seniors stay connected with their loved ones and the community
SINGAPORE — Caregivers of elderly folk, and seniors themselves, can look forward to receiving more support under an updated national plan on ageing.
The 2023 Action Plan for Successful Ageing offers more financial assistance for caregivers and support for elders, such as measures against workplace discrimination and greater access to activities to keep them active and engaged in the community. 
This multi-agency initiative helmed by the Ministry of Health (MOH) builds upon the first action plan launched in 2015, and was formulated after engagement sessions with about 5,000 members of the public.
WHY IT MATTERS
By 2030, more than 900,000 — or roughly one in four Singapore citizens — will be aged 65 and above, each of them supported by 2.7 working adults, MOH said.
And about 83,000 seniors will live alone, while around 100,000 will require help with at least one daily living activity.
This can and does place a lot of stress on caregivers. TODAY earlier reported on the sacrifices made by caregivers in fulfilling their duties, such as giving up their own careers, finances and even health.
The issue received much attention especially during the height of the Covid-19 pandemic.
During the 2021 Budget debate, for example, a few Members of Parliament spoke on how caregivers here often experience burnout and struggle with mental and physical health problems due to the stress incurred from their responsibilities. 
Speaking at the launch of the action plan on Monday, Health Minister Ong Ye Kung described ageing as "the most significant" social development in Singapore.
Mr Ong, who chairs the ministerial committee on ageing, said: "The fact is that ageing will affect every facet of our lives, and we need to make changes and adjustments to public policy, infrastructure, social practices, individual behaviour et cetera, in order to embrace ageing as an impending fact of life." 
The following are some of the key components of the 2023 Action Plan for Successful Ageing.
DEMENTIA AND CAREGIVING
Dementia, which Mr Ong said is a growing challenge, is one of the focus points in the 2023 Action Plan.
He said that an estimated one in 10 people aged 60 and above has some form of dementia.
MOH and its partners will carry out various measures to help elders living with dementia and their caregivers through:
Prevention – Scaling up of community exercise programmes to improve cognition and physical health and reduce isolation
Early diagnosis and support – The number of community outreach teams identifying at-risk seniors and referring them for assessments and interventions will be increased by 2025
Overall, for caregivers — whether they are looking after people with dementia or other conditions — efforts will be made to:
Give more financial aid – The Home Caregiving Grant, a monthly cash payout to support people caring for a family member who has at least permanent moderate disability, will be doubled to up to S$400 for families that meet the income criteria, starting from this year
Enable flexi-work – A new set of Tripartite Guidelines on Flexible Work Arrangements will be introduced by 2024, with the aim of making it easier for caregivers to work flexibly around family commitments, while allowing seniors to contribute to the workforce at their own pace
KEEPING ACTIVE
The action plan will also provide more opportunities for seniors to continue keeping active through physical activities and by contributing meaningfully to the community through work and volunteerism.
For example:
The number of Active Ageing Centres will be almost doubled to 220 by 2025, from 119 now
The Senior Employment Credit, which provides wage offsets for employers who employ Singaporeans aged 60 and up, will be extended to 2025. The Part-time Re-employment Grant will also be extended for the same period
The Government will enact workplace fairness legislation to protect workers against workplace and age discrimination
The Silver Volunteer Fund, launched in 2016 to support organisations in recruiting and training senior volunteers, will be enhanced in 2023
STAYING CONNECTED
Efforts will be made to help seniors stay connected with their loved ones and the community. These include:
More elder-friendly road infrastructure, such as retrofitting lifts at around 100 pedestrian overhead bridges, and implementing 50 Silver Zones by 2025. Silver Zones are residential areas with a high proportion of seniors, requiring motorists to lower their speeds when driving in these areas, for instance
Building on efforts to equip seniors with digital skills, such as the Seniors Go Digital programme that has trained more than 210,000 elders to use smartphones in a safe and secure manner
The full details of the 2023 Action Plan for Successful Ageing can be found on MOH's website.