Caring for the dying: Why some hospice volunteers would like in-person interactions to resume soon
SINGAPORE — Having been a volunteer at a hospice for about seven years, Mrs Linda Hart feels the weight of the Covid-19 pandemic. Not for herself but for the people who are dying of a terminal disease such as cancer.
Two hospice volunteers talked about their experiences supporting the terminally ill
Covid-19 restrictions have affected many volunteering activities
The volunteers would like more face-to-face activities to resume in the year ahead
This is because human connection is essential in supporting patient nearing the end of their lives, they said
SINGAPORE — Having been a volunteer at a hospice for about seven years, Mrs Linda Hart feels the weight of the Covid-19 pandemic. Not for herself but for the people who are dying of a terminal disease such as cancer.
The 65-year-old, who is a volunteer at Dover Park Hospice, thinks that the restrictions on volunteer activities at such facilities may be unsustainable in the long run, especially when it comes to caring for older people and those with advance illnesses.
"If Covid-19 is going to be with us for the next two, three or five years and we have to live with it, I feel that we all need to go back to physical volunteer work — at least in stages, like what the Government is doing when they gradually ease the restrictions," she said.
"If we are protected and we have done all that we need to do, such as getting vaccinated and take antigen rapid tests regularly, then perhaps it's time to think about easing off some restrictions."
She added: "Yes, we have to be careful but at the same time, I feel we should try to let people be together a bit, especially for elderly people and people who are very sick. We all need that human connection."
As with so many aspects of life, Covid-19 has affected the way volunteer work in hospices and other care facilities are carried out.
At the beginning of the pandemic in 2020, Dover Park Hospice had to suspend all volunteer activities. Today, some day-care physical volunteering activities have resumed with precautionary measures in place.
There are still restrictions on face-to-face activities, but many of its volunteers have adapted and continued to give their time in other ways on the palliative care scene.
For instance, since face-to-face interactions with in-patients are not possible, Mrs Hart conducts activities on digital platforms and has helped out with fundraising activities.
Another volunteer, Miss Yeo Tze Yee, 21, made a video clip to raise awareness on hospice care.
As volunteer befrienders, they offer companionship and provide psychological support patients facing imminent death.
Both of them told TODAY that they hope more face-to-face interactions and activities will resume in phases in the year ahead.
This is because even with the aid of technology, the human touch remains a critical element in end-of-life care.
Miss Yeo said: "I understand why the measures are in place at the moment because it won't be good if a patient gets Covid-19 from a volunteer.
"But towards the end of their life, in the hospice context, I think the main point of having befrienders is to be with the patients till the end so that they don't leave lonely."
Dover Park Hospice was founded in 1992. Unlike Assisi Hospice, which started out as part of Mount Alvernia Hospital earlier, Dover Park Hospice was the first in Singapore to be designed and built as a facility offering end-of-life care.
The non-profit organisation provides holistic palliative care for patients in the last phase of life.
There are now around 400 volunteers across 18 groups, each specialising in different activities such as hairdressing, befriending, excursions and gardening.
However, the scope of volunteer work has changed with Covid-19 restrictions, making it difficult for volunteer befrienders to visit patients and conduct in-patient activities.
Acknowledging the importance of finding ways to make the remaining days of terminally ill patients more meaningful during the pandemic, Ms Tok Shou Wee, volunteer programme manager at the hospice, said that it has turned to using video calls to connect volunteers with patients to reduce their isolation and loneliness.
In June 2020, its pet-assisted activity volunteer group improvised by organising a virtual session with its in-patients, facilitated by medical social workers and the volunteer programme team.
Pre-Covid-19 times, this group of volunteers would take their pets to the hospice to interact with patients.
"Some of the patients enjoyed the improvised virtual session and we have also extended this pet tele-visits to our home-care patients and day-care clients," Ms Tok said.
She added that there are plans to resume volunteer activities such as hair-cutting and massage gradually with infection control measures in place.
"These activities will be adapted and more controlled in terms of the number of volunteers and based on the patients' needs," she said.
GRANDMA'S DEATH
Miss Yeo, a third-year medical student, started volunteering at Dover Park Hospice as part of her university's community involvement programme in 2019.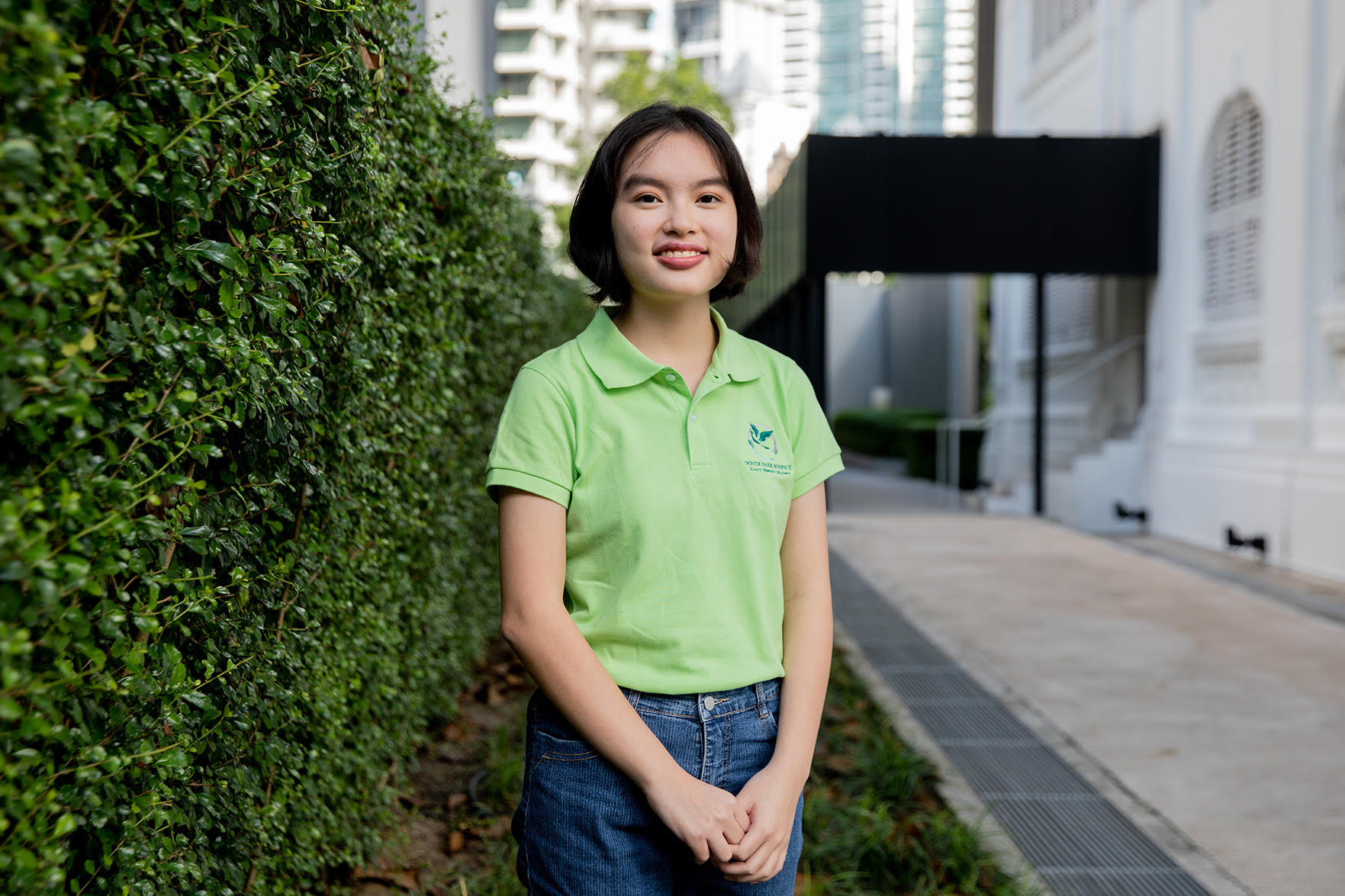 She said that she chose a programme that involved palliative care because she was keen to learn more about it.
"This stemmed from my personal experiences caring for my grandma who was ill when I was preparing for my A-Level exams," she said.
"Seeing her deteriorate while I was trying to balance both studies and spending time with her in the hospital was quite difficult. But I think it made me appreciate how transient life is."
Her grandmother, who had dementia, died after coming down with sepsis. The life-threatening condition occurs when the body's response to an infection damages its own tissues.
Miss Yeo said that her volunteer experience at Dover Park Hospice gave her a glimpse of what it means to have a "good" end-of-life journey, when patients are given the right support, adequate pain management and loving environment.
It has also made her rethink hospice care.
"Many people have this perception that a hospice is a dreary place, but it is not true," she added. 
"There was once I accompanied a patient to an art-and-craft session, where people were just chilling out, doing their art and singing. I recall that the atmosphere was very cheery and vibrant.
"It's a misconception that a hospice is a place where people are waiting to die. In reality, they are fully living out the rest of their lives," she added.
A MENTOR TO NEW VOLUNTEERS
Mrs Hart, a retired personal assistant, decided to become a hospice volunteer when a friend was diagnosed with terminal cancer and admitted to Dover Park Hospice. That was in 2014 and she has been volunteering her time there since then.
"I witnessed first-hand how the hospice team looked after my friend, the support they provided her and her family, and thought I'd like to try to help, too," she said.
Some of the moments she has found meaningful were when she played a part in helping estranged family members come together again or patients overcome certain psychological hurdles.
Besides being a companion to patients, Mrs Hart assists in conducting activities at the day-care centre and mentors new volunteer befrienders. She goes through the dos and don'ts while supporting patients and their caregivers.
"Not everyone has experience with people who are dying. Some are frightened or don't know what to say. I help them to be a little bit more prepared on how to deal with various situations and emotions," she explained.
As a mentor, Mrs Hart has encountered some volunteers with interesting backgrounds. For example, there was a retired intensive care unit nurse who wanted to volunteer at the hospice but did not want to have anything to do with in-patients.
"She told me she cannot face the fact that she won't be able to help them walk out (of the hospice)."
SUPPORTING MORE THAN JUST THE PATIENT
While most of her volunteer work involves supporting patients, Mrs Hart said that engaging the patients' caregivers and family members is as important.
This is because death is not just a personal experience; it also affects a patient's family and loved ones.
"Their journey is also very difficult, or maybe even more difficult than the person on the end-of-life journey," she said. 
"Whether you are a wife, sister or a relative who cares a lot for the person, you would want to do all you can. But you know that at the end of the day, that person is still going to leave and whatever you have done is not enough.
"With palliative care, when done correctly, family members and caregivers will have that support to see them through it."
Yes, we have to be careful (about Covid-19) but at the same time, I feel we should try to let people be together a bit, especially for elderly people and people who are very sick. We all need that human connection.

Mrs Linda Hart, a volunteer at Dover Park Hospice
During the course of her volunteer work, Mrs Hart recalled an especially heartrending case involving a terminally ill man, whose sister refused to accept his impending death.
"His wife had accepted it and was ready to let him go but his sister kept telling him, 'Don't go, don't go', which made it much more difficult for him to leave peacefully, I think.
"I felt sad for his wife and sister but I felt the saddest for him. You could tell he was struggling a lot and I think he held on for longer for his sister's sake."
The hardest part, Mrs Hart said, was that she could not do anything at that moment to alleviate the suffering of the patient and his loved ones.
"There was nothing I could say or do but let it run its course. I deal with heartbreaking moments like this by going for long walks and meditation, then I count my blessings.
"I'll also talk to my husband and tell him that when the time comes, please let me go."