CAYE MediSave contributions to be piloted from 2020 for freelancers hired by Govt: Josephine Teo
SINGAPORE — Some real estate agents are finding it increasingly tougher to pay the compulsory yearly contributions into their Central Provident Fund's (CPF's) MediSave accounts and may risk losing their jobs because of it.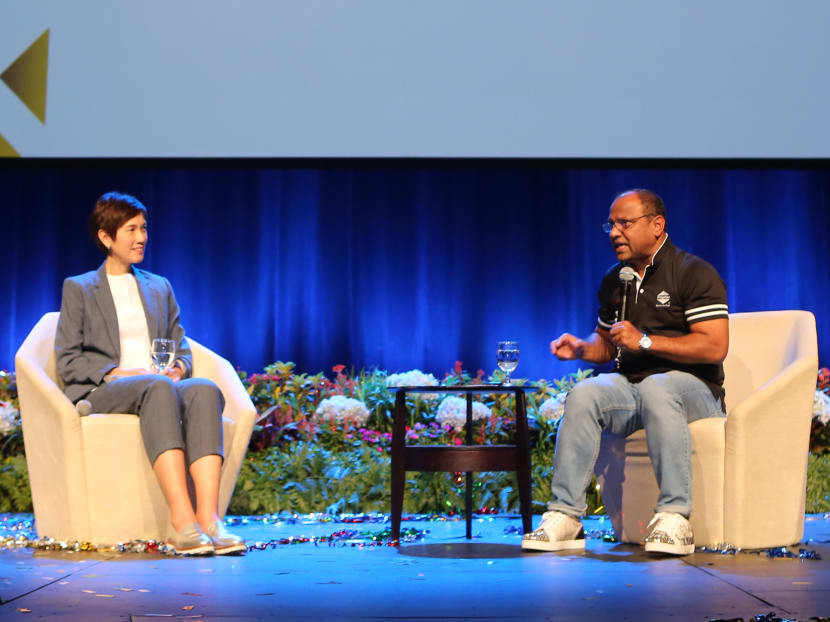 SINGAPORE — Some real estate agents are finding it increasingly tougher to pay the compulsory yearly contributions into their Central Provident Fund's (CPF's) MediSave accounts and may risk losing their jobs because of it.
The contribution, they said, is calculated based on the previous year's income and they have pulled in lower earnings this year due to a weakening economy. 
Acknowledging this issue, Manpower Minister Josephine Teo said that this is why the contribute-as-you-earn (CAYE) scheme was announced last year to help self-employed persons and freelancers channel money into MediSave as and when they are paid for their work instead of requiring a yearly lump sum.
And from 2020, under this scheme, this group of workers will have small and regular contributions made to their MediSave accounts when the Government contract them and pay them for their services. 
Mrs Teo, who was speaking on Tuesday (Aug 20) at the PropNex Convention held in Star Vista, said that as this will be a pilot that the Government is rolling out for freelancers it hires, there are no plans yet to extend the CAYE model to the private sector.
Similar to how a portion of a worker's salary is paid to their CPF accounts by an employer on a monthly basis, with CAYE, the service buyer makes a contribution to MediSave on the freelancer's behalf each time their contract fees are paid.
So a freelance photographer who does work for the Government, for example, will have his MediSave contributions first paid out by the Government before he receives the rest of his payment for the job.
Mrs Teo said: "It adds convenience and the self-employed persons don't have to worry about having to contribute bigger lump sums during 'dry seasons'. They also start getting the 4 per cent MediSave account interest earlier."
'WHERE SALESPEOPLE ARE STRESSED'
The difficulties faced by property agents in meeting the yearly compulsory contribution to MediSave was raised at Tuesday's event by Mr Ismail Gafoor, chief executive officer of real estate agency PropNex.
He described how agents who made S$100,000 worth of sales last year could still face cashflow problems this year, due to a downward property market cycle and slow payments by developers.
Unable to pay their MediSave contributions by the end of the year, property agents have found that they are unable to renew their agent licences as well, which will affect their livelihood.
"But his obligation is that he has to pay, otherwise next year, his licence is affected. So there is a three-year period to consider — last year's performance, (MediSave) payment this year, and next year's survivability. This is where salespeople are stressed," he said to applause and sounds of airhorns from close to 4,000 PropNex agents in the crowd.
Mrs Teo agreed that regular employees do not face such stresses since MediSave automatically draws from their monthly salary contributions.
To the agents, she said: "That is not the peace that you have. So that is why we decided to try out CAYE."
Right now, freelancers who earn more than S$6,000 net trade income have to make compulsory MediSave contributions within 30 days from when they receive a yearly notice from the tax authority, although contributions can also be made by instalments throughout the year. Net trade income refers to gross trade income but excluding all allowable business expenses, capital allowances and trade losses.
Mrs Teo said that paying MediSave contributions is an "obligation" for a self-employed person.
Unlike employees, these freelance workers usually have no medical benefits and the loss of income could be an added burden, she said during her speech earlier at the convention.
"If we open this scheme to the private sector and you believe this scheme to be helpful to you, then before the commission is paid out to the agent, at the backend you can calculate what the MediSave contribution should be… and that goes into the (MediSave)," she added.
Nearly 4,000 PropNex agents and staff members attended the convention to thank its best performing employees. PropNex has more than 8,000 agents in its stable.
Property agent Jonathan Heng, 50, said that the CAYE scheme would be beneficial for agents, avoiding the need to constantly calculate and worry about the MediSave contributions.
But others, such as property agent Kevin Ng, 39, said that it could be a double-edged sword for self-employed workers who are trying to make ends meet and have to see some of their fees going to MediSave.
"Even now, when the time comes to pay MediSave contributions at the end of the year, it can be a very painful part for many of these workers," Mr Ng said.
VOLUNTARY CONTRIBUTIONS
During the convention, Mrs Teo also urged the housing agents to make voluntary contributions to their CPF if they can afford it, to save more for retirement.
On this, Mr Ismail asked if it was possible for self-employed persons to avoid having to pay further MediSave contributions if they have already reached the maximum amount allowable in the MediSave account, which is now S$57,200 for 2019. Any contribution beyond this amount will go towards the CPF Special or Retirement Accounts.
He said: "Some of us have concerns that when the MediSave component is fulfilled, (we still have to pay) in the name of MediSave (and then it gets channelled) to Special Account (when the cap is reached). No doubt the interest is much higher (in Special Account), but this is not right as it is collected in the name of MediSave."
Mrs Teo replied that self-employed persons are "just as valuable" as an employee. However, as it stands, those who are self-employed contribute only to MediSave and not to the CPF Ordinary Account or directly into the Special Account. In other words, they are already not contributing as much even though they should be doing so as valued workers.
"Rightly speaking, if it is on par with regular employees, it wouldn't just be the MediSave," she said.
She added that CPF, as Singapore's social security system, is different in how it functions.
"We are quite unique in the world in that our CPF tries to help individuals meet three basic needs: A roof over your heads; the ability to take care of healthcare expenses, especially the big bills; and have some spare cash to use in retirement."
She noted in her speech that self-employed persons who do freelance work as their primary job make up 8 per cent of Singapore's resident workforce, or around 200,000, as shown by the Manpower Ministry's labour force survey last year.
While many pick freelancing and self-employment "as a career of choice and not a career of last resort" due to its autonomy and flexibility, Mrs Teo recognised that some are concerned about career development and mobility.
This has created fluidity in self-employed work, where freelancers may also diversify their careers and pick up regular employment at the same time, working as employees by day and freelancing at night. 
This is why the Government takes a broader approach to promote job creation and job transformation, instead of dictating where and what they should work as, Mrs Teo said.
"So the Government sees self-employment as expanding the options for work," she added.