Certis debuts AI technology to identify Aedes mosquitoes, forecast dengue hot spots in Singapore
SINGAPORE — Artificial intelligence (AI) is being used to recognise mosquito species fast and help fight dengue fever in Singapore, where the number of cases of the mosquito-borne disease has hit a four-year high.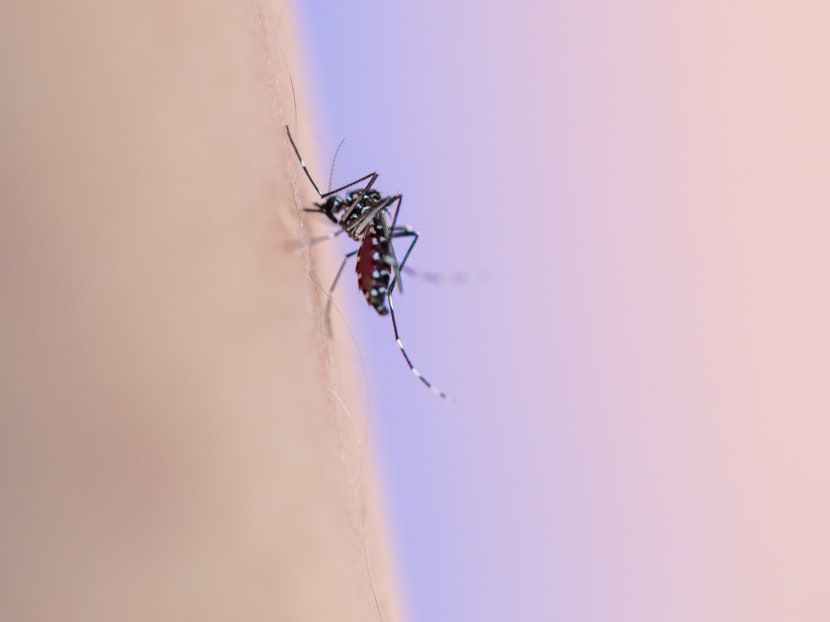 SINGAPORE — Artificial intelligence (AI) is being used to recognise mosquito species fast and help fight dengue fever in Singapore, where the number of cases of the mosquito-borne disease has hit a four-year high.
From June 1, security firm Certis, owned by state investment firm Temasek Holdings, will begin testing an AI-enabled system that may someday predict dengue hot spots before they emerge.
The technology's key advantage is that it can identify mosquito species in 40 milliseconds and also the gender very quickly. Only the female Aedes aegypti mosquito bites and spreads dengue.
Field officers may soon snap a photograph of a mosquito they find in an area and be able to tell on the spot if they are indeed dengue-spreading mosquitoes. 
This will speed up the time taken to eradicate mosquito breeding spots.
Currently, mosquitoes are collected and taken back to the laboratory, where trained lab technicians each take 15 to 25 seconds to scrutinise one sample.
Announcing the news at a virtual press conference on Wednesday (May 27), Mr Fuji Foo, Certis' chief digital officer, said that its system can read 1,000 samples in 40 seconds, and decipher each of the species with 98 per cent accuracy.
It can tell the mosquitoes' gender apart with 97-per-cent accuracy.
In the past eight months that the system was being developed, more than 68,000 photograph samples of mosquitoes were used to build the AI to tell the mosquitoes apart.
Future data samples collected through the system may still contribute to helping the authorities nail down the geographical distribution of the mosquitoes.
Certis is already engaged by the National Environment Agency (NEA) to support its efforts to reduce the Aedes mosquito population by trapping and collecting mosquitoes.
Last month, NEA warned that the number of dengue cases in 2020 is projected to surpass 2019's figure, as almost 5,800 dengue cases were reported as of mid-April — more than double that over the same period in 2019.
Nearly 16,000 dengue cases were reported last year, dwarfing the 2,773 cases in 2017 and 3,283 in 2018.
In the next phase, the system will be fed more data of reported dengue cases, weather conditions, population density, water levels and vegetation cover before it can find correlations among these variables to identify up-and-coming hot spots.
The AI-powered system would need six to eight months in this phase before a critical amount of data is available for the system to find these correlations, Mr Foo said.
With the analyses generated, manpower may then be allocated to these areas to tackle the budding infestations before a cluster forms.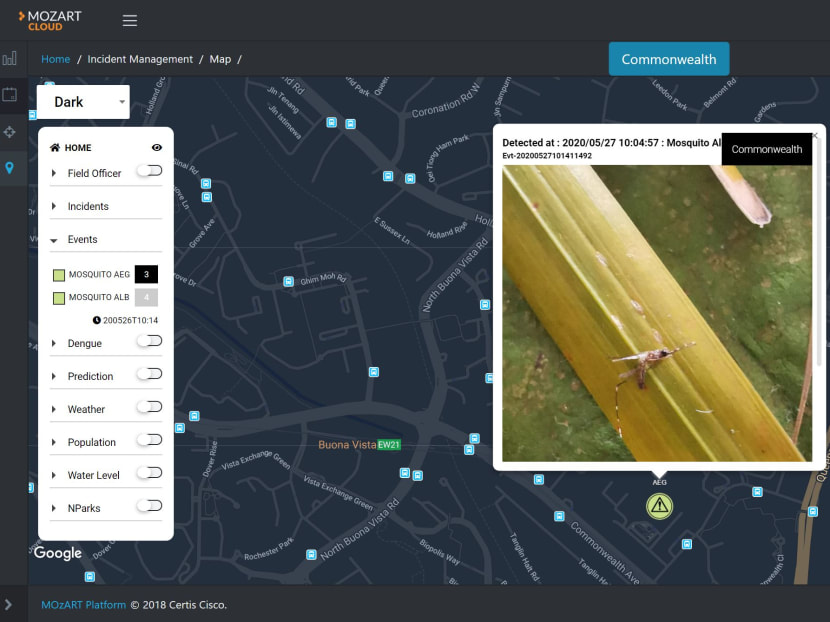 Eventually, the firm aims for the model to become a "critical infrastructure" deployed in governments around the world to become more effective in their fights against mosquito-borne diseases, Mr Foo added.
Certis is planning to explore partnerships with its key markets in Hong Kong, Qatar and Australia, as well as other countries, to provide its high-tech platform as a solution.
As NEA's service provider, Certis is involved in deploying and maintaining some 64,000 Gravitraps here.
Gravitraps are black cylindrical containers that trap female Aedes mosquitoes looking for sites to lay their eggs, with sensors to tell the mosquito's species and gender.
Asked if the new image-based detection system could replace Gravitraps in the near future, Mr Foo said that they would still serve their purpose in trapping the female mosquitoes.
"There is still a need for us to capture mosquitoes because we need to know what's the population of the mosquitoes in each of these areas.
"We still need to have the element of trapping it. It is just that the collecting of data will be very much streamlined, and, of course, the analysis of data as well."
NEA withheld its comment on Certis' system at this point because it has yet to start the trial and the AI-enabled solution is still in its early days of development.
For now, the agency relies on a map showing areas where Gravitraps detected relatively bigger populations of Aedes mosquitoes and it would then alert members of the public living in such areas to be more vigilant in removing stagnant water from within and around their homes.
It reminded residents that they must be vigilant even if their area is not highlighted as a hot spot because "low risk does not mean no risk".
"One female mosquito can lay 300 eggs in its short lifespan, thus the localised population can expand very quickly."