Changes to civil service's Currently Estimated Potential system to kick in progressively from 2021: Chan Chun Sing
SINGAPORE — Changes to the Currently Estimated Potential (CEP) system, which assesses the leadership potential of civil servants, will kick in progressively from next year.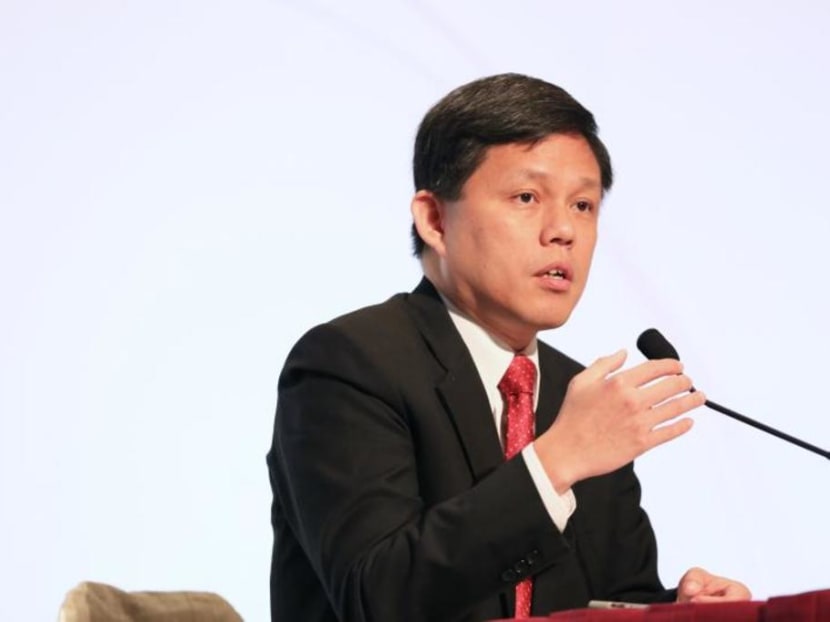 Public service will pay more attention to formation of leadership teams in government units, Minister Chan Chun Sing said 
Every public officer should have a rolling five-year development plan
Discussion on career roadmap for the next three to five years an immediate priority for officers 
PM Lee lauds public service's efforts to fight Covid-19, but says Govt's response was "not perfect" 
SINGAPORE — Changes to the Currently Estimated Potential (CEP) system, which assesses the leadership potential of civil servants, will kick in progressively from next year.
Minister-in-charge of the public service Chan Chun Sing announced this on Friday (Oct 16) as he said that the system must be one where "continuous meritocracy" is practised.
But he acknowledged that even with the tweaks, it would not be "easy or realistic" to find and develop all the leadership attributes — such as effective communication and innovativeness — in a single individual.
Therefore, the public service will pay "greater attention to the formation of leadership teams in ministries and agencies". 
Mr Chan, who is also Trade and Industry Minister, said that an immediate priority for most officers is to proactively discuss with their supervisors their career plan in the next three to five years, instead of the next 30 years.
Every public officer should also have a rolling five-year development roadmap that is shared with supervisors.
Speaking to public servants at an online ceremony to observe this year's Public Service Week celebrations, Mr Chan said: "We expect your supervisors to have regular conversations with you on how we can strengthen your development, the required skill sets, the necessary exposure and what assignments you can expect in the next five years." 
Public Service Week was started in 2008 to build in public officers a sense of pride and belonging to the public service.
The CEP system — which has been a bone of contention among some civil servants over the years — is expressed in terms of the largest job responsibility level an officer is assessed to be capable of undertaking in his or her public service career.
Earlier this month, Mr Chan announced that it would be refined after a review last year. He said this in a written answer to a parliamentary question filed by Member of Parliament Louis Ng of the Nee Soon Group Representation Constituency.
Some of the revisions will refine what qualifies as leadership potential, and place more emphasis on helping civil servants identify their potential and career goals in the short to medium term.
Also, a civil servant's CEP will no longer be the "single most important determinant" of his or her career development and progression.
Civil servants told TODAY in the wake of the announcement that they welcomed the changes. Some likened the system to a "black box" and expressed hope that the changes would mean greater incentives for civil servants to prove themselves, and level the field among scholars and non-scholars.
On Friday, Mr Chan reiterated that the public service would update the way it assesses "high potential".
A high-potential civil servant must not only be able to make sound policies, but must "implement well, innovate, work in teams, communicate effectively, and mobilise relevant stakeholders for collective action", he said.
"Ultimately, it is the team that must do well for Singapore and for our organisation, beyond having the individual do well." 
He also said that future senior officers ought to have stints outside the public service, in the people or private sectors, or overseas. This is on top of exposure to policy, operations and communications or mobilisation work.
"The world is becoming more complex. We cannot expect to know everything if we do not venture out. We cannot preach agility when we do not practise it," he told public officers.
With the Covid-19 pandemic giving rise to uncertainties, Mr Chan said that it would not be the last crisis facing Singapore. 
"We need to be prepared to respond to even more outliers. Many more 'what ifs' will have to be considered in a constantly changing world."
There is also a need for the way in which the public service organises itself to continue evolving with the times, he said. 
"We cannot strait-jacket new problems into old structures. The emerging challenges are complex and require us to flexibly organise ourselves into cross-competency teams to solve them."
ROOM FOR IMPROVEMENT IN COVID-19 RESPONSE: PM  
In a video message shown at the online ceremony, Prime Minister Lee Hsien Loong paid tribute to public officers and their families for making "many personal sacrifices" to fight Covid-19. 
He acknowledged, nevertheless, that the Government's response to the outbreak was "of course not perfect". 
"We could have done many things differently, and better, especially in retrospect," Mr Lee said. 
"Where we have fallen short, we will learn from the experience and do better."
On the whole, however, Mr Lee said that the public service more than rose to the occasion. 
"We fought off the virus, kept our people safe, and took care of workers and families."