Bukit Panjang MP criticises LTA for changing bus services with 'no regard' for impact on residents
SINGAPORE — No sooner was it announced that two bus services connecting Bukit Panjang to the city area will stop operating than a Member of Parliament (MP) and affected commuters began to wag a disapproving finger at the move.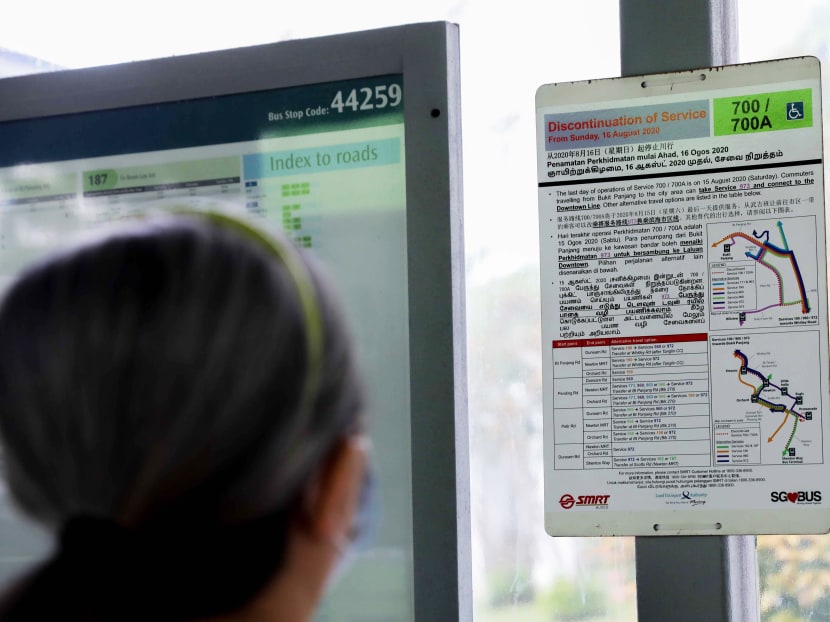 LTA is making changes to bus services linking Bukit Panjang to the city centre 
From Aug 16, services 700 and 700A to be removed, changes made to services 171 and 972
LTA said that these services "run parallel to the Downtown Line" and ridership has fallen
MP Liang Eng Hwa criticises LTA over the changes which have left residents dismayed 
SINGAPORE — No sooner was it announced that two bus services connecting Bukit Panjang to the city area will stop operating than a Member of Parliament (MP) and affected commuters began to wag a disapproving finger at the move.
On Monday (Aug 3), public transport operator SMRT announced on its website that from Aug 16, it was withdrawing bus services 700 and 700A, which ply the route covering Shenton Way, Orchard Road, Bukit Timah and Bukit Panjang.
Mr Liang Eng Hwa, MP for Bukit Panjang Single-Member Constituency, criticised the Land Transport Authority (LTA) on Monday in a Facebook post, saying that he has been engaging the authority to find alternative solutions that will "balance accessibility concerns for residents and optimal routes for bus service providers".
"Unfortunately, the bus planners at LTA are not open to our alternative suggestions. I am saddened that they have no regard (for) how these changes will impact our residents' lives," he wrote.
Speaking to TODAY, Mr Liang said he was aware that ridership for service 700 has fallen sharply and is "prepared to work on a compromised solution that will minimise impact to our affected residents".
He declined to elaborate on what this solution might be, but he said: "I hope LTA can be open-minded and not see discontinuing services as the only way out.".
MP Edward Chia who oversees the Zhenghua ward of Holland-Bukit Timah GRC, also took to Facebook to say that he is "very disappointed' with the changes. Zhenghua is in the Bukit Panjang district as well, and he said that "many residents" have reached out to him regarding the changes. 
"These changes have (a) deep impact on the daily lives of our residents. Hence, I hope that LTA will reconsider, delay these changes and review their plans," he wrote.
Apart from withdrawing services 700 and 700A, LTA is also shortening the route of service 171, which now runs through Yishun, Mandai, Bukit Panjang, Upper Bukit Timah, Orchard Road and Bras Basah. With the change, it will loop around Bukit Panjang town centre before returning to Yishun.
The route for service 972, which connects Bukit Panjang to Orchard Road, will be revised to serve stops at Bukit Timah Road, Dunearn Road, Newton MRT Station and Scotts Road. Commuters travelling from Bukit Panjang to Stevens Road may take service 972 to Whitley Road and connect to services 105, 132 or 190.
Responding to queries from TODAY, LTA said that this "difficult decision" comes after ridership of bus services dropped sharply since the opening of second phase of the Downtown Line in December 2015. Their routes run parallel to the MRT line, it said.
For instance, service 700 will be discontinued because it duplicates the Downtown Line route between Bukit Panjang and the city area.
LTA also said that it has been subsidising services 171 and 700 through public funds.
The changes have left many Bukit Panjang residents dismayed. 
Business analyst Hendry Chong, 32, who has been taking bus services 700 and 700A daily for the past 10 years to his office at Raffles Place, said it is the most convenient option for him as the bus stop is near his home, unlike the MRT and Light Rail Transit (LRT) stations.
Mr Chong, who lives in the Petir Road neighbourhood in Bukit Panjang and is now working from home, said: "It seems that they are encouraging us to take the MRT so as to avoid wasting resources, but the trains will be overcrowded." He added that safe distancing will be a concern during this time of the Covid-19 pandemic.  
Another Bukit Panjang resident who lives along Chestnut Avenue said that she takes the bus services to Far East Plaza along Scotts Road before catching a feeder bus to her office at Great World City on Zion Road.
The 38-year-old, who works in the pharmaceutical field and who gave her name as just Ms Lim, said: "I still go to work daily and I have been given less than two weeks to think of a new route to work. It seems like I have to take a bus, then the train, then another bus to reach my destination — whereas it used to just be one straight bus." 
Housewife Elaine Luo, 37, who takes public transport with her four-year-old son with special needs, said that she was "overwhelmed" by the change.
They take service 972 weekly from their home along Senja Road to the boy's speech therapy classes at Forum Galleria on Orchard Road.
"The alternative route includes taking a bus and then changing two trains to get to the same destination. My son doesn't want to walk much so I will need a stroller," Ms Luo said. Her older son aged nine usually tags along on these trips.
S$5 MILLION SUBSIDY A YEAR FOR ONE SERVICE 
LTA said that since the second phase of the Downtown Line opened at the end of 2015, ridership for service 171 fell by more than 30 per cent in the first year after that. For service 700, the drop is more than 50 per cent.
To keep services 171 and 700 going, it has been subsidising the services through public funds. 
Its spokesperson said: "For Service 700, it comes up to S$5 million of subsidy a year. If this is the only transport option in the area, we can justify the public spending. But given that the Downtown Line is available as an alternative, we need to exercise prudence in the use of public funds and hence, have to make some adjustments to the services in the area."
Since 2016, LTA has consulted grassroots advisers regularly "to explore ways to make better use of bus resources while addressing residents' needs", it said.
Through these discussions, service 973 was introduced in February 2017 to enhance connectivity to the nearby Hillview MRT Station along Downtown Line for residents living on Petir Road, Dairy Farm Road, Hillview Avenue and Hume Avenue.
LTA added that it understands that these changes "have led to longer travel times for some residents" and will "continue to discuss with the grassroots advisers, and hear out residents to explore mitigating measures".
"But LTA needs to balance the needs of different groups of commuters, while taking into account the availability of alternative travel options, and the burden on taxpayers," the spokesperson said.
"We also seek Singaporeans' understanding that while we do our best, it will not always be possible to provide direct bus connections."
Correction: In an earlier version of this story, we reported that SMRT made changes to bus services linking Bukit Panjang to the city centre. This is incorrect. Decisions regarding bus route changes are made by the Land Transport Authority. We are sorry for the error.