Govt to impose new airport tax from July; passengers flying out of Changi to pay S$13.30 more
SINGAPORE — Passengers flying out from Changi Airport from July 1 will have to pay S$47.30 – or S$13.30 more – in departure charges, which includes a new tax levied to fund airport expansion.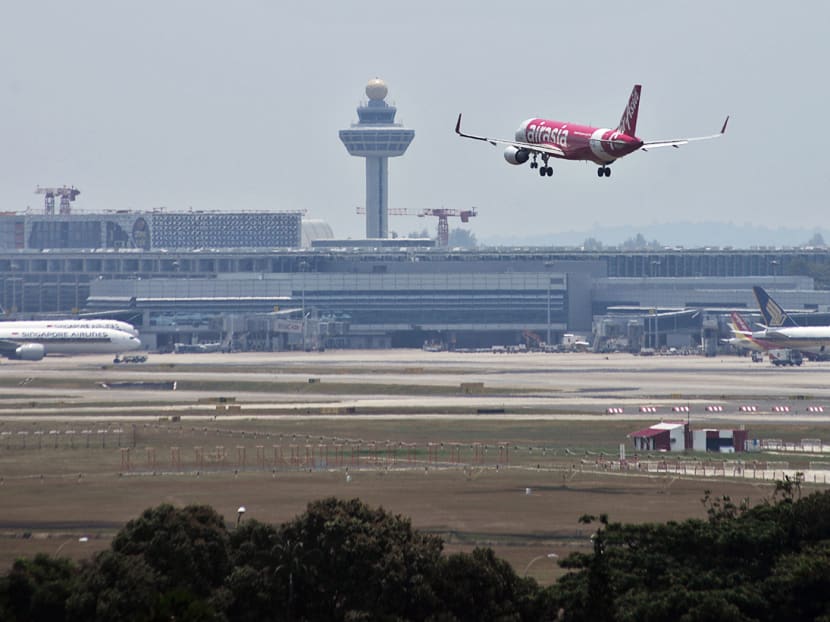 SINGAPORE — Passengers flying out from Changi Airport from July 1 will have to pay S$47.30 – or S$13.30 more – in departure charges, which includes a new tax levied to fund airport expansion.
The new Airport Development Levy (ADL) – chargeable at S$10.80 for departing passengers and S$3 for transit passengers – will be introduced to help fund airport developments, such as the new Terminal 5 and related infrastructure in Changi East, the Ministry of Transport (MOT) and the Civil Aviation Authority of Singapore (CAAS) announced on Wednesday (Feb 28).
At the same time, Changi Airport Group (CAG) also said it will be increasing aeronautical charges for both passengers and airlines over the next six years, to fund the expansion and upgrading projects. The increase in fees – not applicable to transit passengers – will kick in at S$2.50 from July 1, and will go up by S$2.50 every year from April 1 next year to April 1, 2024, for all passengers who start their departures from Changi Airport.
Airlines, on the other hand, will see their landing, parking and aerobridge (LPA) fees go up by 1 per cent every year for six years.
The new fees mean departure charges will go up from the existing S$34 that passengers currently pay, made up of S$27.90 passenger service and security fee (PSSF) and S$6.10 aviation levy.
By 2024, or the sixth year of increase, the departure charges that passengers will have to pay will go up to S$62.30.
Transit passengers will also have to pay the ADL – chargeable at $3 tax each time they go through the airport – but they will be spared the spike in PSSF. This means transit charges will go up from existing S$6 to S$9 from July 1.
In their joint statement announcing the ADL, MOT and CAAS said that changes have been made to the Aviation Bill to introduce the new airport tax. This was tabled in Parliament on Wednesday.
In a separate statement, CAG said the last increase for the PSSF and LPA will be on April 2024, as that year marks the mid-point of the estimated construction phase of the Changi East project.
Any subsequent adjustments will be announced only after a review is conducted that month, said CAG.
Under the current regulatory regime, CAG said it has the "flexibility to set the amounts for the various aeronautical charges for up to 2030". It added that this is provided that the overall amount does not exceed the cap set by CAAS without elaborating further.
With the Changi East mega-project set to cost "tens of billions of dollars", contributions are also needed from airport users, namely passengers and airlines said MOT and CAAS. Thus, the need to impose the new airport tax and raise passenger service and security fee.
They noted that the Government will still foot "the majority" of the costs, and has to date invested over S$9 billion, with CAG being the next biggest contributor, with a total of S$3.6 billion committed to the project to date.
CAG also said that it will "commit a substantial portion of its reserves and future surpluses including earnings from its airport concessions to the development" and will take on a "significant amount of debt" to fund its contributions to the project. It did not give details on this.
As part of the project, a mega passenger Terminal 5 – to open in 2030 – as well as a third runway will be constructed. A massive network of tunnels and systems will also be constructed to allow the transfer of passengers and baggage between the new terminal and the current airport.
While Terminal 5, which is expected to eventually handle up to 70 million passengers a year – more than Terminals 1, 2 and 3 combined – is anticipated to be operational only in 2030, the third runway will be operational earlier, in the early 2020s.
With the mega-project underway, payments will have to be made for contracts already awarded and construction works that have been completed, said CAG. It added that land preparation works, development of a canal network to prevent flooding as well as works to extend the third runway are still ongoing.
"An earlier adjustment in aeronautical fees will help to avoid a steep escalation of fees at a later stage," said CAG.
Such a project is necessary to cater to the increasing growth in air traffic, said MOT and CAAS, as they noted that air traffic growth has averaged about 5.4 per cent annually over the last decade.
With Changi Airport receiving a record 62.2 million passengers last year, CAG said that passenger traffic is also expected to grow at about 3 to 4 per cent annually over the next 20 years.
According to its projections, CAG said the airport is expected to reach its handling capacity of 85 million passengers per year by the late 2020s. "Without further expansion, service standards may drop, with passengers experiencing delays."
Pointing out that Changi East is "our investment to secure Singapore's future", CAAS' director-general Kevin Shum noted: "At the same time, we want to plug into the growth that the region is experiencing, that's why we are doing all of these to ensure that Singapore remains the premium air hub for the region."
Singapore is not alone in raising charges to support growth plans for its airport.
In 2016, Hong Kong International Airport, which is building a third runway due to be completed in 2024, started collecting between HK$70 and HK$180 (S$12 and S$30) a traveller.
Similarly, airports in Dubai, United Arab Emirates and Doha in Qatar also introduced a departure tax for travellers in 2016 – the equivalent of about S$13 – to help fund ongoing expansion projects.
The International Air Transport Association (IATA) – the airline's most prominent trade body – reiterated its opposition on Wednesday to Singapore's decision to "pre-fund" new infrastructure projects.
"It is unfair to expect passengers and airlines to pay in advance for a facility they may or may not use in the future when the facility is ready," said Mr Conrad Clifford, IATA's regional vice president, Asia Pacific. He also warned that the higher charges would hurt air travel and tourism, as well as the airlines.
Earlier this month, Senior Minister of State for Law and Finance Indranee Rajah said in Parliament that the Government has to look for the "most optimal way" to finance new mega projects, including Terminal 5, and would not rule out "different ways" of securing the funding and speading it out over the proper period of time.
In his recent Budget statement on Feb 19, Finance Minister Heng Swee Keat also noted that the Government is considering providing guarantees for long-term borrowings undertaken by statutory boards and state-owned companies to build critical national infrastructure.