Changi Exhibition Centre showcases smart nation capabilities as it hosts Covid-19 patients
SINGAPORE — Three times a day, five "delivery robots" will carry shelves of packed food to 12 collection points for residents.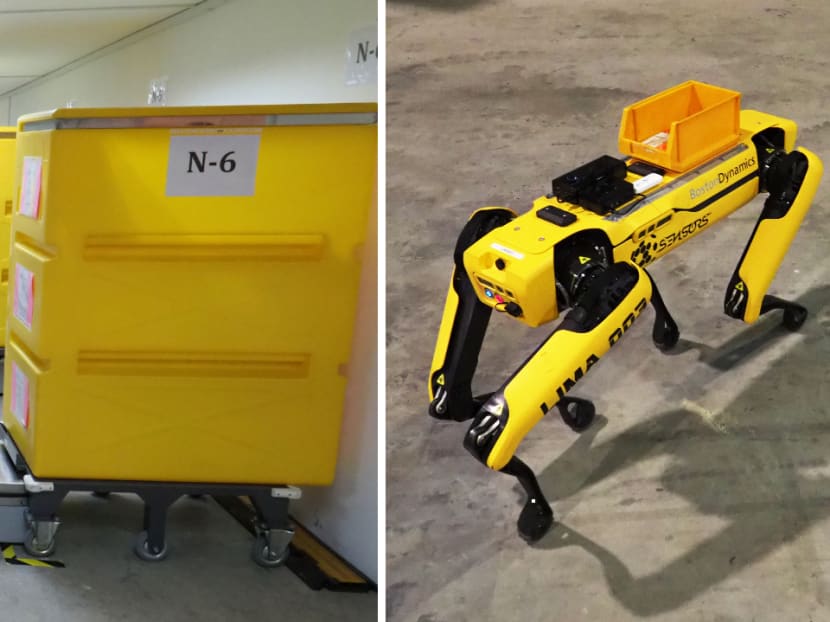 SINGAPORE — Three times a day, five "delivery robots" will carry shelves of packed food to 12 collection points for residents.
Then there are remote-controlled "presence robots", through which residents can air their concerns.
The Changi Exhibition Centre is a new community isolation facility for Covid-19 patients, yet it has also become a showpiece of Singapore's smart nation capabilities.
The centre on Saturday (April 25) became the third community isolation facility to open its doors here, receiving about 50 patients.
More than 200 personnel from nine organisations affiliated with the Ministry of Defence and its partners had taken two weeks to convert the exhibition centre to an isolation facility.
And then the robots came in.
"(Using the robots) we can save the six to eight workers that would have been needed to work in the 'red zone' (where newly infected patients are housed)," said Mr Foo Yang Ge, general manager of the Singapore Youth Flying Club, one of the organisations involved in setting up the facility.
"We have utilised robots also so that we can improve the efficiency of food delivery and to safely push out the food to the residents in a timely fashion."
Even with the technology, 14 workers are still needed to prepare the packet food and sort them into trays for the delivery robots to pick up.
There are also four remote-controlled presence robots to facilitate face-to-face communication between the residents and volunteers through video conferencing.
The volunteers, who are from the Singapore Indian Association, help to address any questions or concerns the residents may have in their native language.
Using the presence robots, the volunteers can also facilitate activities with the residents, such as exercise sessions.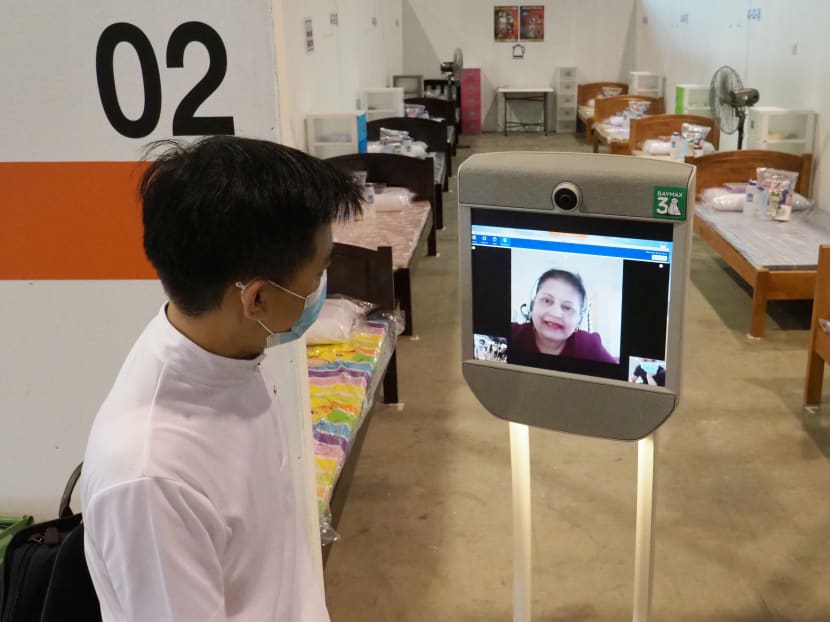 Also in the works is a four-legged robot named Spot, which could help with medicine delivery and temperature taking in the future.
Spot has this ability to avoid obstacles and travel across different surfaces, which means it can perform tasks in areas that conventional wheeled robots cannot, such as on uneven terrain.
TELECONSULTATIONS, APPS TO MONITOR VITALS
Within the premises, there are six teleconsultation stations that residents can visit if they have persistent symptoms and need medical attention.
At the stations, the patient can speak to doctors from the on-site medical centre or from a hospital.
Each teleconsultation station has two nurses on standby.
Serious cases will be directed to the on-site medical centre where there will be at least one doctor and two nurses present at all times.
Residents are also required to record their vitals — their temperature, blood pressure and pulse reading — in a mobile application which will be automatically submitted to the medical team.
Blood pressure machines and pulse oximeters — which monitor a person's oxygen levels — are placed throughout the premises for residents to conduct their own health checks three times a day.
For patients who do not have mobile devices, they can either share their neighbours' devices or tablets will be made available to them to monitor their health parameters.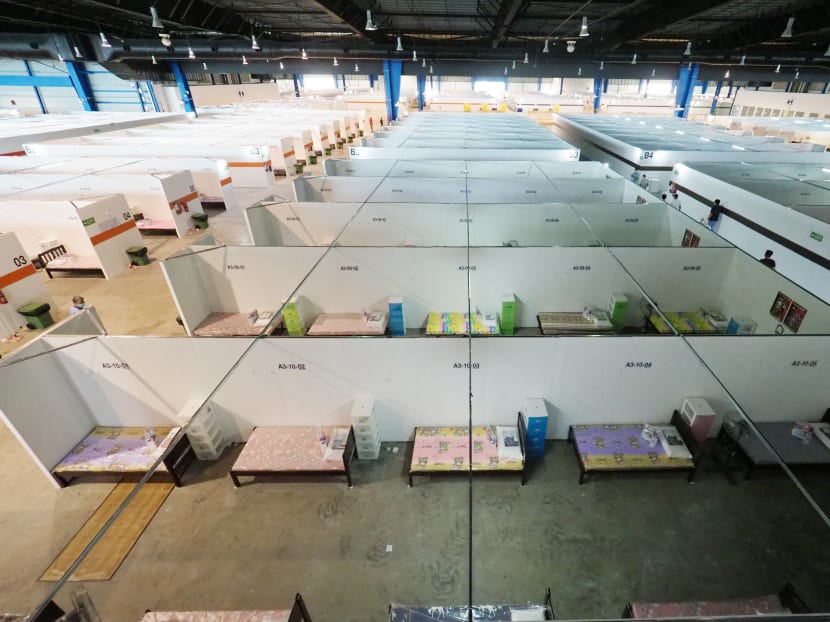 TODAY understands that the facility is expecting to receive mostly patients from the migrant worker population with mild symptoms that do not need extensive medical treatment.
However, it is also prepared to take in patients who are recovering from the infection.
Operations within the facility are managed by Mandarin Oriental Singapore hotel while the in-house healthcare services are provided by the Raffles Medical Group.
The exhibition centre can currently house 2,700 patients. There are plans to expand the facility to accommodate another 1,700 in the next two to three weeks.
Each room has between eight and 10 beds. Rooms are also equipped with power sockets, Wi-Fi access, fans and storage cabinets.