Chatuchak Night Market Singapore: Thai food vendors not returning, citing challenges such as costs, rain and getting permits
SINGAPORE — Tired of the usual food offerings at the night markets that periodically dot Singapore's neighbourhoods, Ms Sally Chua wanted to try something different.
The Chatuchak Night Market Singapore organisers said they will no longer be bringing in Thai food vendors for future iterations
The organisers said a combination of factors had made it a challenge to run the event this year
Vendors TODAY spoke with highlighted some challenges such as getting permits and bad weather
They also cited the cost of staying in Singapore for the event as a factor
SINGAPORE — Tired of the usual food offerings at the night markets that periodically dot Singapore's neighbourhoods, Ms Sally Chua wanted to try something different.
So when the 63-year-old clerk and her friends found out about the second edition of the Chatuchak Night Market Singapore, which began on Feb 7, they decided to head down on Tuesday (March 14) evening to savour authentic Thai street food.
However, this may be the first and last time they will get to sample Thai fare made by the country's citizens at the 25,000 sq ft open-air night market located at The Grandstand — some 750m from Dunearn Road, or about a 10-minute walk from Sixth Avenue MRT station.
The organisers of the night market announced in a press release on Monday that it will no longer be bringing in Thai food vendors after the event ends on April 2.
Among the 180 food and retail vendors at the night market this year, 60 hail from different provinces across Thailand — half of them operating food stalls.
OF PERMITS, EXPENSES AND THE RAIN
In an email response to TODAY's queries on Tuesday morning, Mr Keith Tay, the event's organiser, said that the Thai food vendors had encountered challenges with licensing and work pass requirements that other Thai vendors didn't face, along with high accommodation and logistical costs.
This in turn, he said, made it difficult for them to continue participating in the event.  
Thai vendors operating both retail and food shops at the night market interviewed by TODAY on Tuesday evening did not dispute Mr Tay's statement.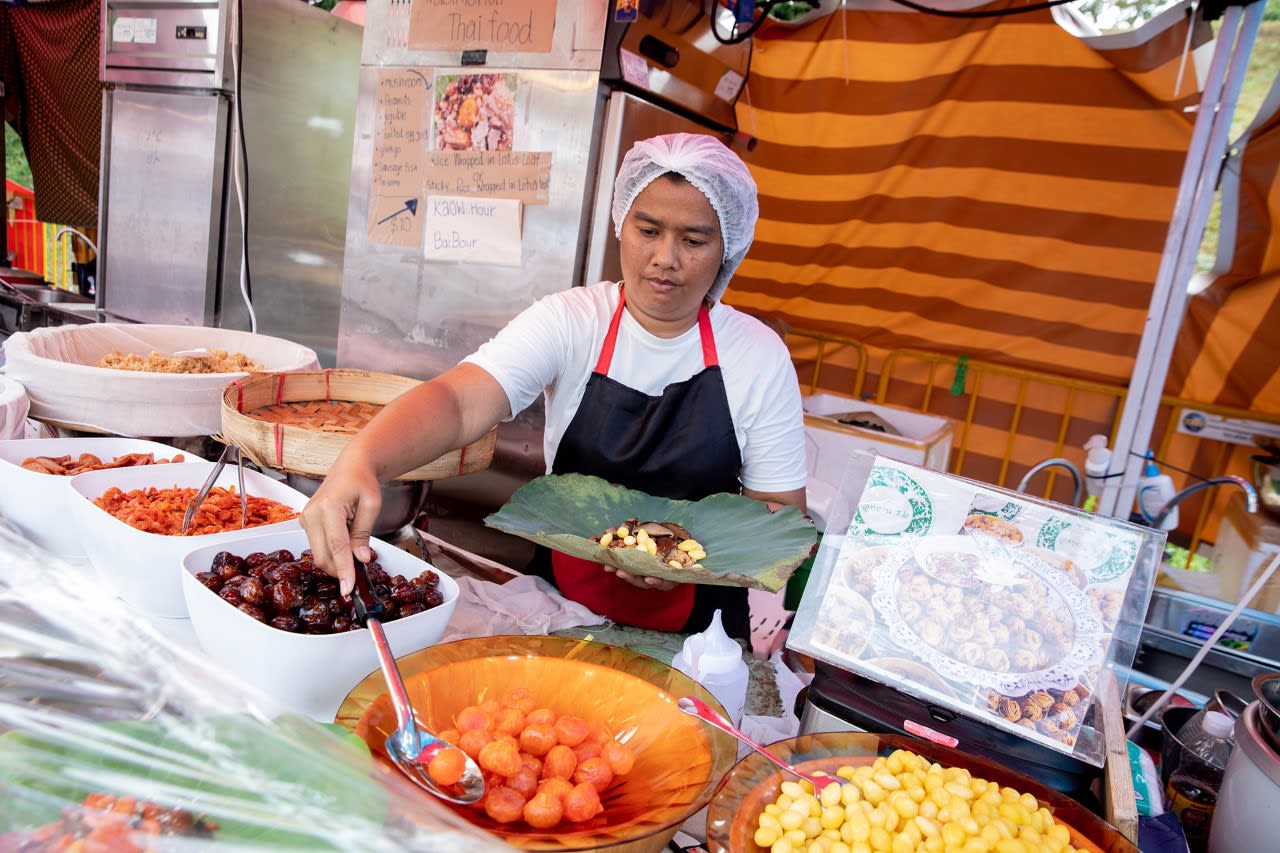 Ms Araya Mahuttanawongwoon, who operates a lotus leaf rice stall, added that one of the hurdles she and her business partner faced was the fact that the event runs for two months.
However, as they and every other Thai vendor are on a Short-Term Visit Pass, that meant they could stay in Singapore for only up to a month, said the 40-year-old.
In order to renew the pass, they took turns flying back to Thailand and returning to Singapore after staying there for three days. Aside from the hassle and inconvenience, this cost the duo 14,000 baht (S$547) in total.
For stewed pork leg seller Theera Maneesongsaeng, his biggest gripe was the personal expenses he incurred staying in Singapore.
As he is unfamiliar with Singapore's public transportation system, he found himself having to rely on a taxi to get him to and from his hotel in the vicinity of Orchard Road to the night market.
Factoring in other expenses such as his own food, the 47-year-old estimates that he spends over S$100 a day, which eats into his average daily takings of about S$1,000.
Under an arrangement he made with the organisers, Mr Theera then splits a portion of his earnings with the latter. In return, he said the organisers pay for his hotel accommodation.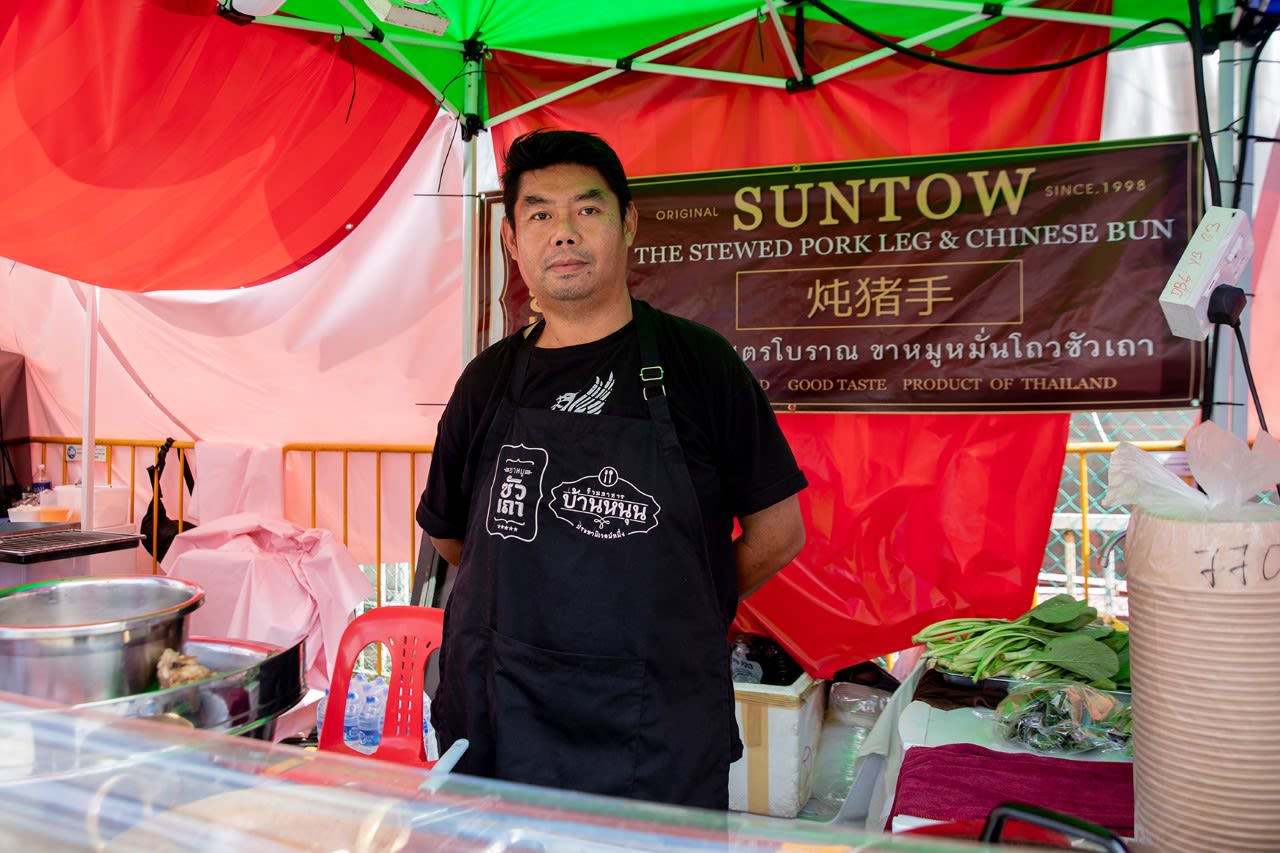 Mr Theera, a frequent participant in food fairs in Thailand, said he was keen to participate in a Singaporean version, and was enticed by the organisers' promise of lots of visitors.
"This is true. There are a lot of people," said the Bangkok resident in Thai through an interpreter. "But the problem is the rain. We cannot do business."
As of Wednesday — 37 days after the event started — the organisers had recorded an estimated 100,000 visitors, in stark contrast to the estimated 450,000 who showed up for the shortened first edition of the event in 2020.
2020's night market was meant to run from Feb 4 to May 3, but it ran for only 55 days and ended on March 29 due to the Covid-19 pandemic.
Indeed, the recent wet weather was the biggest bugbear for both Thai and Singaporean vendors interviewed by TODAY.
The monsoon rain was so torrential that both vendors and visitors had to wade through the night market at one point in early February.
According to the latest weather forecast on Thursday, the monsoon conditions that made for a rainy February and first half of March are set to persist.
As 71-year-old Ms Supranee Chutkaen, who runs a massage booth at the night market put it: "Rain is a big problem (because) no one comes. We just sit and watch (the) rain fall."
Bad weather aside, one visitor observed there were some differences between the two editions of the night market.
"From what I can remember… 2020 had more stalls to offer than this year. There was more variety and more Thai dishes and stalls selling Thai products and shirts," said Mr Valentino Suhail, a 36-year-old content creator.
"For this year, it has been a human traffic jam on weekends to enter which is so hectic."
Ms Supranee said other issues included some Thai vendors getting stuck at immigration, and she recalled having to speak to the authorities on at least four occasions to prove that her compatriots were indeed participating in the event.
While she could not state the reasons that they were held up at immigration, TODAY understands that the grant of an immigration pass such as Short-Term Visit Pass is assessed and determined by the immigration officers at the point of entry.
Several factors are included in the assessment, ranging from health requirements to immigration requirements. Documents such as entry letters would also be part of the assessment.
Ms Supranee added that she was aware that there were also Thai vendors who were unable to bring in sufficient workers to help run their stalls.
However, only one of the Thai vendors, among those that agreed to speak to TODAY, said that they had insufficient workers.
One fashion retail stall assistant, who wanted to be known only as Ms Tow, said that her boss needed four workers for the stall, but they got a permit for only three.
While the 25-year-old does not recall if a reason was given for the denial of the fourth worker, she said her boss did not want to make a big deal about it as they felt they could still manage.
CHALLENGING EVENT TO RUN
When approached with this list of challenges cited by the Thai vendors, Mr Tay sought to provide some context during a phone interview on Tuesday evening.
Regarding the extension of Short-Term Visit Pass, Mr Tay said he had tried to dissuade vendors from flying back to Thailand but rather to simply apply for an extension online.
"But as street food vendors, they are not very internet savvy. So for some of them, it is not so straightforward," he said, adding that everyone who needed to do so eventually got their visit pass extended.
Mr Tay also said that a majority of the Thai food vendors are on the same profit-sharing model that Mr Theera the stewed pork seller is on.
And because Mr Tay's company pays for their accommodation, as a means to encourage them to come to Singapore, he said there is a possibility for his company to suffer a loss if the stall performs poorly.
"We are really just working on a performance basis, and we are actually losing money on some of these vendors," he said.
Aside from this profit-sharing model, other vendors, such as massage shop owner Ms Supranee, can opt to pay rent to Mr Tay's company instead. However, this means that their hotel accommodations would not be covered.
On why there will not be any Thai food vendors in future iterations of the night market, Mr Tay said "there is a limitation on the work passes (issued) for Thai food handlers".
While he was able to work out something with the Ministry of Manpower this time around, Mr Tay said he was not confident he would be able to pull it off again.
Addressing suggestions raised by both vendors and visitors alike of erecting a large tentage to cover the event space and shelter it from the elements, Mr Tay pointed out that it would come at a cost.
"I'll just tell you it is super expensive…and where do we pass this cost to? Eventually, the consumers will have to pay for it," he said.
While it is possible to run the night market despite the multitude of issues to overcome, Mr Tay admitted that it was "very challenging".
"With all this in mind…in the future, we don't want this (Chatuchak Market) to be too much effort to bring in," he said.
Mr Tay did not reveal when the next Chatuchak Night Market Singapore will be, and Monday's press release simply stated that plans are still being firmed up.  
When asked if it would be inappropriate to keep the existing name of the event without Thai street food vendors, Mr Tay said he saw no problem, citing the composition of the Bangkok market that the Singapore version is named after.
"If you have been to the (actual) Chatuchak Market….There are (sections for) clothes, gardening, and pets — we can't bring in pets obviously — but that is the gist of it. Ninety-five per cent of it is retail," he said. ADDITIONAL REPORTING BY JASMINE ONG