Chiam See Tong Sports Fund raises over S$170,000 for athletes; veteran opposition politician shows up in support
SINGAPORE — The Chiam See Tong Sports Fund, which supports disadvantaged athletes, raised more than S$170,000 on Thursday (Aug 22), with about S$10,000 coming from an auction at a gala dinner.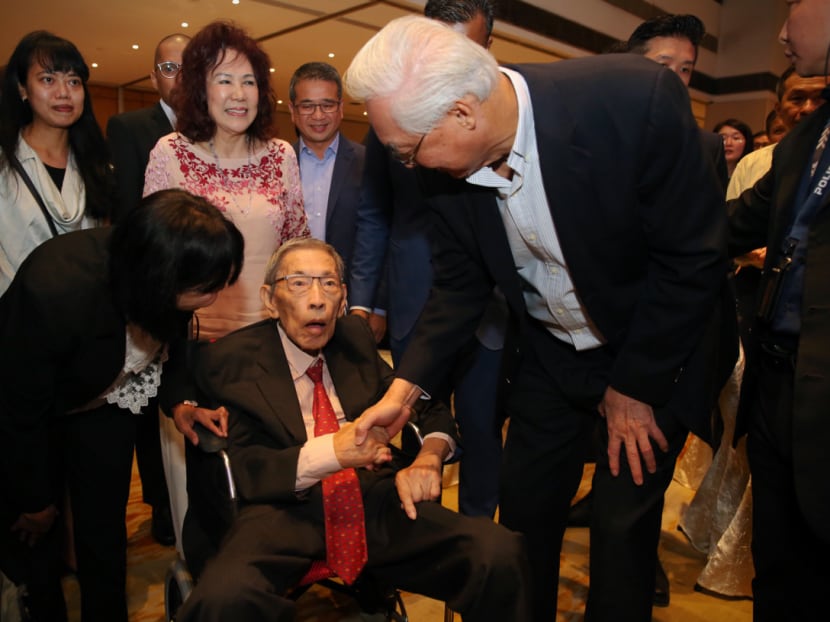 SINGAPORE — The Chiam See Tong Sports Fund, which supports disadvantaged athletes, raised more than S$170,000 on Thursday (Aug 22), with about S$10,000 coming from an auction at a gala dinner.
Mr Chiam — who started the charity and was former Member of Parliament (MP) for Potong Pasir from 1984 to 2011 — made a surprise appearance midway through the fundraising dinner, which was held at the Marriott Tang Plaza. 
The 84-year-old, who had suffered two strokes — the first in 2008 — as well as a hip injury in 2013, was in a wheelchair and was accompanied by his wife Lina Chiam and daughter Camilla.
The 400 guests at the dinner, including Emeritus Senior Minister Goh Chok Tong and Mr Edwin Tong, Senior Minister of State for Law and Health, stood up to applaud and welcome him.
Athletes that were present at the event included national trap shooter and five-time South-east Asian Games gold medallist Choo Choon Seng, former captain of the Singapore hockey team Melanie Martens and last year's Asian Games silver medallist in jujitsu Constance Lien.
Earlier in his opening speech, Mr Goh said that he supported the Chiam See Tong Sports Fund because he respected Mr Chiam as a "well-meaning, decent and honest politician and Member of Parliament".
He recalled how Mr Chiam used to raise questions about the adequate support for national athletes in Parliament, such as in 1989 during the Budget debate when he said: "Sir, sad to say, our sports level as far as the international standard is concerned, is at the kampung level. I think we have to do something to build up one or two sports champions and that will give inspiration to other sportsmen."
Mr Goh also recalled that Mr Chiam believes Singapore should have a two-party system like other liberal democracies, with each taking turns to run the country, whereas he himself believes a small and vulnerable country such as Singapore needs a strong and durable government to protect and advance the people's interest.
"Revolving-door governments cannot plan long term and implement difficult but necessary policies. Despite our differences in views, Chiam practised constructive politics. He helped set the tone for civil parliamentary debate in Singapore," Mr Goh said.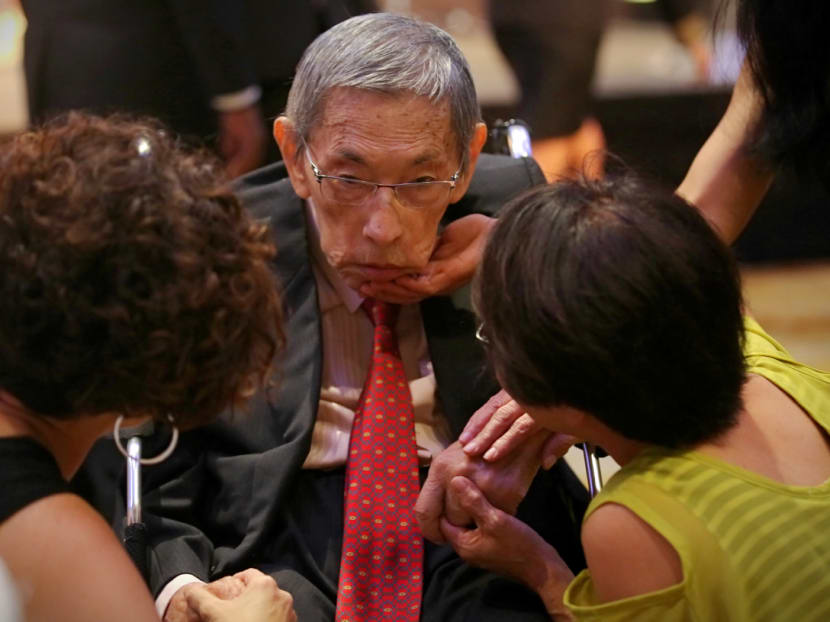 As for sports, Mr Goh believes that Singapore should try to produce sportsmen and women who can compete in the global arena.
When he was prime minister, for example, he said that he had set three goals for Singapore: One, to win an Olympic gold medal in sailing by 2008; two, to qualify for the football World Cup by 2010; and three, to qualify for the badminton Thomas Cup final in 2012.
"While we did not succeed, we must always dare to try. We must never give up chasing our dreams, both individually and as a nation.
"Today we might not be at the very top but we are producing globally competitive athletes in sports such as swimming, sailing, table tennis, bowling and silat," Mr Goh said, before he wished Mr Tong luck in setting the 2034 goal for Singapore to qualify for the World Cup.
AUTOGRAPHED GOLF CLUB, JERSEYS
For the auction in aid of the fund, Mr Goh donated one of his golf clubs, on which he signed his name.
Other notable items that were auctioned: A Liverpool jersey autographed by football legend Kenny Dalglish and an FC Barcelona jersey signed by Lionel Messi. These two items were donated by former Nominated MP Zulkifli Baharudin.
In his opening remarks at the dinner, Mr Goh said that he was surprised to receive the invitation to the event from former national swimmer Ang Peng Siong, who is chairman of the fund.
"But I accepted it without hesitation because it came from Peng Siong and because it is to raise funds for a good cause. However, I asked him to first confirm that Chiam See Tong was aware of the invitation and would not object to it."
Mr Goh noted that sports has a way of uniting people.
"We have seen this time and again — the Malaysia Cup heyday in the 70s, when Peng Siong brought Toa Payoh Swimming Complex to its feet in 1993 and more recently when Joseph Schooling won gold at the 2016 Rio Olympics for Singapore."
Sports can also help build character, discipline and resilience, he added. "The Chiam See Tong Sports Fund is doing precisely that by helping children and youth from disadvantaged backgrounds reach their sporting dreams."
Since its launch in March 2017, the fund has supported more than 30 young athletes. They include sailor Olivia Chen, modern pentathlete Koh Kiat Xuan and powerlifters Matthew and Matthias Yap.
The Yap brothers — who have represented Singapore in numerous international powerlifting competitions — told TODAY that the fund has helped them greatly in getting equipment for competitions. 
Mr Matthew Yap, 20, has been a beneficiary since 2017 while Matthias, 19, received it this year.
At its last fundraising dinner held in August 2017 that was graced by world-renowned rugby referee Nigel Owens, the Chiam See Tong Sports Fund raised about S$150,000.