Children taking care of parents' needs: Changing norms and what to expect
The culture here has been for children to look after the needs of their parents. Financial realities are, however, making it more difficult for children to provide that assistance, so it's important for parents and grandparents today to understand the impact of changing attitudes and realities.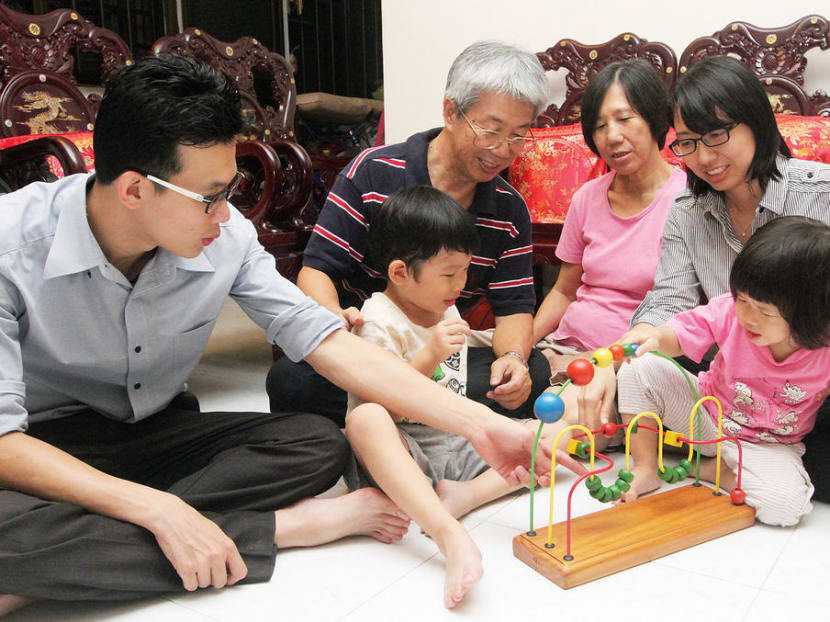 The "Asian way", and the "Western way" in generations past, has been for children to support their parents as they grow older. Practices are changing, though, and children are stretched caring just for themselves — yet are still worried that parents don't have enough money.
Caring for parents has long been important in many cultures.
In Confucian cultures in Asia, author Cynthia Kim Beglin explained in Psychology Today that "xiao" or filial piety requires that adult children care for their aging parents' physical lives, mental needs and happiness.
Associate Professor Ernest Chui from the Hong Kong University noted that, in the past, co-residence between elders and their children was prevalent in sustaining the family function of caring for seniors.
Now, however, changing socio-economic configurations have created challenges to co-residence and threaten the viability of relying upon the family to care for elders.
A paradigm shift in East Asian countries and even in Singapore that share a Confucian cultural heritage is leading governments to take a more pro-active role in welfare provision.
The result is an emerging "triadic relationship" between government, family and individual in sharing responsibility for the welfare of seniors.
Changing family dynamics play a role, too. Daughters and daughters-in-law would previously have been the ones who served as unpaid carers, British journalist Sarfraz Manzoor explained in The Guardian, and it was easier to look after older parents when families had more children to share the burden.
Now, he observed, economic necessity and changing family structures mean more women are in employment and caring for their parents is an outdated stereotype.
CHANGING FINANCIAL SITUATION FOR ELDERS
That shift has been visible in Singapore for many years.
A key milestone occurred in 1995, when the Government passed a Maintenance of Parents Act. It allows anyone 60 years or older living in Singapore and who is unable to maintain himself to apply for an order for his children pay him a monthly allowance.
Associate Professor Wing-Cheong Chan from National University of Singapore noted that the legislation generated heated debate which polarised the population.
There was criticism that it subsumed the Asian value of filial piety in a legalistic Western framework, and was unnecessary, given the small number of parents being neglected by their children.
Despite those objections, Assoc Prof Chan noted that a substantial number of elderly Singaporeans have resorted to the Act.
There have also been attitudinal shifts, albeit slow ones.
A recent Living with Parents survey in Singapore by the Institute of Policy Studies, for instance, found that 73 per cent of respondents said that the family still bears the primary responsibility for taking care of their senior relatives.
Reflecting Assoc Prof Chui's insights about the role of government, however, 69 per cent ranked the government first or second in importance in supporting elders.
Moreover, 41 per cent of respondents, who were more likely to be 60 years old and above, said that they now believe "each generation should take care of itself".
And although a survey here by financial portal Dollars and Sense found that more than half of the respondents believe children must give money to their parents every month, 25 per cent think that supporting their parents is optional.
THE CHALLENGE
From the viewpoint of the seniors, many parents today still expect to be dependent on their children.
In its 2018 Ready for 100 research report on how to prepare for longevity in Singapore, insurer Prudential found that 31 per cent of the elderly, for instance, expect to rely on their children to help support their needs after age 62.
Financial realities are, however, making it more difficult for children to provide that assistance.
Research by another insurance provider NTUC Income, for example, found that even though 66 per cent of young people here factored the cost of looking after their retired parents into their plans, only 8 per cent were confident of supporting them financially.
Fully 70 per cent thought they would need to downgrade their lifestyle to care for their parents, such as settling for a smaller house or even delaying marriage.
The HSBC Power of Protection Survey in 2017 similarly found that 47 per cent of people are financially unprepared to provide for their parents should something unforeseen happen.
Reflecting a change in attitudes, too, only 30 per cent said that "providing for my parents" is one of the top five things they are concerned about in life.
BALANCING FAMILY NEEDS
There's no right or wrong answer about what to do, of course. The decision comes down to individual choice. What's important is to understand the changes and prepare for them.
Clearly, many people here still plan to look after their parents despite the challenges.
Realistically, though, whether they will have the financial ability to do so is uncertain.
If they want to support their parents, then they may need to save more than they're doing today.
Looking ahead, it's important for parents and grandparents today to understand the impact of changing attitudes and realities.
While many of the elders may expect their children to support them, they may need to look for other sources of income if their middle-aged children cannot or do not want to help out.
And with attitudes continuing to shift, those who are middle-aged today may well need to prepare financially for their own retirement because their millennial children may feel no need to support them in the years to come.