China defence minister rejects US' 'smears, threats', says 'no one should bully others under guise of multilateralism'
SINGAPORE — The United States must stop smearing, accusing and threatening China, China's Defence Minister Wei Fenghe said on Sunday (June 12) in a direct riposte to his US counterpart's comments a day earlier.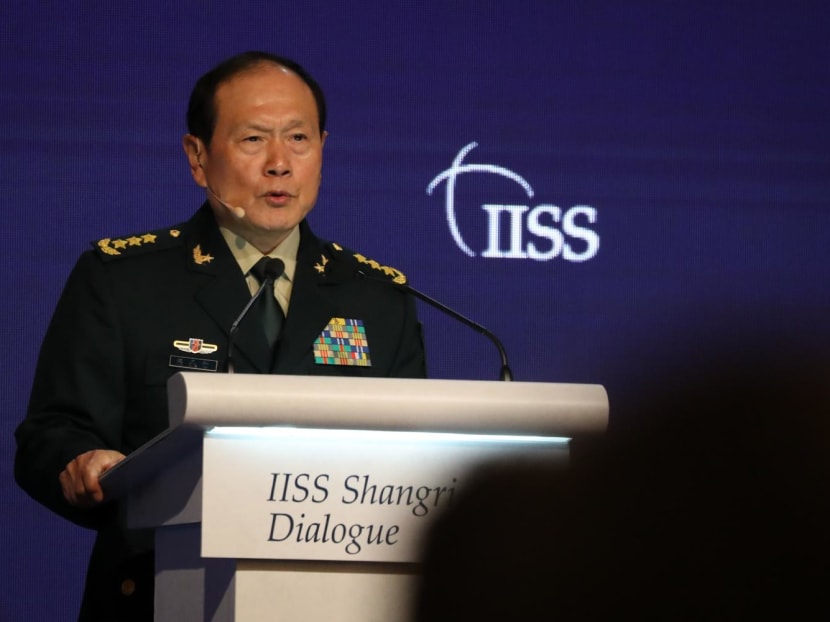 China rejects the United States' "smearing, accusation, even threats" against it, said China's defence minister
General Wei Fenghe stressed that the US must stop harming China's interests in order for bilateral relations to improve
In his address at the Shangri-La Dialogue on Sunday, the defence minister also outlined China's stance on Taiwan and South China Sea
He called upon the US and NATO to have talks with Russia to create conditions for an early ceasefire
SINGAPORE — In a direct riposte to his United States counterpart, China's Defence Minister Wei Fenghe said the US "must stop smearing and containing China, stop interfering in China's internal affairs, and stop harming China's interests". 
"The bilateral relationship cannot improve unless the US side can do that," he stressed on Sunday (June 12).
US-China relations was among several hot button issues touched on by General Wei in the opening plenary session on the last day of the Shangri-La Dialogue.
"Yesterday, (US Secretary of Defence Lloyd) Austin addressed the first plenary session. I disagree with some points he made and firmly reject the US smearing, accusation, even threats against China," said Gen Wei almost right at the start of his address on China's vision for regional order.
Mr Austin on Saturday had reaffirmed Washington's commitment to a One China policy, but at the same time described China's military actions near Taiwan as a "growing coercion" threatening to destabilise the region.
On Sunday, Gen Wei also addressed concerns around the Ukraine crisis, Taiwan and the South China Sea situation, while repeatedly reiterating Beijing's commitment towards peace and stability while denouncing promotion of hegemony as the world enters a new period of volatility.
"STRATEGIC MISTAKE" TO VIEW CHINA AS THREAT
As two important major powers, cooperation between China and the US is vital for global peace and development, said Gen Wei, adding that his country believes a stable relationship between the two would serve their common interests and that of the rest of the world.
On the other hand, he said confrontation will benefit neither parties nor the rest of the world. But he added that insisting to view China as a threat or adversary would be "a historic and strategic mistake" on the US' part.
Improving the relationship, which he described as being at a crucial and critical juncture, would require the US to change its approach towards China.
WIN-WIN COOPERATION, NOT HEGEMONY, KEY TO PEACEFUL COEXISTENCE
China's defence minister said that in the pursuit of peaceful coexistence, the world's countries should strive for win-win corporations and not hegemony.
"No one and no country should impose its will on others, or bully others under the guise of multilateralism," he said, just before talking about the US strategy for the Indo-Pacific region.
Mr Austin in his remarks on Saturday had said that no region will do more to set the trajectory of the 21st century than the Indo-Pacific region. Hence, he said the region is "our priority theatre of operations" and "at the heart of American grand strategy".
Mr Austin also said that Washington remains committed to champion a positive future for the region, with its alliances and partnerships continuously deepening over time.
"To us the strategy is an attempt to build an exclusive small group in the name of a free and open Indo-Pacific to hijack countries in our region and target one specific country," said Gen Wei on Sunday.
China believes that for a strategy to be viable, it instead should adapt to historic and global trends, and contribute to regional stability.
Gen Wei also stressed that China believes in upholding rule of law and opposing unilateral actions.
This includes observing basic norms governing international relations and saying no to a might-makes-right approach.
"We should not interfere in others' internal affairs and say no to unilateral sanctions and long arm jurisdiction," he said, in a precursor to the later part of his speech on the Taiwan issue which China has repeatedly referred to as its internal or domestic affair.
CHINA AND ITS MILITARY CONTRIBUTE 'POSITIVE MOMENTUM' TO VOLATILE WORLD
Gen Wei said that his Government and military will add "positive momentum" to a world entering a new period of volatility and transformation, as China constantly seeks to live in harmony with all nations.
He highlighted a few of his country's recent achievements, such as successfully maintaining a zero-Covid approach while contributing to global vaccination efforts, as well as its wide economic network.
"China's development is a historical trend, and it is neither possible nor sensible to try to stop it," said Gen Wei.
More importantly, he said China has a "rock solid commitment to pursue peaceful development", achieving its success without "resorting to colonialism, exploitation and plundering others".
Gen Wei also talked about China's wide military ties with more than 150 countries and how it has contributed 50,000 personnel to the United Nations' peacekeeping missions. He said that the People's Liberation Army (PLA), the formal name for China's military, was forged in wars and has many victories, but has no aggressive objectives.
"We do not provoke troubles, but we will not flinch in the face of provocation. We do not bully others, but we will not allow others to bully us," he said.
"If anyone dares to attack us, the PLA will not hesitate to fight back and defeat the aggressor."
China's military capabilities were also brought up during the question and answer session with attending delegates, with some asking about the development of Beijing's nuclear capabilities and testing of supersonic weapons.
Gen Wei replied that it is only natural for any country to upgrade its military capabilities and build new weapons, but stressed that for China, it was all for the purpose of security peacekeeping.
"The development of China's military is never intended to threaten others or seek hegemony. China is never a threat and has never threatened any others," he said.
BEIJING'S STANCE ON TAIWAN, SOUTH CHINA SEA AND UKRAINE
Rounding up his speech, Gen Wei also made clear Beijing's stance on key issues brought up during the Shangri-La Dialogue, namely Taiwan, the South China Sea and the Ukrainian conflict.
On Taiwan
Gen Wei reiterated that Taiwan is a matter of internal affairs for China, adding that China will "definitely realise its reunification" and is making every effort to achieve this peacefully
He also warned against any form of foreign interference on the matter, saying that they are doomed to fail. He added that  "some country" is violating the One China principle by citing a "so-called Taiwan Relations Act", which Beijing firmly opposes
Mr Austin on Saturday had referred to the Taiwan Relations Act in explaining US' obligation to assist Taiwan in maintaining a sufficient self-defence capability, although he reiterated that the US does not support Taiwan's independence
On South China Sea
China's defence minister also stressed that Beijing benefits from peace and stability in the South China Sea
He said that while neighbours may sometimes disagree, the stability of the region must be built upon strong friendship and relationship among countries in the region
He warned of "big powers" from beyond the region who flex their military might and practise navigation hegemony by sending warships and warplanes to the South China Sea, which he said threatens stability
On Ukraine:
Gen Wei said that China regrets and is saddened by current developments in Ukraine
He highlighted how China is committed to promoting peace, mentioning how President Xi Jinping had made calls to US President Joe Biden and other world leaders since the second day of the conflict to pursue this aim
However, he also asked delegates to ponder these questions: "What is the root cause of this crisis? Who is the mastermind behind it? Who is promoting peace and who is adding fuel to the fire?"
He said that while China supports peace talks between Russia and Ukraine, he called upon the US and NATO to have talks with Russia to create conditions for an early ceasefire
Delegates also asked about China's relationship with Russia and whether it had contributed to the latter's invasion of Ukraine.
Gen Wei said that China's relationship with Russia is one of partnership, developed "on the right and correct path". He added that the relationship with its neighbour was not an alliance targeting any third party.
"Let me make this clear on the Ukraine crisis: China has never provided any material support to Russia," he said.