#trending: 'I can treat you like a dog' — China Southern Airlines suspends staff for alleged comments against passenger at Changi Airport
A clip of an argument between a passenger and a China Southern Airlines' ground staff member at Changi Airport has gone viral, after the staff member allegedly insulted the passenger by calling him a "dog".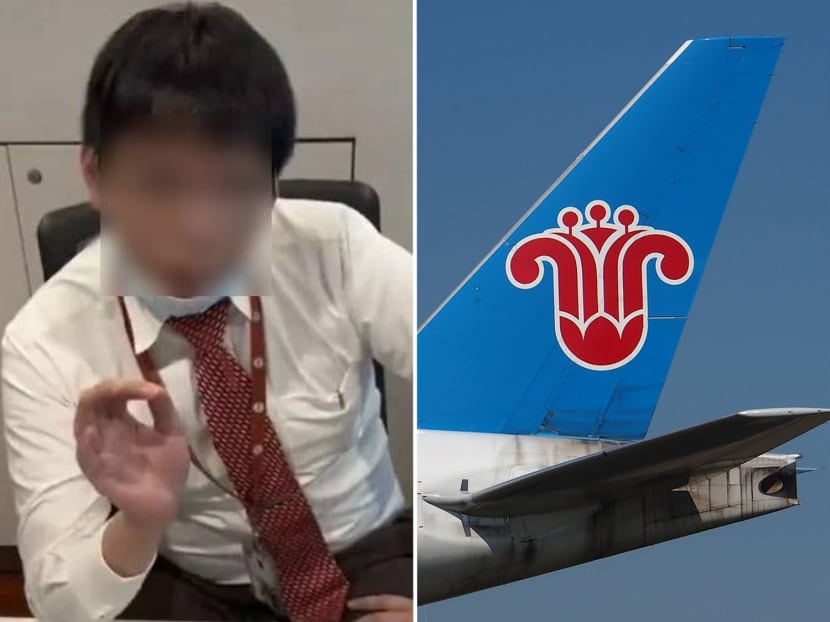 A clip of an argument between a passenger and a China Southern Airlines' ground staff member at Changi Airport has gone viral
The staff member allegedly insulted the passenger by calling him a "dog"
China Southern Airlines released an apology and the employee has been barred from working in his role for the airlines after the alleged verbal abuse
The incident has sparked a debate online, with several people claiming that the video did not give the full picture
Some online users believed that the passenger might have provoked the employee, while others argued that the employee should have acted professionally
SINGAPORE — A Changi Airport ground staff member for China Southern Airlines who allegedly called a passenger a "dog" has been suspended from duty after a video capturing a heated argument between the two men went viral.
The airline has issued a statement to clarify the situation and publicly apologised to the passenger via its official WeChat account last Saturday (May 27).
Chinese media reports stated that the traveller, surnamed Yuan, was checking in at Changi Airport for his flight to Chongqing in China last Tuesday and asked for a change of seat from the ground staff member at the counter.
Mr Yuan was told that an extra fee would be charged for seats near the emergency exit, but he claimed that no further explanation was given by the employee.
Seeking clarification, the man approached a different check-in counter to ask if any of the employees could speak Mandarin.
Despite overhearing staff members communicating among themselves in Mandarin, Mr Yuan said that a male worker pretended to not understand the language and refused to address his queries.
He added that a female employee later passed the remark, "Can't you see that we're busy?" in Mandarin. Mr Yuan claimed that he was the only customer at the check-in counters at the time.
In a report by The Paper from China, Mr Yuan said that he felt discriminated against by the service crew for speaking in Mandarin. He asked for the male staff member's name and employee number, and began recording their exchange on his mobile phone.
It was at this point that the employee purportedly verbally abused Mr Yuan by calling him a "dog" in English, Mandarin and the Chinese dialect Cantonese.
However, the alleged insults were not captured in the video clip of the incident shared by Mr Yuan on social media.
Instead, the employee can be heard saying: "If you want to be a dog, I can treat you like a dog. It's easy."
Mr Yuan retorts by returning the same insult to the employee. He then says: "Tell me clearly, who is a dog?"
The employee replies: "You keep interrupting when people are explaining something."
Mr Yuan insists: "Tell me who is a dog. Repeat what you said just now clearly."
The staff member is then heard muttering under his breath: "You don't even know how to be a human."
AIRLINE ISSUES APOLOGY
After the incident, China Southern Airlines Singapore released a statement on its official WeChat channel revealing that the staff member involved was an employee of a ground service agent contracted by the airline.
It acknowledged that the language used was "grossly inappropriate" and added that it has since ordered its agent to bar the employee from serving its flights.
The airline also expressed its commitment to improve the service standards provided by external agencies.
Mr Yuan's widely circulated video has sparked debates on various social media platforms, with internet users picking sides.
Several of them said that the staff member may not be entirely to blame since the clip did not show what transpired between the two men before they began arguing. 
Some of them believed that the passenger had done something to elicit such an aggressive reaction from the employee.
One user on online forum Reddit commented: "Where there's smoke, there's fire."
A TikTok user wrote: "Put (on) the full video. What caused this reaction? What happened before that could have provoked this?"
Others argued that the staff member's conduct was unacceptable, regardless of what Mr Yuan might have done.
One said: "Even if the customer is unreasonable, it must be dealt with professionally. You can ask him to leave. If he's here to make trouble, don't do his business."
The incident came on the heels of a controversy involving Cathay Pacific staff members who were accused of mocking the English language proficiency of passengers from mainland China.
In a post that sparked social media outrage, a passenger alleged that three flight attendants had complained among themselves and made fun of passengers who supposedly asked for a "carpet" instead of a "blanket" in English.
The Hong Kong airline fired the three crew members following an internal investigation.