Chinese families in Singapore set for another quiet CNY, as Covid-19 restrictions remain
SINGAPORE — Chinese New Year used to be a grand affair for the Tans.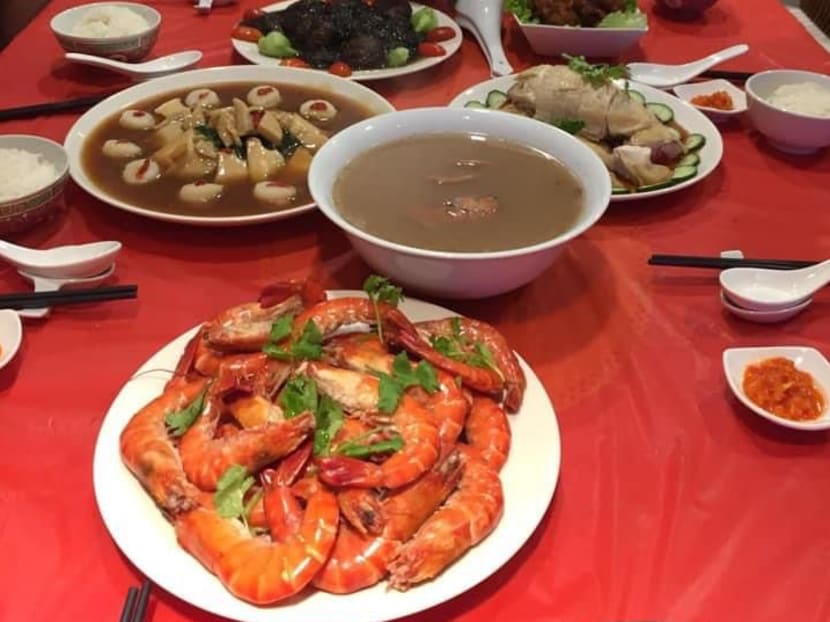 For the second year in a row, many families in Singapore are welcoming a quiet Chinese New Year
Families TODAY spoke to said Covid-19 restrictions have made it difficult for them to do visiting
For some, they will be spending the festive season with just their immediate families 
Others will be taking turns to visit their relatives on different days, to keep within the five-visitors-per-household-per-day rule
SINGAPORE — Chinese New Year used to be a grand affair for the Tans.  
A week before Chinese New Year, the family of 11, consisting of Mr Alan Tan, his mother, his siblings and their children, would start shopping for ingredients in preparation for their reunion dinner.
Starting their day with a hearty breakfast at the Albert Food Centre in Bugis, the family would then head to the market to buy dried goods before driving to Chinatown to visit their regular stalls to get meat and fish. 
Mr Tan would make preparations for a large reunion dinner at his condominium, where he lives with his sister and 80-year-old mother.
A self-taught chef, the 59-year-old retiree would single-handedly whip up eight dishes, including those that are known in Chinese culture to be "auspicious", such as steamed fish and chicken.
"We didn't come from a wealthy family in the past, so when we were young, we always had this desire to eat at a restaurant," said Mr Tan, who has been preparing the family's annual reunion dinners for 25 years.
"Whenever I had the opportunity to eat at a restaurant, in my mind, I will try to replicate that particular dish, especially for Chinese New Year and make it restaurant-style."
The Tans have kept this tradition of shopping and eating together for half a decade, till the Covid-19 restrictions kicked in last year and the family had to cease their annual shopping trips. 
They also had to do a "decentralised" gathering, where relatives would visit on different days, to keep within the cap on daily visitors per household. 
When asked if he misses pre-Covid celebrations, Mr Tan said: "Yes, definitely. As my siblings and I got older, everyone got married and had their own lives. But during Chinese New Year, we would just drop everything and congregate as one family again."
Families like Mr Tan's are having to work out different ways to celebrate Chinese New Year, with each household being able to welcome only five guests a day to their homes, down from the eight-person limit during CNY last year. 
Then, there are also others whose extended families are overseas and they have not yet returned to see them for years due to the pandemic.
QUIET CELEBRATION
This is the case for the Liangs, who are set to have a quiet celebration this year. 
Mr Liang Sea Fong, 52, was born in Malaysia and has been living here for 42 years. 
His mother, two siblings and their families used to fly to Singapore during Chinese New Year, bringing with them delicious snacks such as egg rolls from their hometown in Kelantan. 
But when his mother-in-law fell ill and was moved to a caretaking home in Johor Baru, Mr Liang would forgo these gatherings as his immediate family would spend the New Year visiting his mother-in-law. 
That was two years ago; she died last December.
Although borders reopened last November with the Vaccinated Travel Lane allowing quarantine-free travel between Malaysia and Singapore, Mr Liang and his family will not be returning to Malaysia as they could not secure flight tickets.
"By the time I tried to buy them, they were all sold out," the secondary school teacher said. 
For their celebrations this year, Mr Liang, who lives with his wife and four children, will also not be able to visit his family and relatives as they exceed the permissible group size for social gatherings and visiting.
Instead, Mr Liang and his family will be having a simple meal at home prepared by his wife. 
NOT RETURNING HOME
Similar to Mr Liang, Ms Deng Xin Mo, a Chinese national who has been living in Singapore for eight years, will not be returning to her hometown in Chengdu, a city in Sichuan province, to visit her family as well. She has not seen them since 2019 due to the travel restrictions.  
The 31-year-old decided not to return to Chengdu this year for the holidays as she finds it too troublesome and expensive. 
She would have to spend four weeks in quarantine upon arriving in China — two weeks in a hotel which she estimates costs around S$2,000 in total and two weeks at her residence. 
"I'm okay with not returning. But I do feel guilty because my parents are getting older. With the pandemic, it has made the amount of time I can spend with my parents much shorter as I cannot return home so easily," Ms Deng, who is an only child, said.  
HYBRID GATHERING
Though the restrictions have made it difficult for big families to meet, 26-year-old Ms Abigail Lim and her family have found a way around it. 
The family of 21 will be attempting a hybrid gathering this year, where they will be having their New Year's dinner at two separate houses while calling each other over Zoom. 
Ms Lim's cousins who are living in China and Australia will be joining the call as well. 
Ms Lim, who is pursuing a master's degree in psychology at the National Institute of Education, said that it was challenging to arrange as they had to find the best way to accommodate as many people as possible. 
"But I'm quite excited for this arrangement and I think it's quite interesting. It would be cool to be able to say hi to my cousins who are overseas. Maybe they can show us around their places in China and Australia, too," she said.