Travellers to Malaysia undeterred by checkpoint jams, with some celebrating CNY with family there for first time since Covid-19
SINGAPORE — Those who are planning to drive up north for Chinese New Year are prepared for long traffic jams in the Causeway, with some planning to stock up on snacks and making sure they do not drink too much water before the ride.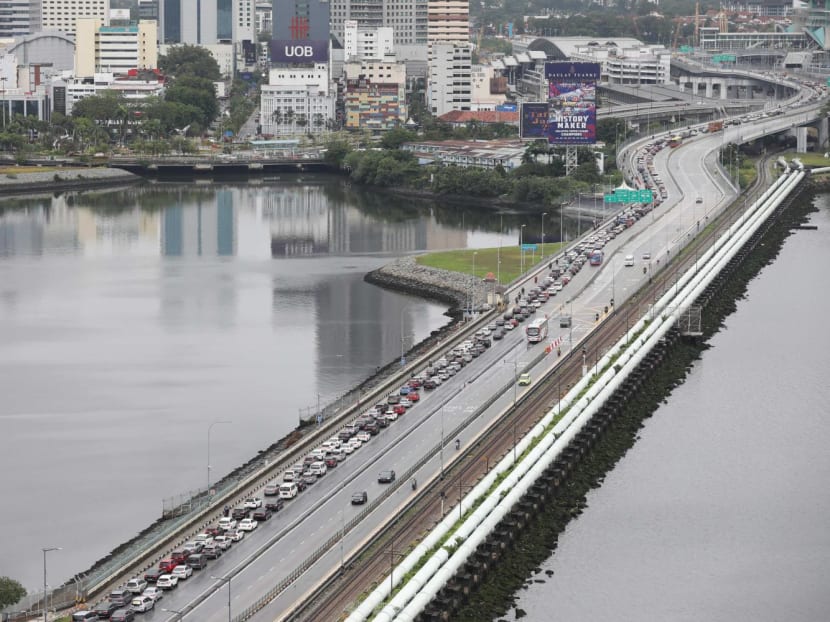 The Immigration and Checkpoints Authority (ICA) has issued an advisory to motorists travelling to Johor during Chinese New Year to factor in additional waiting times at the customs
The average waiting times prior to Covid-19 was about three hours, said ICA
Singaporeans and Malaysians driving up north are prepared to brave the traffic, and are making necessary arrangements such as leaving early or preparing snacks
This will be the first Chinese New Year in a few years where travellers can go to Malaysia, after the Singapore-Johor Covid-19 border restrictions were lifted last year
SINGAPORE — Those who are planning to drive up north for Chinese New Year are prepared for long traffic jams at the checkpoints, with some planning to stock up on snacks and making sure they do not drink too much water before the ride. 
While some have already gone in advance over the past couple of days, others are planning to head into Malaysia on Friday or Saturday and are mentally prepared to wait up to seven or even eight hours in traffic.
The Immigration and Checkpoints Authority has issued an advisory to motorists to factor in additional waiting times to their travel plans, adding that the average waiting time during public holidays before Covid-19 was about three hours. 
Most of the travellers TODAY spoke to will be heading to Malaysia to meet family members and celebrate Chinese New Year. This will be the first time in a few years that they are able to travel to Malaysia, after the country lifted Covid-19 travel restrictions last year.
Mr Lim Kok Leong is one of the travellers who left for Perak earlier this week on Tuesday (Jan 17) to avoid the Chinese New Year crowd.
The 44-year-old cleaner said that he took about one-and-a-half hours to reach Johor customs via the Woodlands Causeway.
"That's considered super smooth. Otherwise, if I had left during Chinese New Year, it would have taken me about three to four hours," said Mr Lim, who goes to Perak during Chinese New Year annually to meet his family.
Though Ms Poh Tze Teng had also left early at 4.30am on Friday (Jan 20) via the Second Link at Tuas, the traffic jam had already begun.
"We took only 30 minutes to clear the Singapore customs, but we took about three hours to clear on the Malaysian customs side. I don't know why it took so long," the 24-year-old engineer said.
"All the counters were open and active on the Singapore side. But not all of the counters at the Malaysian customs were active despite the fact they were all open, too."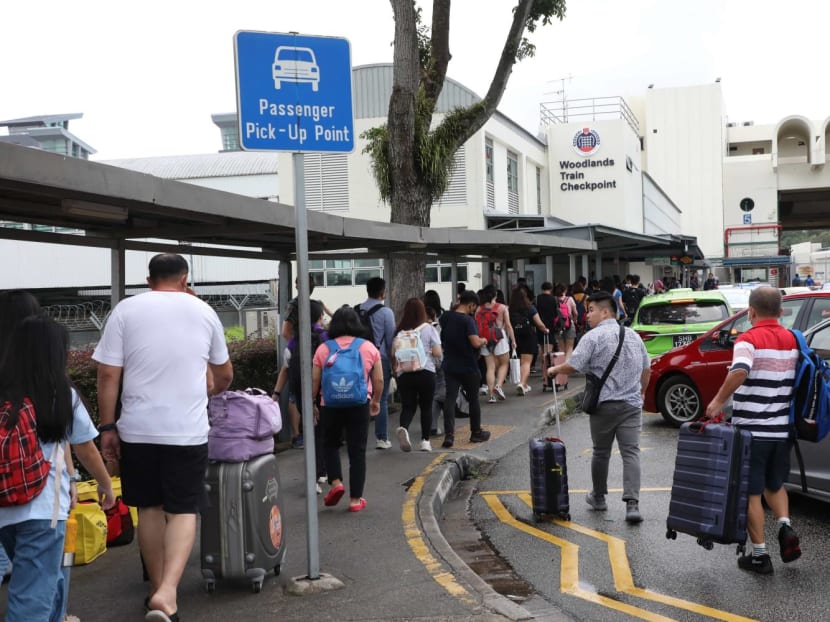 TRAVELLERS TAKING NECESSARY MEASURES, PREPARED FOR THE LONG WAIT
Singaporeans and Malaysians planning to face the checkpoint crowd have planned for necessary measures, including relieving themselves before they leave for the journey.
"My mum told us to wear adult diapers!" said Ms Tan Leh Ying, 25. 
"But I don't want to do that. I will just try not to drink too much water before we go."
She will be visiting her grandmother at a town in Johor with her parents and sibling.
Travellers also plan to use restrooms near the checkpoints or at the customs itself, if the wait gets too long.
University administrator Eng Yu Fan, who is planning to drive to Muar on Saturday evening, said that he will usually stop at a petrol station nearest to the customs to use the restroom, top up petrol and get some snacks.
"I don't have a fixed route, whether to go via Woodlands or Tuas, but we usually make it a point to have a last stop at the nearest petrol station and get what we need before heading to the customs," said the 31-year-old.
Travellers are also learning from past experiences.
A woman who wanted to be known as Ms Henny said her family would leave in the afternoon, as based on their past experiences, there would usually be almost no traffic jam during that timing.
"We usually go to Johor almost every weekend, and avoid the jam by going during non-peak hours and by train," she said.
"We are taking the bus this time to enter Johor during the Chinese New Year weekend, and hopefully the jam won't be so bad since there are dedicated bus travel lanes."
Mr Derick Tee, who is leaving on Friday with his family to visit their hometown in Muar, said that he would avoid driving at midnight as traffic would usually be heavy during those hours.
"We've prepared food and snacks as usual, and we won't drink much before leaving. Other than that, I've prepared music and entertainment for my kids," said the 46-year-old who is working in sales and marketing.
Ms Tan said that her family makes sure to pack food before they leave Singapore.
"It used to take us about five hours to pass the customs before Covid, and I remember we used to get so hungry. We didn't buy any snacks so we just slept the hunger away," she said.
"We'll prepare plenty of snacks like finger foods this time, because there will definitely be a jam."
FIRST CNY REUNION SINCE COVID-19
Ms Tan said she will watch the traffic conditions at Woodlands and Tuas through an online app before deciding which route to take this Sunday.
While she is anticipating the queue at the customs to take about two hours to clear, she is undeterred as this is the first time that she will be celebrating Chinese New Year with her grandmother since Covid-19 started.
Her family has prepared for the queue by hiring a private driver to brave the crowd over the weekends.
"Actually the queue at customs is tiring for the driver, not the passengers. So my family doesn't mind paying more for someone else to fetch us from our house and drive us to Malaysia."
For Mr Tee, he is used to the traffic jams, having gone to Johor every Chinese New Year since he was little. 
"Before Covid, we would take about five hours on Chinese New Year to reach Muar. Now, I think we would take about seven to eight hours," said Mr Tee.