'The feeling's different': Large gatherings return over the first post-pandemic CNY, though some opt for overseas breaks
SINGAPORE — For the past three years, Malaysian Derick Tee has not been able to return to his hometown in Muar, Johor, for the Chinese New Year festivities due to the Covid-19 pandemic.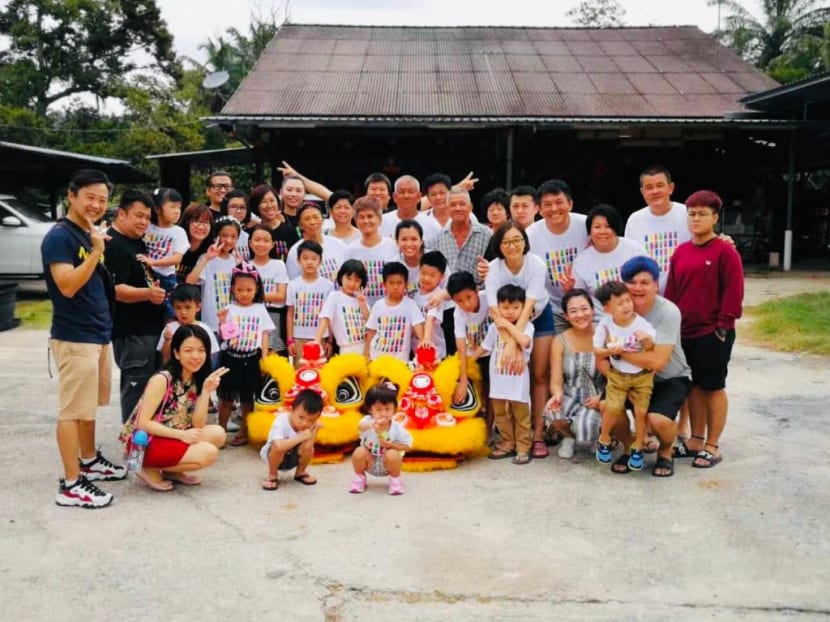 With pandemic restrictions virtually gone, families are able to reunite again in full force
Last year, the permissible group size for social gatherings was at five people, meaning that many families had to scale down their celebrations
However, for some families, such as those with relatives in China, returning home to see their families is still not so easy
SINGAPORE — For the past three years, Malaysian Derick Tee has not been able to return to his hometown in Muar, Johor, for the Chinese New Year festivities due to the Covid-19 pandemic.
So it was with great excitement that the 46-year-old Singapore permanent resident crossed the border on Saturday (Jan 21) to reunite with his extended family. 
Mr Tee, who works in sales and marketing, said the past two Chinese New Years were more muted as celebrations were confined to his immediate family.
"The feeling is different, we can only celebrate within our family of four," he said. "There are no fireworks and firecrackers, and over there (in Muar) we cook a lot." 
He said that a typical Chinese New Year in his hometown will see about 30 to 40 people gathering in Muar, with his siblings coming from all over Malaysia and him from Singapore. 
Before the pandemic, it was Mr Tee who would cook the reunion dinner for the whole gang every year, and this year he got to pick up his ladle again.
"They miss my dishes, so I have been cooking for them non stop," Mr Tee said on Monday. "I'm so happy to see they enjoy and love my food." 
Mr Tee is not the only one who is relishing this Chinese New Year for the large gatherings that they are once again able to have.
Last year, the permissible group size for social gatherings was at five people, even stricter than 2021's eight-person cap. This meant that many families had to scale down their celebrations, with large gatherings out of the question. 
'A BLESSING TO BE BACK TOGETHER'
The group size limitations in the past two years was felt keenly by Singaporean Alan Tan, who had to halt his tradition of gathering his extended family at his home.
He was finally able to gather on Saturday with 12 of his family members. 
Mr Tan, 60, a retiree and self-taught chef, had been cooking the reunion dinner for his family for the past 25 years, until the pandemic struck. 
Each of those years, preparations for the dinner would begin weeks in advance, when the family would discuss what dishes they would like. 
Mr Tan would then begin preparations for the dinner several days ahead, purchasing various preserved and fresh ingredients, preparing garnish, boiling the soup overnight, before cooking up a storm on the reunion dinner day itself. 
"On the actual day, we will have to prepare the food from morning till dinner," he said. 
The process, though laborious and time-consuming, brings Mr Tan a sense of pride that is not just about having a good meal.
"We try our best to always educate our next generation on the importance of being a Chinese, and Chinese New Year is supposed to be a big occasion for all of us," he said. 
"Basically, it is a blessing that we are able to come back together, and live life as per normal."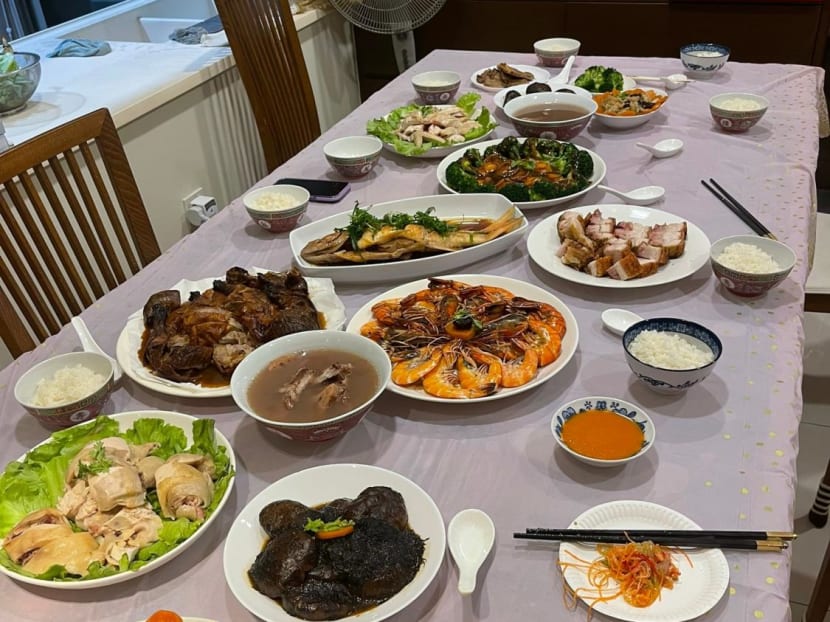 AWAY FROM HOME DURING CHINESE NEW YEAR 
But not all will be spending the duration of the festivities with their extended families. 
One Singaporean whose extended family lives in China said that he is not returning again this year because of the Covid-19 complications that still plague the nation. 
The 28-year-old, who only wants to be known as CJ, said that the last time he had returned to his family's hometown in Shanxi province in North China was in 2019.
In 2020, travel to China was halted right before Chinese New Year, and CJ and his parents have not returned since. 
They had hoped to return this year for the first time, but a combination of hefty flight tickets and an unstable Covid-19 situation prompted them to abandon those plans. 
As China abandoned its strict pandemic related restrictions last month, it has reported almost 13,000 deaths related to Covid-19 in hospitals between Jan 13 and 19. 
"The China situation right now is uncertain. Even if we are able to go there, we are afraid that we can't come back," he said.
He added that while return tickets pre-Covid could be about S$600 to S$700, the prices during this period are about S$1,000 for the cheapest flights with multiple layovers, while the most popular flights with fewer layovers could cost up to S$3,000. 
While he is sad that he will not be able to see his grandparents and other extended family members for yet another Chinese New Year, CJ said that he is looking forward to potentially returning later in the year, should the Covid-19 situation stabilise. 
Meanwhile, others are taking advantage of the Chinese New Year break to leave town for a holiday.
This is the case for 31-year-old newlywed Sandra Chan, who works in the apparel industry. 
Having just just held her wedding at the start of the month, Ms Chan and her husband felt that they had already had a "reunion" of sorts with their extended family and friends. 
So the pair decided to scoot off to Japan for their honeymoon on the second day of Chinese New Year. 
"We thought that we had already gathered with the family for our big event, so when we chose our honeymoon timing, we saw this long weekend," she said. 
She added that Japan had been a dream destination for her and her husband, and that this period was particularly ideal as they believed fewer tourists in the region would be travelling due to Chinese New Year celebrations. 
She added that she was thankful that the parents on both sides were largely supportive of this unconventional move. 
"We planned to be there for the reunion dinner to catch up with the family… and we still get some time on the (first day of Chinese New Year) to visit our relatives," she said. 
"Our closer family, they understand, and according to Chinese tradition, for the first year of marriage we don't need to give ang pows (red packets)."