Circuit breaker extended by four weeks to June 1: PM Lee
SINGAPORE — The Government will extend the circuit breaker to minimise movement of people for four more weeks until June 1, Prime Minister Lee Hsien Loong announced on Tuesday (April 21).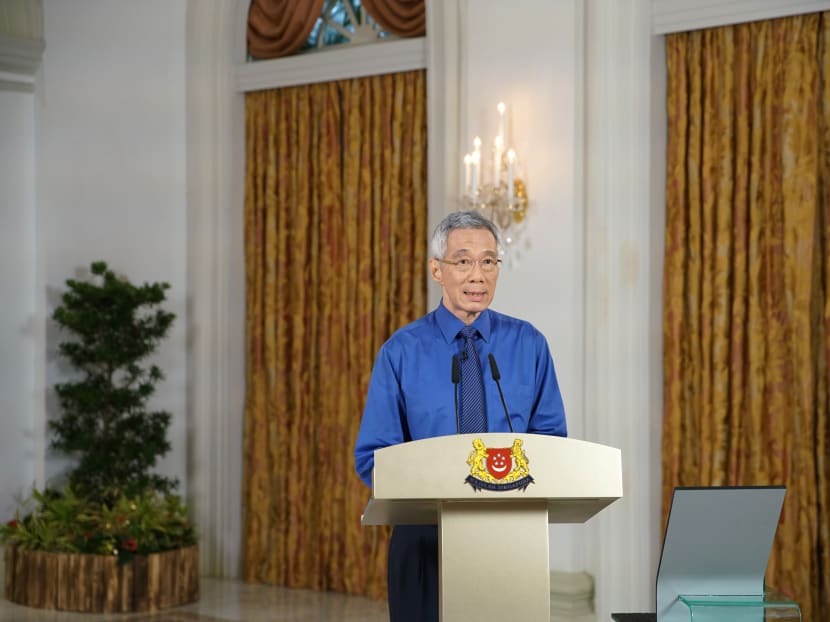 SINGAPORE — The Government will extend the circuit breaker to minimise movement of people for four more weeks until June 1, Prime Minister Lee Hsien Loong announced on Tuesday (April 21).
In the next two weeks — until May 4 when the circuit breaker was originally scheduled to end — the authorities will tighten certain measures.
"Then, provided we have brought the community numbers down, we can make further adjustments and consider easing some measures," Mr Lee said in a live address on television, radio and the internet.
Some hot spots such as popular wet markets, where large groups of people continue to gather, will "impose entry restrictions to thin out the crowds even more".
More workplaces will be closed, "so that only the most essential services will remain open", he added.
"This will reduce further the number of workers keeping essential services going, and minimise the risks of transmission among the workers."
Mr Lee noted that the move will mean some degradation of services — for example, less frequent grass-cutting in the Housing and Development Board estates.
"But I hope we all understand why this has to be done." 
He pointed out that the Government will not be able to completely lift the restrictions after May 4 and go back to business as usual — this is why the circuit breaker has been extended.
This was the fourth time Mr Lee had addressed the nation on the Covid-19 situation. Prior to that, he spoke on Feb 8, March 12 as well as on April 3, when he unveiled the circuit breaker measures. 
Urging all Singaporeans to do their part by staying home, Mr Lee said: "Go out only for essential needs, like buying food or groceries. Otherwise, please stay at home. 
"If you do need to go out, then go by yourself, not as a group or as a family."
He added: "Even when exercising outside, do so only by yourself and only in your neighbourhood. Remember: It is not just about adhering to the letter of the law."
People should also go to the market on weekdays rather than weekends, "and don't take your whole family with you for grocery shopping".
"When you run errands, go out alone, get what you need and return home straightaway," Mr Lee said. 
He stressed that the "spirit of the guidelines is to reduce movement to a minimum, and to avoid being out and about in the community".
"This is the way to protect yourself, your family and everyone else. So I hope everyone can cooperate and do your part."
He stressed again that the authorities "want to bring down the community numbers decisively".
"We also want to make sure that if any leakage occurs from the dorms to the wider community, we can detect and contain it early, and prevent new clusters from forming and bursting out of control."
To achieve these two objectives, everyone must all hunker down and press on with the tight circuit breaker measures, he added. 
WHAT IT TAKES TO EXIT CIRCUIT BREAKER 
On how Singapore can exit the circuit breaker, Mr Lee said again that nobody knows how long the pandemic will last. It will most likely take more than a year, before effective treatments and vaccines become available. 
"So we have to take things one step at a time," he said. 
To end the circuit breaker, there are three things that have to be done. 
"First, we must open up incrementally, in small steps, making sure that we are safe each step of the way," Mr Lee said. "This is what New Zealand and Germany are beginning to do, very cautiously."
The two countries believe that they have broken the chain of transmission, but they want to be extra careful.
"They don't want to open up prematurely after lockdowns, only to find Covid-19 coming back and then be forced to lock down a second time," Mr Lee said.
This has happened in Hokkaido, Japan and Singapore should try its best to avoid this, he added. 
Second, the authorities need to scale up testing for Covid-19 substantially, so that they can quickly detect any new cases that emerge. 
"This we are beginning to do, not only by procuring test kits and equipment from other countries, but also by developing and manufacturing our own test kits," Mr Lee said.
The third thing is to make full use of information technology, "so that when we discover Covid-19 cases, we can trace more efficiently where they have been, and whom they have been in contact with". 
The Government has rolled out the TraceTogether mobile application, and it is now developing other apps for the purpose of helping contact tracing. 
"For these to work, we will need everyone's cooperation to install and use these apps, like what the South Koreans have done," Mr Lee said. "There will be some privacy concerns, but we will have to weigh these against the benefits of being able to exit from the circuit breaker and stay open safely."
Mr Lee said he knows that it has not been an easy time for everyone. While Singapore is making progress in its fight against Covid-19, it has not yet succeeded. 
Still, the results show that the circuit breaker is working, he pointed out. 
"Now we all need to do a little bit more, make best use of the next two weeks of the tightened circuit breaker, and the four weeks after that," he said.
"I ask for your support and cooperation. I ask for your trust and your confidence. Let us go all out to beat the virus and break the chain of transmission. We will overcome this together."