Citizen employment rate, income growth rose over past decade, 'closely tracking' overall resident workforce: MOM
SINGAPORE — Over the past decade, job and wage trends among Singapore citizens have closely matched those of the total resident workforce, which includes permanent residents (PRs), a new report by the Manpower Ministry (MOM) shows.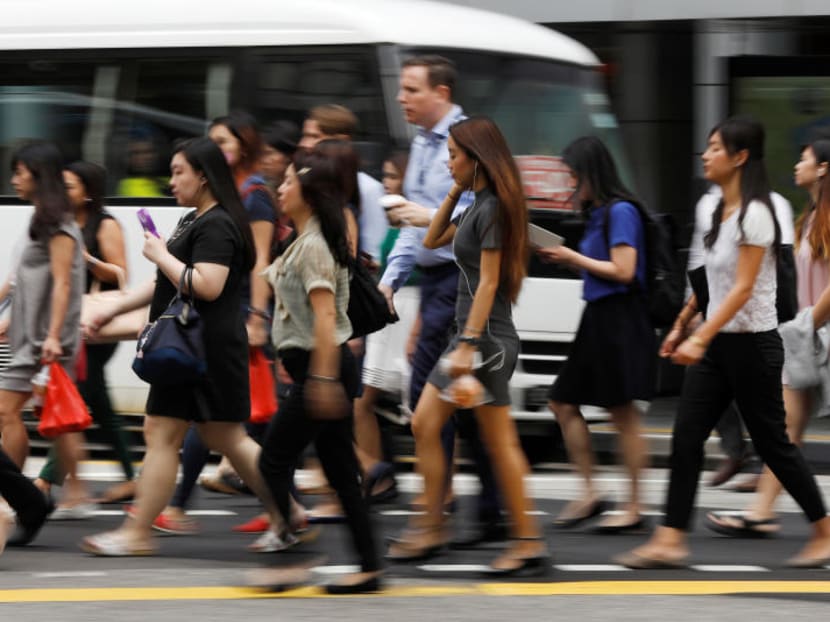 SINGAPORE — Over the past decade, job and wage trends among Singapore citizens have closely matched those of the total resident workforce, which includes permanent residents (PRs), a new report by the Manpower Ministry (MOM) shows.
The employment rate among citizens rose between 2009 and 2019, mainly due to workers aged 65 and above becoming more employable, while their median income grew 2.1 per cent a year between 2009 and 2014, and then 3.9 per cent a year between 2014 and 2019.
"Employment outcomes of Singapore citizens have been positive over the decade. As Singapore citizens consistently make up the majority of the resident labour force, their trends track closely to those of resident data," the MOM said in a statement on Thursday (Jan 23).
The MOM regularly releases employment and income data on the total resident workforce. However, Thursday's occasional paper — a term used to describe reports that are released infrequently to address specific concerns — focuses just on citizens. The last time the MOM issued such a report was in 2011.
The MOM's regular reports typically track the employment trends of the resident workforce, which includes citizens and PRs. Except for unemployment rate and income growth, most statistical reports do not include a breakdown of data on Singapore citizens and permanent residents.
Citizens make up about 85 per cent of the resident labour force, while the PR population remained stable over the years, hovering at about half a million.
"These two facts taken together means that for the most part, resident data mirrors citizen data, and having citizen data in addition to resident data provides little additional information," said the report.
In its preface, the report stated that before 2006, the ministry had focused on the overall population, but as the foreign population grew in Singapore, it became "relevant" for the ministry to focus on the resident workforce.
"A further refinement to move away from resident data and release only Singapore citizen data was not made because there was little value from a statistical standpoint to do so, as our indicators would lose coverage without gaining additional perspective," said the ministry's Manpower Research and Statistics Department (MRSD).
The ministry had intended to release the paper in 2021, in order to capture a full decade of data, but decided to release the report a year early. 
In a Facebook post on Wednesday, Manpower Minister Josephine Teo said: "You may ask why we don't usually break down resident data further into Singapore citizens and PRs? There is no sinister reason."
Internationally, statistical agencies cover the entire population residing in their country without a breakdown by nationality, she noted. 
"The aim is comprehensive data coverage, so that analyses and comparison are accurate and meaningful. Nonetheless, over longer time periods, it is useful to take a closer look at citizen data in a holistic way, which is the purpose of such occasional papers." 
Mrs Teo also urged rational and reasonable Singaporeans to "not fall prey to attempts to sow distrust between Government and the people through suspicious lines of questioning that cast shadows where there are none."
The new paper is being published amid an ongoing debate over jobs for Singapore citizens, permanent residents and foreign workers, which culminated in a Parliamentary clash between Trade and Industry Minister Chan Chun Sing and the Workers' Party leader Pritam Singh earlier this month, when the latter asked for more data to shed light on the issue.
Mr Singh reiterated his point in a Facebook post following the debate, asking why the Government did not classify Singapore citizens as a standalone category in employment and data.
In a response to Mr Singh, Senior Minister of State for Trade and Industry Chee Hong Tat noted that most international labour market statistics do not break down the data based on nationality, while Deputy Prime Minister Heng Swee Keat warned against allowing nativist tendencies to take root.
In the occasional paper, the MRSD gave a breakdown of the statistics, comparing Singapore citizen data with total resident data in several metrics, including the share of professionals, managers, executives and technicians (PMETs) employment, the real annual change in gross monthly income, as well as statistics on retrenchment and rates of discouraged workers.
The paper does not include labour statistics on PRs alone, nor does it identify new citizens as a separate category.
It is available online on MOM's website.
THE FINDINGS
Employment and unemployment rate
There was an uptick in the overall employment rate for Singapore citizens over the past decade, climbing from 60 per cent in June 2009 to 63.6 per cent in June 2019. 
The increase was due to government efforts to raise the employability of older Singaporeans, said the report, as the Government implemented various measures to encourage companies to hire such workers. 
The employment rate for those aged between 25 and 64 rose faster in the earlier part of the decade than the latter half as more people in this group became older.
The seasonally adjusted unemployment rate has been "broadly stable", the ministry said, averaging 3.1 per cent from 2010 to June 2019. 
In June last year, the unemployment rate for Singapore citizens was 3.2 per cent, slightly higher than the 3.1 per cent for all residents, owing to a selection bias for PRs.
"This is to be expected because employability is often a key consideration for granting of permanent residency," said the ministry.
PMET share
Employed Singaporean citizens' share of PMET jobs out of the total employment has also risen over the years, from 47 per cent in 2009 to 56 per cent in 2019.
Similarly, the total number of employed PMETs who are Singapore citizens increased steadily from 742,800 to 1,050,300 in the same time period.
This closely matched the trend among the resident workforce, which takes in PR statistics. Resident trends showed the PMET share rise from 51.4 per cent to 58.3 per cent in the 2009 to 2019 period.
Monthly income from work
Among those working full-time, Singapore citizens experienced faster wage growth than the resident workforce in the past five years. 
Median incomes from 2014 to 2019 grew at an annualised rate of 3.9 per cent for citizens, and 3.8 per cent for residents.
This is compared with the 2009 to 2014 period, in which citizen incomes grew by 2.1 per cent per annum, while residents' wages grew by 1.9 per cent.
At the 20th percentile level, which reflects the bottom 20 per cent of wage earners, the difference was larger. In the last five years, citizens in this group experienced income growth of 4.6 per cent each year, compared with 4.4 per cent a year for residents.
In the 2009 to 2014 period, the growth rates for resident incomes exceeded that of citizens — the former clocked a growth rate of 2.3 per cent a year, while the latter came in at 1.5 per cent a year.
The gap between the median and 20th percentile was narrowed in recent years because of policy measures such as the Progressive Wage Model, Wage Credit, Special Employment Credit and other foreign workforce policy adjustments, said the paper.
In absolute figures, the median gross monthly income from work for Singaporean citizens over the years had matched the rising trend with residents over the decade, though citizens earned slightly less than residents. This difference is also due to the selection bias for PRs.
Retrenchment and discouraged workers
Data of the number and incidence of retrenchment on Singapore citizens also mirrored the trend for residents, though the paper was only able to provide data from 2012 to 2018.
This is because there is no data available for Singapore citizens prior to 2012, and the full-year statistics for 2019 retrenchments are not available yet.
Nevertheless, the number of retrenched Singapore citizens fell from 2016 to 2018 — from 8,330 to 5,480 — following two consecutive years of increase.
Retrenchment is not the same as unemployment, as not all retrenched persons become unemployed when they re-enter the workforce, or decide to leave the labour force altogether — such as by not actively seeking a new job.
On the latter, data on this pool of discouraged workers, as they are known, also tracks similarly for both citizens and residents. In the last three years, the number of discouraged Singapore citizens fell from 8,600 in June 2017 to 6,700 in June 2019.