Cleaner air in Singapore with reduced activities but it's unlikely to last
SINGAPORE — The island experienced its cleanest air in a long while earlier this week, although most Singaporeans would not have enjoyed it to the fullest while staying home for the better part of five weeks.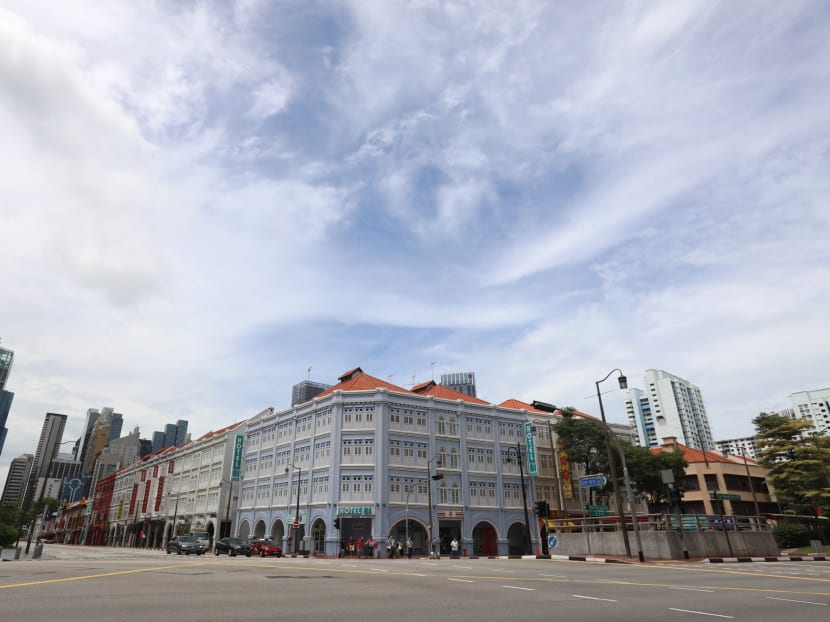 SINGAPORE — The island experienced its cleanest air in a long while earlier this week, although most Singaporeans would not have enjoyed it to the fullest while staying home for the better part of five weeks.
Mirroring a trend of better air quality seen around the world, the 24-hour Pollutant Standards Index (PSI) in Singapore, which is a broad indicator of air quality, has been largely trending downwards since the circuit breaker brought economic activity to a near-halt. 
The circuit breaker, a term used by the Government in taking action to restrict the movement of people and business activities and to stem the spread of the deadly coronavirus, began on April 7.
TODAY took a look at the daily 24-hour PSI data from the website of the National Environment Agency (NEA) for the duration from March 1 to May 15. An average for the day's high and low values were taken.
WHAT PSI READINGS SHOW
The PSI takes into account, among other types of pollutants, tiny air particles known as PM2.5, which refers to particulate matter that is up to 2.5 micrometres, or microns, in size.
A "good" rating ranges from zero to 50, while "moderate" would be between 51 and 100. Any value beyond that would fall into the "unhealthy", "very unhealthy" and "hazardous" categories.
The month of March started out with fluctuating PSI values and reached its peak at 62.5 on March 10 — just under a month away from the start of the circuit breaker.
It then fell after March 10 and remained fairly constant from March 15 to April 1, followed by a sudden dip when the circuit breaker started.
On April 7, it fell to a low of 33.92.
For the month of April, even with daily fluctuations, PSI values were generally lower until early May.
On May 3, it started out in the "good" range and by May 8, it was in the "moderate" range with a reading of 54.54.
Between May 8 and 15, the readings ranged drastically.  Singapore's air quality looked to be the best during this week, when it reached the lowest PSI value of 22.33 on May 11.
But then, from May 12 — which coincides with the day the authorities relaxed some of the measures to limit business activities, the PSI level has shot back up.
As of 8pm on Friday (May 15), the average high was 56.55 — the highest since the circuit breaker started. 
WHY THE AIR CLEARED
An NEA spokesperson told TODAY on Wednesday that the air quality in the two weeks before the circuit breaker — March 24 to April 6 — was already better than the same period last year.
This improvement in air quality is "probably due to a reduction in transport-related activities" as businesses executed work-from-home arrangements for employees.
Another factor was the "slowing down of industrial activities in tandem with the global economic situation", the spokesperson said. 
Air travel, too, had been significantly curtailed, with various borders closed around the world.
NEA said that from March 24 to April 6, the average levels of air pollutants fell when compared to the same period last year. 
PM10 dropped by 21 per cent

PM2.5 went down by 35 per cent

Nitrogen dioxide fell by 37 per cent

Carbon monoxide decreased by 8 per cent

Sulphur dioxide dived by 43 per cent
Preliminary analysis of the two-week period after that — April 7 to 20 — showed there was a further improvement in air quality.
On Friday, NEA said that the air pollutant levels for April 21 to May 11 have generally remained similar to the first two weeks of the circuit breaker.
These are noteworthy improvements because they showed that Singapore's daily pollutant levels across all key indicators met the air quality guidelines set by the World Health Organization (WHO), NEA said.
Before Covid-19, Singapore met WHO's ambient air quality guidelines for nitrogen dioxide and carbon monoxide, but not for PM10, PM2.5, and sulphur dioxide, NEA added.
Similar to PM2.5, PM10 refers to particulate matter that is up to 10 microns in size.
WHO said that exposure to high concentrations of either PM2.5 and PM10 could have fatal consequences. It added that sulphur dioxide can affect a person's respiratory system, the function of the lungs, and cause irritation of the eyes.
NEA's spokesperson said that particulate matter in Singapore mainly comes from vehicular emissions, while sulphur dioxide mostly generated by industry. 
NO TIME TO APPRECIATE CLEANER AIR
If the air was less polluted, the people interviewed by TODAY were not noticing it much. Rather, it was the advent of hotter weather that got them talking.
Mr Chan Gent Ho, 34, agreed that the sky looks clearer than usual, but he has been spending most of his time working in his bedroom.
The senior marketing manager at a creative agency said that he has been putting in 14-hour days since he started working from home in mid-March.
The only time he steps out of the house, he said, is when he needs to buy food.
Even so, he cannot tell if the air smells fresher because he finds it hard to breathe with the Government-issued face mask.
"I don't necessarily feel anything personally (regarding the cleaner air) because I've been working from home," Mr Chan said. "But I guess it's good for the earth to heal a bit."
What has been bothering Mr Chan, and several others, is the heat. 
The Meteorological Service Singapore said on April 30 that the month had seen higher-than-usual temperatures over many parts of the island.
It added that May, typically one of the warmest months of the year, is forecast to be warm with the daily temperature on most days ranging between 25°C and 34°C during the first half of the month.
To deal with the heat, Mr Chan said that his family has been turning on the air-conditioner in the living room for most of the day — though he relies on a fan when he is working in his own room.
Engineer Claire Gwee, 34, agreed that the heat has made it hard for her to focus on work on some days
"Since I've been working from home, I've been using the air conditioning more on those warm days," she said.
Mr Aaron Low, 38, a photo editor, said that the hot weather has made working from home less productive because it affects his concentration.
Mindful of the cost of electricity, he refrains from using air-conditioning too much and turns it on only at night before he sleeps.
"It's a shame that we can't get out for fresher air," he said, athough he still gets the occasional sea breeze from where he lives in Bukit Purmei, near the southern coastline. "But the air is always better outside."
APPRECIATE IT WHILE IT LASTS
Singapore is not the only country that has seen an improvement in the air quality owing to stay-home restrictions this pandemic. 
The notoriously smog-filled Indian city of New Delhi and industrialised parts of northern China are also enjoying cleaner skies, news agency Reuters reported.
Air quality in the United States has also improved when roads were emptied of traffic in some parts of the country, giving "a futuristic glimpse of the clearer skies that could come with an electric vehicle fleet", Reuters added.  
Dr Matthias Roth of the National University of Singapore's Department of Geography said that Singaporeans can expect to enjoy the cleaner air up until the economy is back running at its usual pace again.
Dr Roth, whose research interests include cities and climate change, explained that the way the global economy works relies on creating goods that inevitably create environmental pollution.
"That's why we have bad air quality," he said. "If the emission sources are reduced, as is the case now with the (circuit breaker), then of course the air quality will improve as well.
"However, when the economy reopens again at some point, this will inevitably come at the cost of the environment and we will again see a worsening of water or air pollution."