Cleaners, security workers and others on the frontline of Covid-19 should be paid more, says NMP
SINGAPORE — The frontlines of Singapore's war against Covid-19 have been manned by people "whose market prices are low but social values immeasurable", Nominated Member of Parliament (NMP) Walter Theseira said, as he urged the Government to intervene and raise wages for such workers.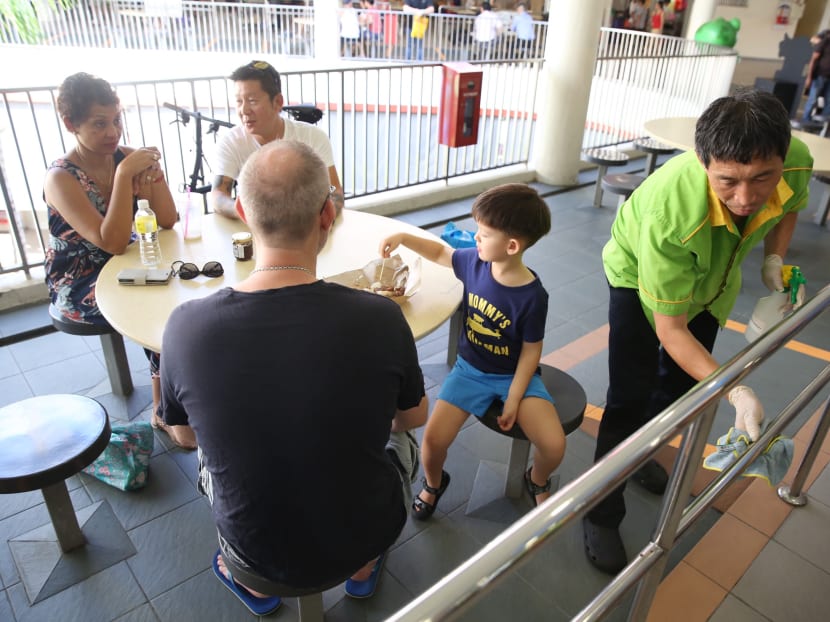 SINGAPORE — The frontlines of Singapore's war against Covid-19 have been manned by people "whose market prices are low but social values immeasurable", Nominated Member of Parliament (NMP) Walter Theseira said, as he urged the Government to intervene and raise wages for such workers.
Speaking on the second day of the Budget debate in Parliament on Thursday (Feb 27), Associate Professor Theseira said that the viral outbreak has shown that the market-determined salaries of workers such as cleaners, security officers, healthcare workers and emergency responders have diverged from the value that they now provide to society.
A "tangible salary increase" is also needed to acknowledge the work of public transport workers, hawkers and shopkeepers to keep supply lines running, he added.
He cited the example of a cleaner named Rosalind who works at the Singapore University of Social Sciences, where he teaches. She now has much more work to do because she has to disinfect offices, classrooms and toilets more often. She is also more exposed to the virus, he noted.
Yet, she is still paid the same wage as before.
Assoc Prof Theseira noted that, similarly, security officers who serve quarantine notices and screen people for Covid-19, emergency medical responders and nurses who have direct physical contact with the sick as well as general practitioners (GPs) are all working on the frontline of the crisis, and yet are paid less than specialists and surgeons.
"There may be market reasons why elective aesthetic surgery gives a doctor a much better living than primary care, but surely there are few social reasons why this is so," he said.
He lauded recent moves by some Singapore companies, such as Temasek, Sats, SMRT and CapitaLand, to restructure and reduce the wages of senior management staff members.
These actions also signal that the risks and costs of Covid-19 should be socially distributed, Assoc Prof Theseira said.
"Let me suggest that this year, we orient all efforts towards protecting and even increasing the wages of lower-paid Singaporeans, and paying for it by restraining and restructuring the wages of those higher up – which would include, I would suggest, honourable members as leaders in their own professions," he said to the House.
GOVERNMENT INTERVENTION NEEDED
Covid-19 and the demands of economic restructuring have highlighted whether Singapore's risk-sharing institutions provide enough protection and resilience, Assoc Prof Theseira also said.
"There was a lively debate yesterday on unemployment insurance in the Chamber and I think the discussion should continue," he said, referring to an exchange between Manpower Minister Josephine Teo and Workers' Party's chairperson Sylvia Lim on the first day of the debate.
"We cannot depend just on charity for filling in the gaps, especially since charitable activity may also be affected by an economic or social crisis," he said.
Social protection institutions, as defined by the Organisation for Economic Co-operation and Development, include unemployment benefits, job protection, minimum wages and strong unions. 
Assoc Prof Theseira said that housing and healthcare also fall under this category of institutions.
"In particular, our resilience today to systemwide shocks such as Covid-19 depends very much on the government of the day enacting strong and tailored measures, because we do not have many automatic risk-sharing measures in place. 
"This is both a strength and a weakness because it depends on the performance of the political leadership of the day which, events near to us show, cannot be guaranteed." 
He drew on the example of the Black Death — the pandemic that wiped out a third of Europe in the 14th century — saying that the Covid-19 outbreak shows that similar issues in policymaking still exist today.
The plague had exposed the income inequality that weakened England's ability to resist the disease. At the time, wage control laws prevented workers from demanding higher salaries and so, many could not afford health treatment and hence posed a greater risk of spreading the disease across society.
Eventually, cities and towns intervened by hiring "plague doctors" to treat rich and poor alike without payment from the patient, he said.
While the causal link between inequality and the high toll seen in the Black Death is not definitive, Singapore should still take the opportunity now to strengthen weaknesses in the economy and society that may yet affect the course of the Covid-19 outbreak and the country's resilience to future crises, Assoc Prof Theseira added.
Covid-19 "is more than a public health risk: it is a threat to the present global political, economic and social order," he said.
Noting that freelancers and workers in small- and medium-sized enterprises are often the most exposed and have the least resources, Assoc Prof Theseira said that inequality is a problem that the Covid-19 outbreak could "well worsen" without strong government intervention.
"In any case, the solution to being a nurse is not for that nurse to become a doctor and the solution for cleaners is not to hope that our children do not have to take up that job or to depend on an inexhaustible supply of low-cost foreign labour. 
"Society needs both nurses and doctors, cleaners and lawyers. The solution is to pay and respect low-paid workers better."
PRIVATE, PUBLIC HEALTHCARE SECTOR UNDER PRESSURE
Assoc Prof Theseira also noted that the Covid-19 outbreak has thrown into sharp relief the different roles played by public and private healthcare institutions and how this leads to an imbalance during a health crisis such as the one now.
Last week, private hospitals reported large drops in the number of foreign patients, due to the shrinking pool of medical tourists that are visiting Singapore. Around 40,000 medical tourists typically come to Singapore each month, but many have cancelled appointments due to the outbreak.
Assoc Prof Theseira said: "It is likely, if the Covid-19 outbreak worsens, that our GPs and public hospitals will continue to be severely stretched with a high caseload, while the private specialist sector may be short of work. 
"This is neither resilient nor efficient. And yet it is the market outcome, because there is market demand to pay for excess capacity in the private sector, and none in the public sector."
In normal times, Singapore's public healthcare system is also placed under pressure to be more efficient, extracting the most out of its manpower and equipment, while cutting waste and slack in order to keep prices low. 
"This comes at a hidden cost to the resilience and morale of our healthcare workers. In a crisis, these effects become more salient," he noted.
"The lack of slack means that in a crisis, we risk having insufficient spare capacity to deal with unexpected surges in demand. We must then rely on our existing manpower and resources to work overtime to keep us safe."