Clinic assistant, property agent jailed for using NRIC details of patients, clients to redeem face masks
SINGAPORE — When Temasek Foundation restocked its vending machines with new face masks that people could redeem for free, a property agent and clinic assistant seized the chance to get more for themselves, by using their clients' and patients' National Identity Registration Card (NRIC) details.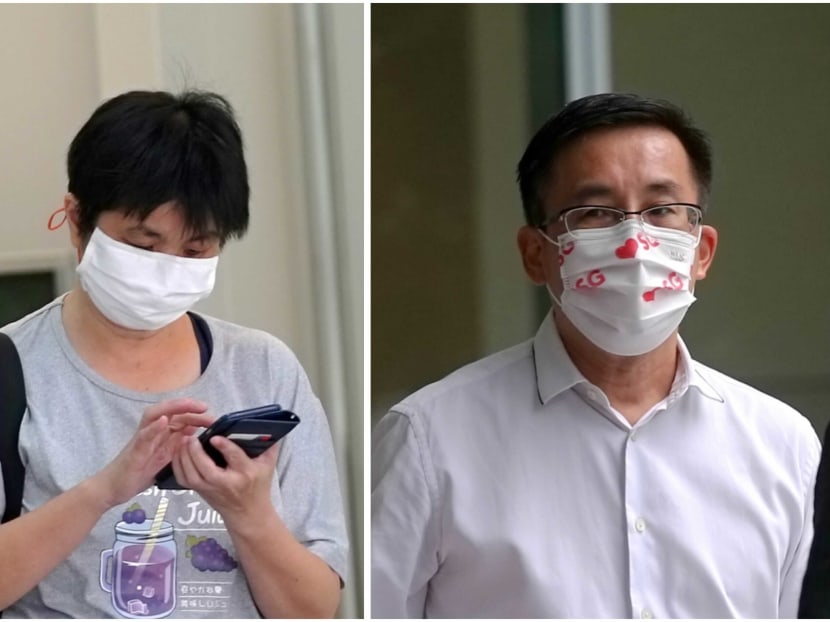 Temasek Foundation launched its fourth mask distribution exercise early in 2021
Each Singapore resident was entitled to one mask, to be redeemed through vending machines
Ang Poh Lay, a clinic assistant, and property agent David Chin Sing Chuin used their patients' and clients' NRIC numbers to redeem more masks
Ang was jailed nine weeks and Chin was jailed one week
SINGAPORE — When Temasek Foundation restocked its vending machines with new face masks that people could redeem for free, a property agent and clinic assistant seized the chance to get more for themselves, by using their clients' and patients' National Identity Registration Card (NRIC) details.
Both Singaporeans were jailed on Monday (Sept 27), with the clinic assistant — Ang Poh Lay, 47 — getting nine weeks' jail.
The employee at Tan & Yik Clinic & Surgery in Bishan had admitted to redeeming 26 masks, even though Singapore residents were only entitled to one each by keying in their NRIC number at the machines located across the island.
Ang pleaded guilty to cheating in relation to eight masks, and another charge of retaining the personal information of others without their consent to commit an offence. Hers was the first prosecution for the second offence.
David Chin Sing Chuin, who worked for property firm PropNex, was jailed one week for using 11 clients' details to redeem 11 masks. He pleaded guilty to two counts of cheating.
Both struck when Temasek Foundation began its fourth nationwide distribution of mask packs in February this year.
The vending machines were restocked with new navy blue masks by Swiss company Livinguard, each carrying a retail value of S$10. Residents could redeem one each by keying in their NRIC numbers.
ANG'S CASE
After Ang redeemed her own mask pack, she realised the mask quality was higher in comparison to those provided by Temasek Foundation in its previous rounds of distribution.
She also knew she could use the NRIC numbers and Foreign Identification Numbers of patients at her clinic, because she had previously succeeded in using her late mother's NRIC details to redeem an extra mask pack for herself.
Between March 1 and 7, she accessed the clinic's records and chose patients whom she assumed were older and had already died, or foreign domestic workers who had already left the country.
She targeted them as she knew that they were less likely to redeem their mask packs, the court heard.
She copied eight patients' personal information onto a piece of paper, and further admitted to retaining the details of 18 other patients.
Her offences came to light when a 68-year-old victim filed a police report on March 13, saying she was unable to redeem her mask pack and was told someone else had collected it a few days ago.
The victim confirmed that she received a screenshot from a Temasek foundation staff member of the person who had redeemed it, and she did not recognise this person.
The authorities searched Ang's home and seized 20 Livinguard face masks.
Deputy Public Prosecutor (DPP) Daphne Chee, who sought the sentence imposed, noted that Ang's offences were not one-off and she had misused her position as a clinic assistant.
Ang, who was not represented by a lawyer, told the court in Mandarin through an interpreter that she travelled between Singapore and Malaysia from time to time, having lived in Malaysia for 14 years and becoming a permanent resident after getting married.
She also said that she realised her mistake. She will begin serving her sentence on Tuesday after settling her affairs.
CHIN'S CASE
As for Chin, he had obtained clients' NRIC numbers in order to prepare documents for the sale of their properties. He held onto these documents since his work required it.
On several occasions between March 1 and 14, he went to vending machines at various locations to redeem the masks with 10 clients' details. He did so because he felt that the masks were comfortable and wanted them for his personal use, the court heard.
While he could not recall the dates, times and locations from where he redeemed the masks, he kept records of the NRIC details he had used on his mobile phone.
One victim filed a complaint with PropNex. The firm confronted him and he declared that he had only used clients' details to redeem masks on one occasion.
Separately, a 76-year-old office cleaner who had engaged Chin to be his property agent made a police report on March 6, after realising that someone else had used his NRIC number to redeem a mask.
Chin's employment with PropNex was terminated on April 27.
DPP Jonathan Lee asked for one to two weeks' jail for Chin, arguing that while he had cheated a relatively low sum of S$110 worth of masks, a deterrent sentence was warranted because access to masks was a matter of public health.
In mitigation, Chin — who did not have a lawyer — said that he committed a "foolish act" in the "spur of the moment" due to work stress and the need to provide financially for his family.
He told the court that he had contacted the victims to admit his mistakes and offered to return the masks to them. He sent one mask by mail on a victim's request.
Chin added: "I want to say that I always respect the law and I've been law-abiding for the past 59 years… This has been very traumatising and will be permanently etched as my biggest life mistake."
He also said that he has had zero income after losing his job, which was "very, very tough" on him due to a sizable housing loan and medical appointments.
District Judge Ng Peng Hong agreed with the prosecution that a strong deterrent message should be sent to like-minded persons that the courts will not condone such conduct.
Chin will begin serving his sentence on Thursday.
Those convicted of cheating can be jailed for up to three or 10 years and fined. Those convicted of unlawfully retaining personal information can be jailed for up to 10 years and fined.