'Reliving the kampung spirit': Neighbours put up CNY decorations together outside HDB homes; non-Chinese join in the festivities
SINGAPORE — Since 2019, Ms Jasmine Ng and her neighbours have been teaming up to hang ornaments and decorate the common corridor outside their flats in Woodlands. Each year, the decorations have been getting bigger and more elaborate, with this year's decorations costing S$800, up from S$600 last year.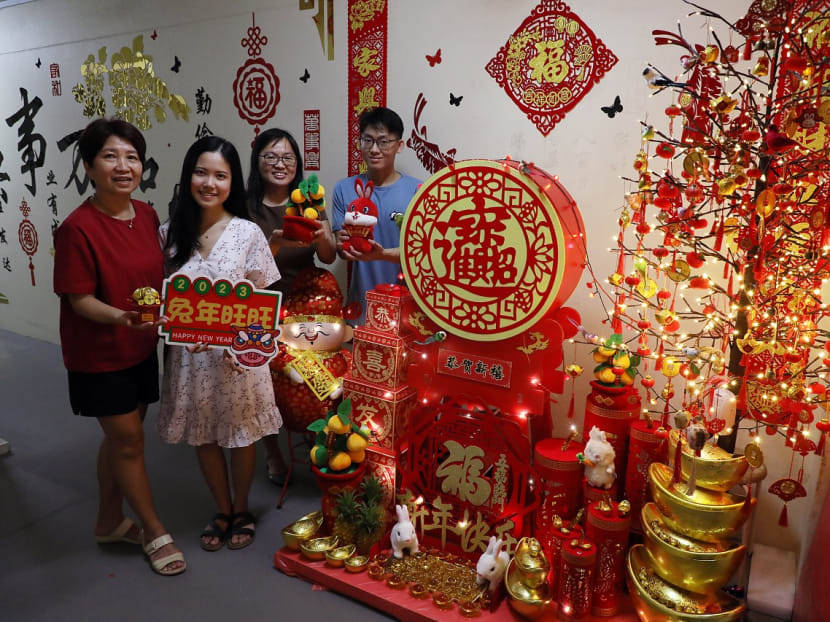 With Chinese New Year just around the corner, some Singaporeans have gotten together with their neighbours to decorate their shared common corridors
This year, four households in a public housing block in Woodlands have spent hundreds of dollars to decorate their walkway
In Tampines, Mr Abdullah Abdul Rahman put up elaborate Chinese New Year decorations to cheer up his neighbours even though he does not celebrate the festival
SINGAPORE — Since 2019, Ms Jasmine Ng and her neighbours have been teaming up to hang ornaments and decorate the common corridor outside their flats in Woodlands. Each year, the decorations have been getting bigger and more elaborate, with this year's decorations costing S$800, up from S$600 last year. 
This year's decorations include a drum set, an entire wall with four-character Chinese New Year couplets, posters with rabbits on them and even a motion-sensing gadget that gives a new year greeting to anyone who walks past. 
It was the restrictions associated with Covid-19 that brought into stark relief the most important aspect of these annual decorating efforts: The community spirit and sense of camaraderie among the four households involved who live at Block 851 on Woodlands Street 83.
For Chinese New Year in 2021, due to infection controls, each of the families decorated the area in the walkway directly outside their Housing and Development Board (HDB) units individually.
Ms Ng, 26, a marketing manager, told TODAY: "It was not as fun… it's really the communal spirit that we enjoy most, otherwise there is no point in doing this.
"This (activity) is about coming together and reliving the kampung spirit."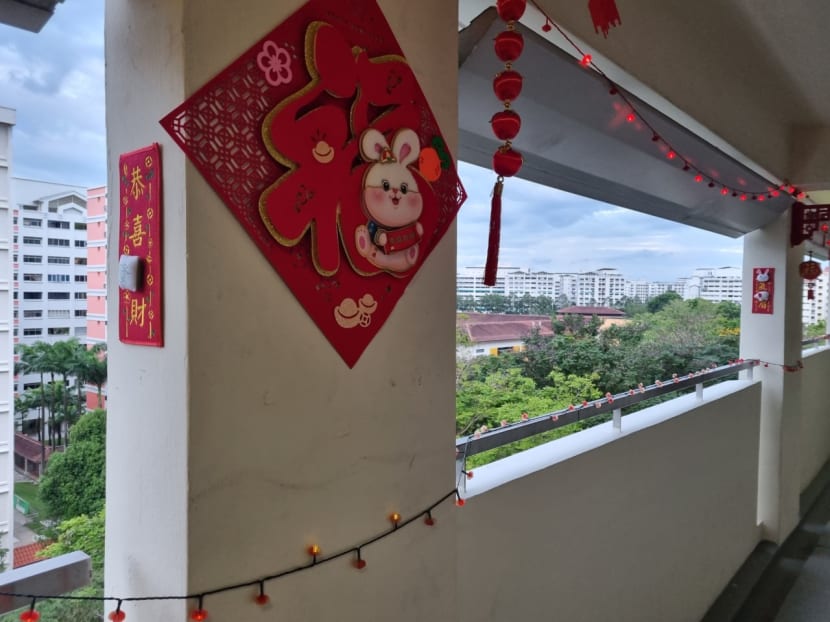 Ms Ng said that the neighbours are a close-knit group and they have all been living in flats along the same corridor for more than 20 years.
She credits her next-door neighbour, Ms Christine Ko, with coming up with the idea and planning the activity back in 2019 during one of their occasional neighbourly gatherings. 
That year, Ms Ko and her husband had returned to Singapore after living in Shanghai, China for 10 years.
Ms Ko, 49, a businesswoman, said: "The design and decorations (we saw in Shanghai) were so interesting and brought out the Chinese New Year atmosphere. We wanted to share the festive new year spirit in our neighbourhood." 
So, since 2019, for a few weeks before every Chinese New Year, the families meet and discuss the theme of the year.
Ms Ko and her husband buy the majority of the decor, whereas the other households, such as Ms Ng's, make minor purchases, for example, posters featuring rabbits this year, which is the Year of the Rabbit in the Chinese calendar.
Then, depending on their availability, the neighbours get together to help to decorate the area and add decorations when they can, up until Chinese New Year itself.
This year, alongside other decorations, Ms Ko and her husband put the couplets on the wall, together with Ms Ng and her family.
Once all purchases are made, Ms Ko then tallies up the total amount and calculates how much each household has to pay, based on the number of people in their household.
OTHER RESIDENTS TAKE A LESS ORGANISED APPROACH
Unlike the residents in Woodlands, another group of residents at Block 840 on Jurong West Street 81 said that they hung up their decorations on their own initiative without much discussion.
Madam Lee Kar Hoon, a 57-year-old who works as a service crew in a fast-food restaurant, said: "Around 10 years ago, I saw on the news that people were hanging up Chinese New Year decorations at HDB blocks... I approached my neighbours to do the same." 
Her next-door neighbour, Madam Toh Suan Poh, 60, said that back in 2018, she bought the ornaments and decorated their surroundings together with Mdm Lee and her other neighbours, but everybody has been busy since then.
In recent years, Mdm Toh, who works as a cleaner, said that she and three other neighbours down the corridor just hang up the ornaments after seeing Mdm Lee do it.
Although they do not coordinate their efforts in the same way as the Woodlands residents, when TODAY visited the Jurong West block on Monday (Jan 16), the decorations along the entire corridor blended in well, with no one piece of ornament that seemed out of place.
SHARING CELEBRATIONS ACROSS RACES
Even though Chinese New Year is typically celebrated by those of Chinese heritage, some non-Chinese Singaporeans said that they participate in it anyway to enter into the community spirit.
Mr Abdullah Abdul Rahman, 37, a Malay Muslim, said that he began putting up decorations for his neighbours three years ago. He lives in Block 117 Tampines Street 11.
At that time, his father died and Mr Abdullah went to stay at his sister's home for a month and his flat was unattended. 
Yet, when he returned, he found that the hallway outside his flat had been cleaned by his elderly neighbours.
Touched by their actions, Mr Abdullah told TODAY that he wanted to do something for them in return, and since Chinese New Year was approaching, he decided to surprise his neighbours by decorating their corridor.
"It was therapeutic for them to see (the decorations) and they were very happy. That was what was most important. It was not about me, it was more about them being happy," he said.
The Tampines block is mainly occupied by seniors who are either living alone, or with their spouses, so as one of the younger residents there, Mr Abdullah feels the need to do more to help take care of his ageing neighbours.
Three years into this tradition, his decorations have become much more elaborate.
They cost him more than S$100 or so every year, after getting discounts from neighbourhood vendors, who know he uses the decorations for his neighbours.
He even customises the items for each neighbour on his floor.
"Every door, every neighbour that has couplets outside their door, the couplet has a meaning for that particular neighbour, like if a person (in a particular household) is not feeling well, I will have a health couplet put up for them."
Though Mr Abdullah does not understand most of the Chinese characters written on the decorations, he enlists the help of his Chinese neighbours. 
"I have an 'auntie' who helps me with the decorations and the vendors that I go to, they teach me (what the writings mean)" he said.
"Neighbours are very important because they are the closest to you, so I hope to influence others to do the same (for their neighbours). Maybe not by decorating but just greeting your neighbours when you see them" he added.