'Buy now, pay later': S$2,000 cap on outstanding payments among new guidelines by industry group to protect consumers
SINGAPORE — A code of conduct that aims to protect consumers against over-indebtedness when using "buy now, pay later" schemes will be launched on Nov 1.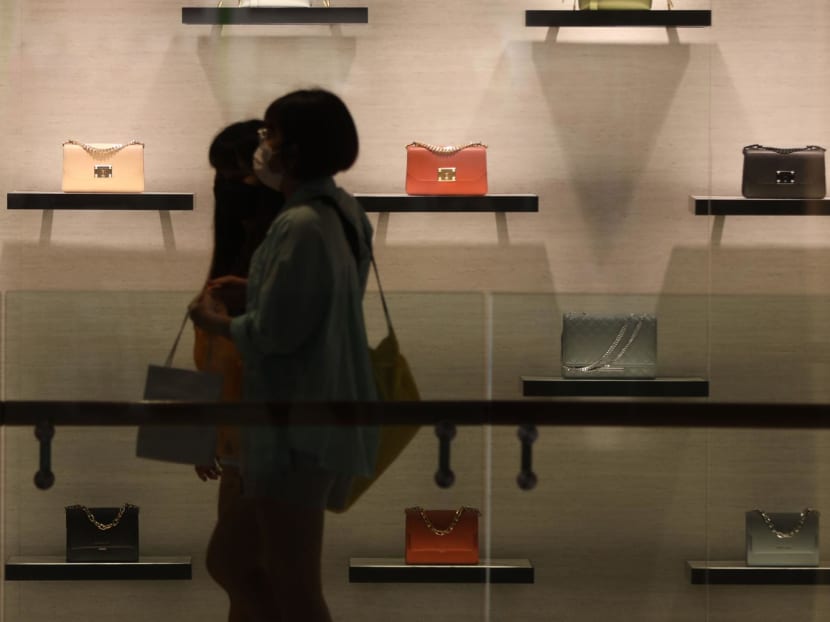 A code of conduct has been established by the Buy Now, Pay Later Working Group

Part of its goal is to protect customers from over-indebtedness

The code includes measures such as a cap on the amount of outstanding payments accumulated, conducting creditworthiness assessments and the provision of a hardship repayment plan 

Service providers who decide to adopt the code will audited and then given an accredited trust mark
SINGAPORE — A code of conduct that aims to protect consumers against over-indebtedness when using "buy now, pay later" schemes will be launched on Nov 1. 
The Buy Now, Pay Later (BNPL) Working Group said in a joint press release on Thursday (Oct 20) that the code includes measures such as a cap on the amount of outstanding payments accumulated, conducting creditworthiness assessments and the provision of a hardship repayment plan. 
The working group was formed in March by the Singapore FinTech Association (SFA) and industry players including Atome, Grab Financial Group and ShopBack under the guidance of the Monetary Authority of Singapore. 
BNPL services allow consumers to make purchases without making the full payment upfront and instead paying for purchases in smaller amounts over a stipulated period, similar to hire-purchase schemes. 
The group said that there was a need for code as there has been a rise in the use of such services and it is "fast gaining traction, in particular, amongst digital natives, the under-served and the under-banked".
A 2021 report by consumer research and analytics firm Milieu showed that close to a fifth of Singaporeans aged 16 and above have used a BNPL service.
In June, Singapore's consumer watchdog called for more protection for BNPL users after it received 18 complaints in the past one-and-a-half years over technical issues with payments and the inability of consumers to seek refunds.
The code covers the following: 
AGE LIMIT
BNPL services will only be provided to customers aged 18 and over.
CREDITWORTHINESS
Each BNPL provider will permit customers to accumulate no more than S$2,000 in outstanding payments per platform at any given time, unless they complete an additional credit assessment. 
The additional credit assessment must consider, among others, a customer's income information and credit information shared across all BNPL firms.
If a customer fails to meet any payment obligation, the BNPL provider will suspend his or her access and use of its BNPL services.
Access will only be reinstated after the customer shows that he or she is up to date with all payments due or overdue, and has shown appropriate payment ability.
EXISTING CUSTOMERS
Customers who have signed up with a BNPL provider before Nov 1 this year may continue with their BNPL limit that was established earlier until either their credit assessment is completed or till Nov 1 next year — whichever is earlier.
TRANSPARENT FEES AND CLEAR DISCLOSURE
BNPL providers will cap all fees, including late fees and other charges though each service provider will determine their own fee charges and capping practice. 
The code however states that providers will strike a "reasonable balance between commercial viability and not unduly increasing (a consumer's) indebtedness".
Fees and interest, if any, will not be compounded, which means that consumers will be not charged late fees more than once per instalment.
All fees and fee-related structures will also be communicated in a manner that is clear and transparent to customers, states the code.
Consumers are also entitled to make full repayment with BNPL providers at any time, without early repayment fees.
BNPL providers will also ensure that consumers have access to their account statements consolidating the total outstanding balance of purchases made through the respective service provider.
ETHICAL MARKETING PRACTICES
BNPL providers will ensure that advertisements of products and services comply with the relevant advertising codes.
Moreover, any advertising and promotional materials will be clear and not misleading or deceptive.
VOLUNTARY EXCLUSION
Consumers can voluntarily exclude themselves from BNPL services and promotional materials by writing in to the respective service providers.
FINANCIAL HARDSHIP ASSISTANCE
For consumers facing financial hardship, the code says BNPL providers will consider extending assistance.
This includes waiving, whether in full or in part, or deferring of fees and charges. Service providers will also work out a mutually acceptable payment arrangement between them and the consumer.
During this time, consumers will also not be allowed to make any further transactions with the service providers.
However, the working group said that the BNPL providers will also "commit not to initiate bankruptcy proceedings against their customers". 
DISPUTE RESOLUTION
The code states that BNPL providers will handle complaints promptly and aim to provide a fair resolution to all parties.
Among the ways service providers will do so is by providing a visible and easily accessible channel on their websites or digital platforms.
The code adds that all complaints received through the designated channels will be acknowledged within three working days, with an initial response within 14 working days from the date of a complaint. This could be a resolution or an update to the earlier query.
In situations where it is not within the ability of the service provider to assist, consumers will be referred to the appropriate party.
Once an investigation into a complaint is completed, a response will be given to the complainant, which will include the outcome of the investigation.
"If there is an issue of consumer rights that is not properly addressed by us, we may direct you to other suitable avenues of recourse, such as the Consumers Association of Singapore (Case)," the code read.
The working group said in its statement that in order to encourage both the adoption and compliance with the code, BNPL providers will be required to undergo an audit and accreditation process.
This will allow service providers to display an accredited trustmark showing customers that they are compliant with the BNPL Code.
Mr Shadab Taiyabi, president of the SFA, said the code of conduct is not legally binding.
However, if a trust mark holder is found to be non-compliant, the SFA will raise this to an oversight committee for investigation and further action, if necessary.
If a complaint is received on a BNPL provider that is a non-trust mark holder, SFA will engage them and encourage them to go through the accreditation process.
GOOD STEP FORWARD, BUT UP TO INDIVIDUALS
In general, consumers interviewed by TODAY and a credit counselling agency welcomed the code of conduct, though they said it will not necessarily prevent a person from getting into debt.
Ms Joan Poh, a 30-year-old accountant, said that the BNPL model has made it easier for people to fall into the trap of living beyond their means.
While it is useful for making a one-off big-ticket purchase, she said debt can easily snowball if people are not mindful of their spending habits.
As such, Ms Poh said she was glad that the code includes provisions for ethical marketing so that consumers will not be deceived into accumulating debt.
However, Ms Claire Gwee, a 37-year-old consultant,  suggested that even though there is a S$2,000 cap in outstanding payments per platform, consumers could just split their spending across different platforms. 
"In the first place, the presence of the BNPL system itself is going to encourage more spending," she said,
That said, the scheme does have its merits as well, provided people use it responsibly, said Ms Tan Huey Min, the general manager of the Credit Counselling Singapore charity.
For instance, she said it makes it easier for someone with sufficient cashflow to purchase an expensive item without making a dent in their savings.
Still, Ms Tan said that while her organisation does not keep track of who among those it has counselled uses the BNPL scheme, she foresees that the issue of debt may increase in Singapore unless consumers become more aware of their own spending habits. 
The BNPL scheme has made it very convenient for shoppers who are feeling bored at home to make purchases, and "a person could get into trouble if they are not (financially) prudent", she said.
Aside from the option for a consumer to voluntarily exclude his or herself from a BNPL service provider, Ms Tan said all the code does is to simply limit how much debt they owe.
And while service providers which adhere to the code must commit not to initiate bankruptcy proceedings against their debtors, Ms Tan said there are other ways a company can take legal action against them.
This includes a write of seizure and sale, where a bailiff is authorised to seize and auction off any personal belongings of a debtor to clear their debt. 
The other method, she said, is a garnishee order, which allows the service provider to recover money from a debtor's bank account, wages, or even people who owe the debtor money.
Still, Ms Tan said the introduction of the code is a step in the right direction. 
"The code of conduct sets standards to treat consumers fairly... but it doesn't mean that consumers shouldn't exercise self-discipline themselves," said Ms Tan.
In a Facebook post on Friday, Case president Melvin Yong said he is glad that some of the consumer watchdog's recommended safeguards have been included in the code.
However, Case believes that consumers should also be allowed to set purchase limits for themselves, and there should also be a lower limit on maximum purchases for users aged below 21, given that most of them do not earn an income, Mr Yong added.