Collecting toilet rolls and installing solar panels, these students drive change for the environment
SINGAPORE — When she was five years old, Laura Lee developed what most would consider a quirky habit — she collected toilet rolls.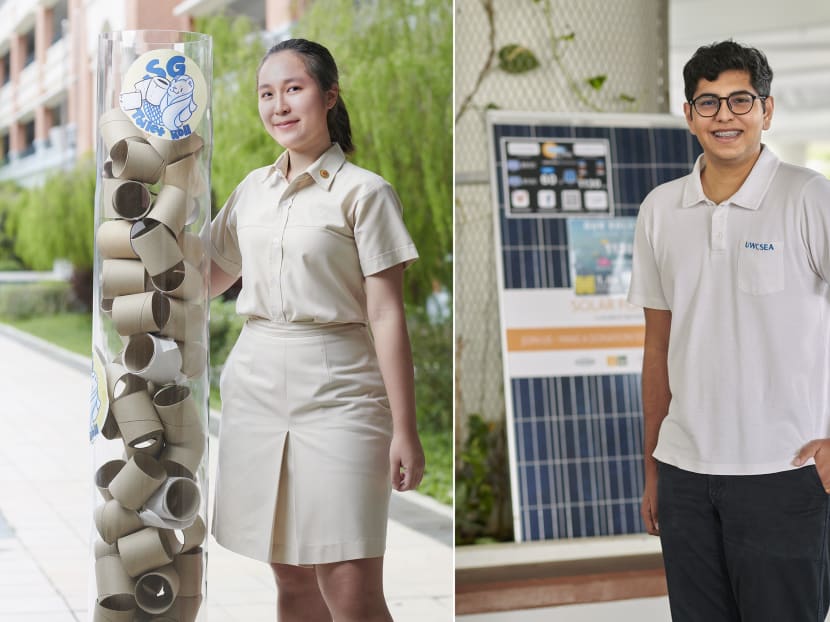 Laura Lee, 17, turned a childhood habit into nationwide recycling initiative ToiletRollSG and aims to collect 1,000kg of toilet rolls
Another youth, Hemal Arora, 17, is fundraising to install 1,130 solar panels on his school campus
Both are among winners of the National Environment Agency's Ecofriend Awards this year 
SINGAPORE — When she was five years old, Laura Lee developed what most would consider a quirky habit — she collected toilet rolls.
Little did she know then that this habit would eventually become a nationwide recycling movement, of which she would be the pioneer. 
In December 2018, as a Secondary Three student in Nanyang Girls' High School, Laura founded ToiletRollSG, a national initiative that aims to collect 1,000kg of these cardboard cylinders — or about 150,000 pieces. 
A little more than two years later, Laura, now 17, is nearing her target, and has collected 860kg of toilet rolls.
The Hwa Chong Institution student was among 10 people awarded the National Environment Agency's Ecofriend Awards, which recognises individuals for their contributions to the environment, under the Youth and Students category. This year's awards were held on Friday (Feb 5). 
Inspired by her secondary school senior Ang Zyn Yee, who is the founder of Straw Free Singapore, she felt the need to do something different to raise awareness for the environment.
"Suddenly, toilet rolls just came into my mind," she said.
Laura emailed more than 20 waste management companies, and finally struck a partnership with waste management firm Veolia, which currently gives her five cents for every 1kg of toilet rolls collected. 
She started organising 'toilet roll challenges' within Nanyang Girls' High School and worked with cleaners to collect toilet rolls from school toilets. The cardboard cylinders were then stored in the school, before she passed them to Veolia. 
She also conducted talks about ToiletRollSG and recycling at primary and secondary schools.
Due to Covid-19, she was unable to conduct physical talks, and now raises awareness about different social causes through her Instagram Live series, On A Roll.
One of the biggest challenges she faced was others being skeptical about her cause due to her young age, said Laura.
"I always have to use my actions as well as the different things I've done to prove that I'm someone who's passionate and knows about this," she added. 
She intends to donate the money collected to a social cause that has yet to be decided, but is leaning towards charities that deal with community health, as it is an issue she is passionate about.
Even after hitting the 1,000kg target, Laura intends to keep ToiletRollSG going and continue raising awareness about recycling.
1,130 SOLAR PANELS GENERATING MORE THAN 9 MILLION KWH OF ENERGY
Another youth who won under the same category is Hemal Arora, 17.
For four years, Hemal and seven team members have been working on their project, Solar for East, which aims to install 1,130 solar panels on their campus at the United World College of Southeast Asia (East Campus). 
To raise funds, they conduct presentations and workshops on climate change for students, teachers and parents and collect donations. Each solar panel costs S$600 to adopt, including maintenance fees.
So far, they have managed to install 180 solar panels, or just over 10 per cent of their goal. 
When asked why progress has been slow, Hemal said that his group is new and needs time for others to recognise and support them, but he expects more support over the long term.
"Our school is a young campus," he added. "Once the alumni community grows a bit stronger and older, we expect to receive more support from them as the project continues."
Moving forward, he plans to pass the Solar for East project to his juniors so that they continue fundraising and eventually hit their goal of installing 1,130 solar panels. 
The current 180 panels generate electricity for 56 to 58 classrooms, excluding air conditioning. 
On average, they generate about 140 kWh of energy per day, or about half the yearly consumption of a four-room flat. The 1,130 panels are estimated to generate 9.3 million kWh of energy over 25 years.