Coming soon: Buses on demand in Marina-Downtown, Joo Koon, and from CBD to the east
SINGAPORE — From Dec 17, commuters may request via their smartphones to be picked up and dropped off at any bus stop in Joo Koon and Marina-Downtown, under a six-month trial of bus services plying on-demand routes that include Shenton Way.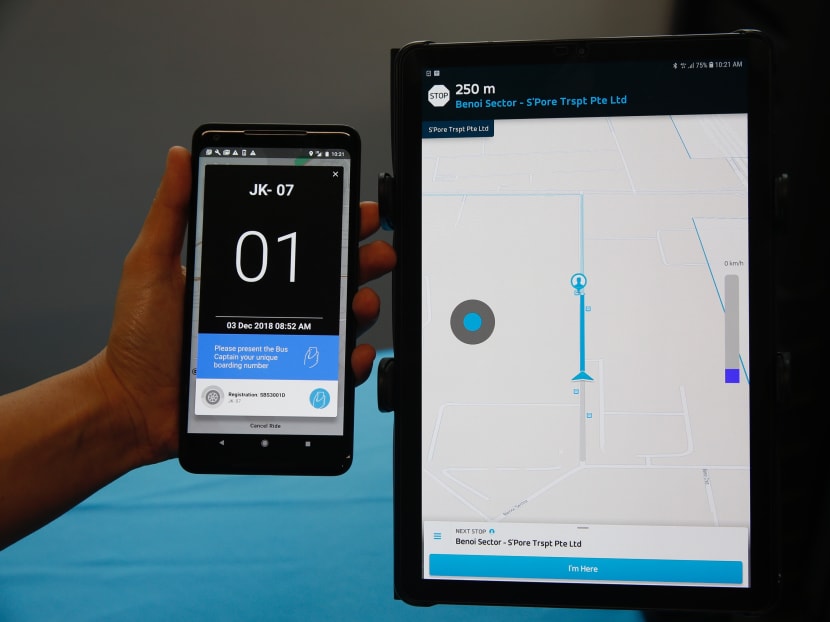 SINGAPORE — From Dec 17, commuters may request via their smartphones to be picked up and dropped off at any bus stop in Joo Koon and Marina-Downtown, under a six-month trial of bus services plying on-demand routes that include Shenton Way.
On-demand buses will also take commuters from the Central Business District (CBD) to Bedok and Tampines at night from Jan 4, the Land Transport Authority (LTA) announced on Monday (Dec 3).
Bus operators SBS Transit and SMRT will take part in the trial.
Beginning Dec 17, SBS Transit will run services in the Marina-Downtown area — including along Robinson Road and Shenton Way — on weekdays (excluding public holidays) from 11am to 3pm, and 8.30pm to 11.45pm.
It will also operate a second weekday service in Joo Koon in the west of Singapore from 11am to 3pm, and 8.30pm to 11.30pm.
SMRT Buses will operate the night service from the CBD to Bedok and Tampines, via Geylang, from 11.30pm to 2am on Fridays, Saturdays and the eve of public holidays starting Jan 4.
Both trials will end on June 15 next year.
Half of their fleets that are being used to run scheduled services in these areas will be devoted to the on-demand routes, which see low travel demand during off-peak hours.
Dr Janil Puthucheary, Senior Minister of State for Transport, said that the on-demand buses will provide a "point-to-point" transport service in the designated areas. This would mean that commuters do not need to transfer between buses to get to a particular bus stop, for instance.
The authorities hope to roll out similar services islandwide, based on commuters' needs which will be determined through trials like this, said Dr Puthucheary.
Asked about other areas in Singapore where on-demand buses could work, Dr Puthucheary said: "We don't know where this will work well, and where there'll be some differences in how we do the operations. A lot of that will depend on how the commuters react, so we hope that people will try out the service and give us feedback."
HOW ON-DEMAND BUSES WORK
• Commuters travelling along the Marina-Downtown route, and the one between the CBD and the east, will have to download the BusNow mobile application developed by Singapore firm Ministry of Movement (Swat).
• Those using the service in Joo Koon will need to download the BusGo app by New York-based firm, Via Transportation.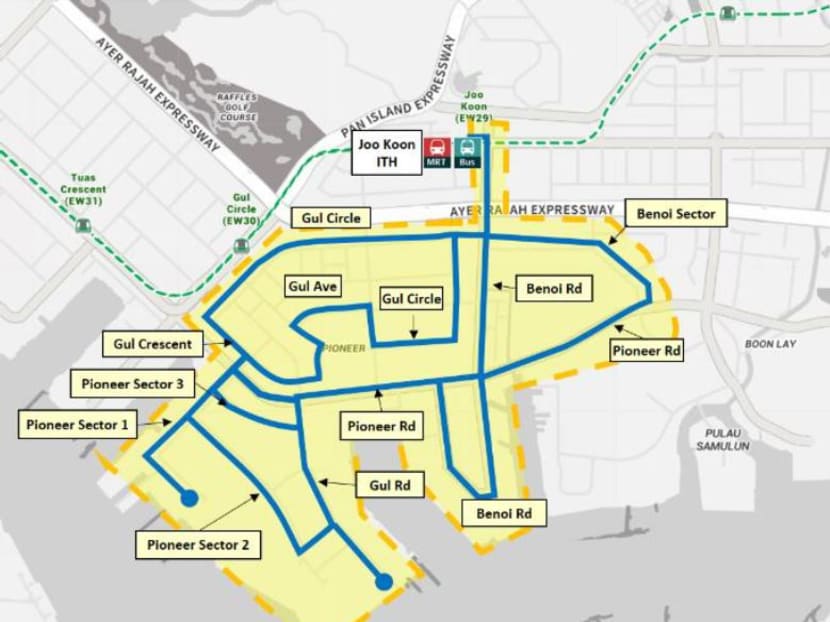 • Users can download both apps on their Apple and Android devices from Monday afternoon.
• They will first set their pick-up and drop-off points, and the number of passengers. Users may make group bookings for up to five passengers travelling between the same pick-up and drop-off points.
• The apps also allow commuters in wheelchairs to indicate that they need a space on the bus.
• Commuters can track the location of a bus and its estimated arrival time. Based on simulations by the LTA and the app developers, the wait and journey times for the on-demand services will be similar to those for the fixed-route services.
• During the journey, the app will show the estimated time of arrival at their destinations, which may change en route based on demand.
• They will be given an e-boarding ticket to show the bus captains before they pay their fares, via a fare card or cash.
• Public buses will be used on the routes, and commuters can identify the services by their service numbers, such as JK-1 and JK-2 for the Joo Koon route.
• Stops along a route will be plotted based on demand, as well as the destinations of users on board.
HOW MUCH IS IT?
• During the trial, promotional fares will be offered based on a fixed 3.2km distance for the services in the Joo Koon and Marina-Downtown areas, regardless of the length of travel. Before Dec 29, a ride will cost 77 cents via a fare card or S$1.40 by cash. Thereafter, fares will be 83 cents (fare card) or S$1.50 (cash), in line with the latest revisions to public transport fares which kick in at the year's end.
• For the CBD-to-Bedok and CBD-to-Tampines night services, there will be a promotional S$4.50 flat fare — the same fare as SMRT's NightRider service.
REGULAR BUS SERVICES WILL BE LESS FREQUENT
Regular buses will continue to ply these routes but at lower frequency, so that commuters who prefer using regular scheduled services may still access them.
For instance, bus services 253, 255 and 257 in Joo Koon will run at intervals of 30 minutes, twice as long as their regular frequency.
SMRT's NightRider NR7 service will be suspended during the trial of the night service from the CBD, but riders may still use SBS Transit's Nite Owl 2N and 4N services to Bedok, Tampines or Pasir Ris.
The BusNow and BusGo apps will suggest that users take a regular bus service, if doing so will get them to their destinations faster.
WHAT'S IN THE FUTURE
The trial will allow the LTA to assess the feasibility of running bus services based on real-time user demand along dynamic routes, instead of following fixed routes and predetermined timetables.
The authority may adjust the parameters of the trial while it is in progress, including the frequency of regular services and fares of the on-demand routes, to evaluate the new service.
LTA's senior group director for public transport Yeo Teck Guan said that if such services are viable in the longer term, they would be housed in a single app. Users may even be able to pay by credit or debit card down the road, to maximise convenience.
 
MORE ABOUT ON-DEMAND BUSES
In August, the LTA announced the award of a S$2.26 million contract for the second phase of the trial to Via Transportation and Swat, which entailed the development of hardware and software solutions for the on-demand bus system.
This was after the two firms bagged an earlier contract of about S$466,000 to develop a dynamic routing and matching algorithm.
On-demand buses will also be tested elsewhere in Singapore, such as on Sentosa from next year. Visitors and staff members on the resort island may hail autonomous buses using their smartphones, or at kiosks along a 5km route as part of a three-month public trial.
Two 22-seat buses and two 15-seat shuttles will be used for the test.
On-demand bus services are also available in other cities such as Helsinki in Finland and New York in the United States.