Committee unveils plans on how Orchard Road may be pedestrianised, get a makeover
SINGAPORE — A stretch of Orchard Road near Dhoby Ghaut MRT Station may be pedestrianised in the future, which could serve as an open play area for children or an ad-hoc event venue for festivals and fashion shows.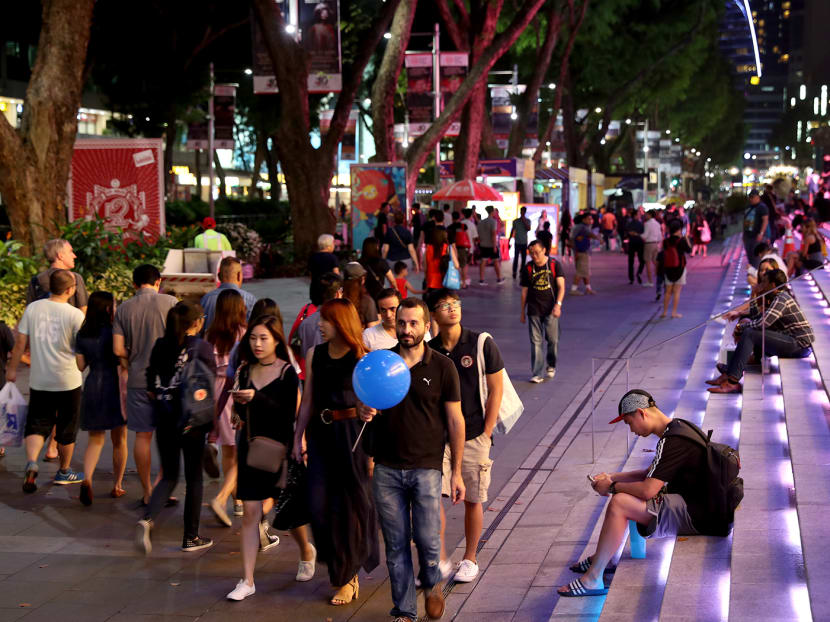 SINGAPORE — A stretch of Orchard Road near Dhoby Ghaut MRT Station may be pedestrianised in the future, which could serve as an open play area for children or an ad-hoc event venue for festivals and fashion shows.
The closing of the stretch of road between Buyong Road and Handy Road could become a reality if it draws positive responses from the public through a feedback exercise.
This proposal to close a segment of Orchard Road is part of the Government's wider plans to rejuvenate the well-known shopping belt in Singapore. A ministerial committee driving this project, co-chaired by Trade and Industry Minister Chan Chun Sing and National Development Minister Lawrence Wong, was formed in September 2017.
The proposed ideas were jointly announced on Wednesday (Jan 30) by the Urban Redevelopment Authority (URA), the Singapore Tourism Board (STB) and the National Parks Board (NParks).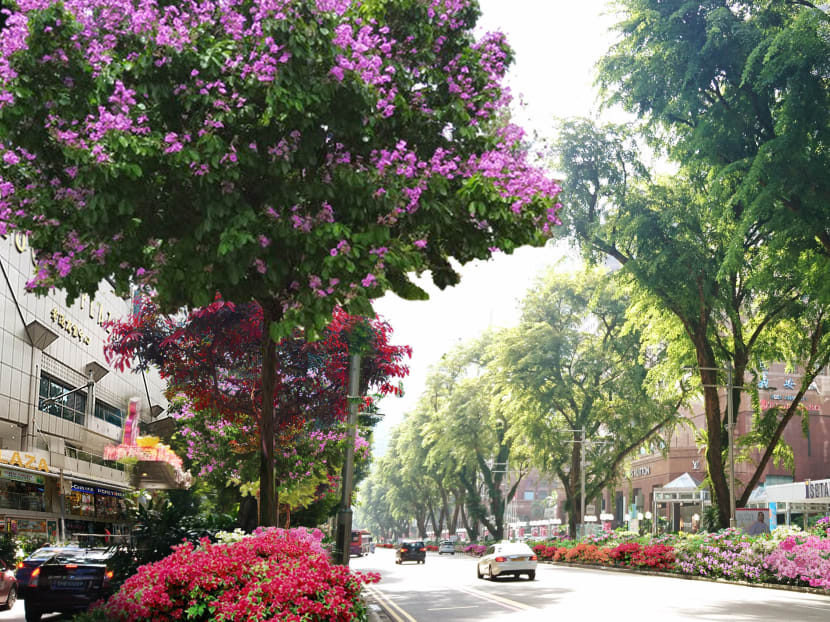 Mr Chan, referring to a physical fitness regime that soldiers do, said: "Orchard Road is not a 2.4km IPPT run. We are not aiming for people to pass through Orchard Road in nine to 10 minutes. We want people to (go there) and linger and make sure that they have a different experience at each and every turn."
The committee's recommendations come after a six-month, S$1.3-million study by Australian urban planning consultancy Cistri, as well as consultations with private-sector organisations.
Talk has been ongoing in the past few years to give the popular shopping stretch a facelift, after there were criticisms that it has lost some of its sheen due to cookie-cutter malls housing similar brands and retailers, as well as suburban malls and online merchants pulling shoppers away.
DETAILS OF PROPOSED PLANS
1. Segment Orchard Road into different themes
Tanglin Mall area leading into Orchard Road will have an artisanal flavour with activities such as a farmer's market.

Area between Orchard Road and Somerset MRT stations will remain the retail heart of Singapore but with more street activities and performances.

More activities catered to youth in the vicinity of Somerset MRT Station.

Area around Dhoby Ghaut MRT Station could be a family-friendly zone where the Istana Park, Dhoby Ghaut Green and the open space at Plaza Singapura may be linked up.
2. Segment different parts of Orchard Road into different coloured themes by planting flowering trees and shrubberies along the road.
Tanglin Mall area: Yellow

Main shopping zone between Orchard and Somerset MRT stations: Bright red and pink

Area around Dhoby Ghaut MRT Station: Yellow
3. Remembering the area's origins as an orchard plantation by planting nutmeg and clove trees at "strategic locations" which have not been decided.
4. Building elevated link bridges so that visitors may easily cross the junction of Orchard Road and Paterson Road.
5. Converting the Grange Road car park behind 313@Somerset mall into an event space, where activities are regularly refreshed.
PLANS THAT HAVE BEEN CONFIRMED
An incubation space for homegrown brands, called Design Orchard, was opened last Friday.

Starting April 1, in a one-year trial, the STB and URA will hand over the planning of commercial and non-commercial activities for a specific pedestrian stretch to the Orchard Road Business Association (Orba). This will be the walkways on the right side of the roads as pedestrians walk from Forum the Shopping Mall to Mandarin Gallery.

State land at Orchard Boulevard — where a future MRT station along the Thomson-East Coast Line will open — will be freed up for mixed-use development.
On how the activities along the selected stretch of walkways will be different after Orba takes over, the association's chairman Mark Shaw said that there will be many more "pop-up" stores and "cultural events" so that the vibe will be more experiential.
However, he was not able to elaborate on the number and type of events that the association may line up because he does not have the information yet.
While Mr Shaw said that some of the ideas put forth by the ministerial committee are interesting, they are still "very much conceptual".
"We would have preferred to see some bolder moves on URA and STB's part," he added.
Mr Shaw would have liked the idea of a scramble crossing, such as the iconic Shibuya crossing in Tokyo, Japan, to be among some of the ideas proposed.
In his speech, Mr Chan called on Orba and other business associations to work with the authorities on any ideas that they may have to refresh Orchard Road.
"Many property owners here are looking forward to experimenting with new concepts. And you might feel that there are some rules that are constraining this. Let that not stop you. … Let us discuss with you the concept to see how we can bring this alive," he said.
A public exhibition of the proposed plans will be on display at Orchard Fountain Corner next to 313@Somerset until Feb 13. Members of the public may submit their feedback at the exhibition or do so online at https://ura.sg/orchardrd until May 31.