As a community group tries to raise awareness of Pulau Ubin, residents have mixed feelings about visitors
SINGAPORE — With each turn of the wheel, the lump of clay before Mr Latip Hussain took form as the pottery artist deftly shaped it into something recognisable. First a mound, then a tower, and finally a jug.
Covid-19 has forced organisers of an annual celebration of Pulau Ubin to rethink the way they engage with the community
Virtual events allow viewers from overseas to learn more about the island
Some Ubin residents fear there may be imported cases of the virus from mainland Singapore
Others are more concerned about their livelihoods
SINGAPORE — With each turn of the wheel, the lump of clay before Mr Latip Hussain took form as the pottery artist deftly shaped it into something recognisable. First a mound, then a tower, and finally a jug.
For added flourish, the 62-year-old dabbed a finger around the lips of the vessel to give its mouth an artistic wave.
A mother and her two children pointed excitedly as they watched on. Other members of the 20-odd audience were a little harder to read as their screens were not turned on.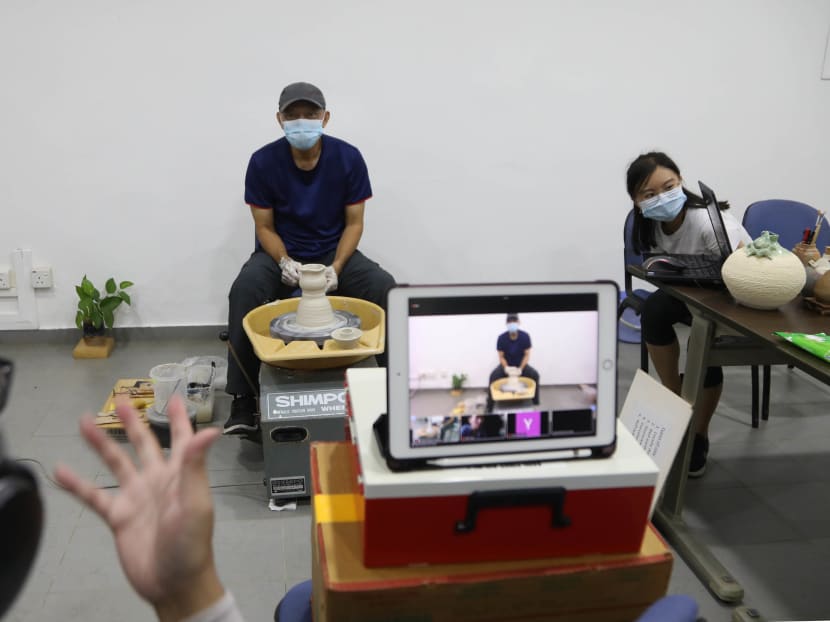 The virtual audience had tuned in on a Sunday (Sept 5) afternoon to watch the man perform his craft live from Pulau Ubin as part of the ongoing Pesta Ubin activities, which started on Aug 28 and ends on Ubin Day on Sept 11.
While not a native of the island, Mr Latip said his wife was, and he often returned to the place of her birth as it reminded him of his own kampung (village) around Bukit Timah's Sixth Avenue when he was growing up.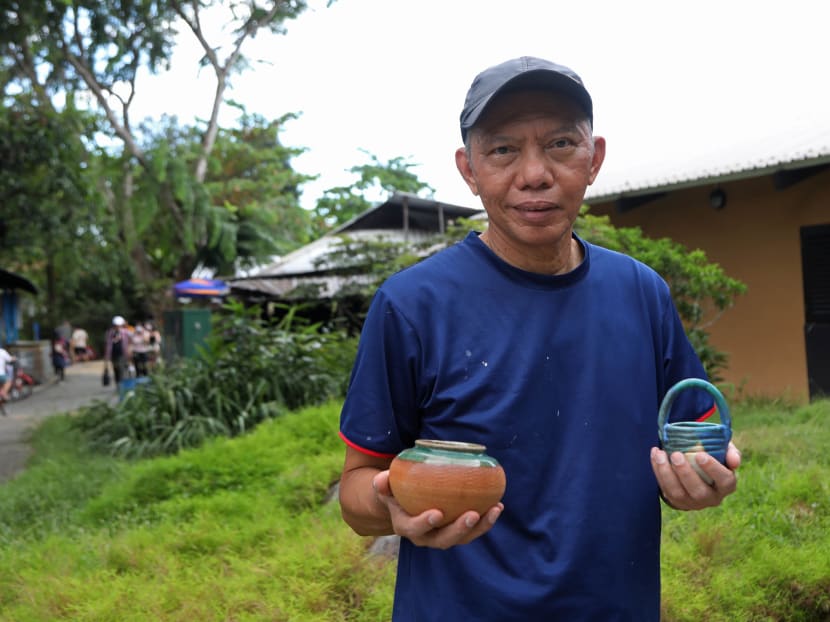 Ubin also gave him inspiration for his art. For instance, a brown pot, tinged at the neck with a jade-hued glaze, was his interpretation of the quarries on the island, while the surrounding sea and forests influenced him to colour a ceramic basket in shades of blue and green.
Mr Ethan Chung, the team lead for this year's Pesta Ubin, said that ideally, the performance would have been done in front of a live audience.
But as in many cases, the pandemic had turned things upside down.
In order to stay aligned with prevailing Covid-19 safety measures, Mr Chung, 30, said many physical activities that were held previously, such as guided walks, kayaking trips through the mangroves and even runs on the island, had to be cancelled.
Since last year, these activities have been replaced with webinars instead. And this year, the organisers have even included a virtual night walk to search for leopard cats on the island.
Mr Chung said he and his team did not want to lose the momentum that had been built up to raise awareness about what the island has to offer since the annual Pesta Ubin started in 2016.
After all, the goal of the festival is to show both Singaporeans and outsiders that the nation's north-eastern island is more than just a weekend getaway from the hustle and bustle of city-living.
While a virtual event lacks the same level of engagement a physical one would have, Mr Chung said that it has the benefit of allowing visitors from overseas to tune in; watching Mr Latip's performance were two people from the United States and three from Malaysia.
"We want people to see the charm and value of Pulau Ubin," said Mr Chung, who is also a member of the Friends of Ubin Network, a ground-led initiative that supports biodiversity conservation and education about the island's heritage, among others.
Not only does Pulau Ubin spot unique areas like the Chek Jawa Wetlands where six major ecosystems — sandy beach, rocky beach, seagrass lagoon, coral rubble, mangroves and coastal forest — meet, it also has a place in Singapore's history books because of how the island's granite quarries contributed to the nation's development.
And of course, it is also home to one of the last few remaining kampungs that are still inhabited, though mostly by older Singaporeans.
Ms Choi Yook Sau, a deputy director of conservation at the National Parks Board (NParks), said there are about 30 residents living on the island.
COVID NOT A MAJOR CONCERN, BUT LIVELIHOODS ARE
Even as Mr Chung and his team sought to raise awareness about Pulau Ubin, some residents whom TODAY spoke with had mixed feelings about having visitors.
To the residents, the island is their refuge away from the pandemic on mainland Singapore, which has seen daily infection cases in the hundreds in recent days.
NPark's Ms Choi said there have been no known cases of Covid-19 on the island, and around 90 per cent of the residents have completed their vaccination regimen.
Still, some residents are worried that someone might inevitably carry the virus over from the mainland.
"So many of these people come over and they don't wear their masks and they either walk or cycle in front of my house," said a 75-year-old who gave her name as Madam Lee.
"Who knows who might be carrying the virus? Why can't they screen the visitors at Changi Point Ferry Terminal?"
But not everyone shares this sentiment.
Some residents feel that Pulau Ubin is safe because of the open air. Furthermore, the walking trails do not encroach near their homes.
Instead, they are more concerned about their livelihood, which is dependent on visitors coming to the island.
Mr Wong Ming Hua, whose 77-year-old mother Ong Siew Fong is the caretaker of the Wei Tuo Fa Gong Temple, said that the number of worshippers has fallen from more than 100 during the weekends before the pandemic to just a handful now.
The 56-year-old said in Mandarin that it has been hard to cover the S$700 monthly rent just through donations and the sales of offerings and incense sticks.
"I hope there will be more people who come to Pulau Ubin because we need to eat, too," he said.