Company fined S$34,000 for making security officers work up to 20 hours a day due to manpower crunch
SINGAPORE — A security firm was fined S$34,000 on Tuesday (Oct 19) for violating employment laws by making four of its employees work for more than 12 hours a day over several months last year.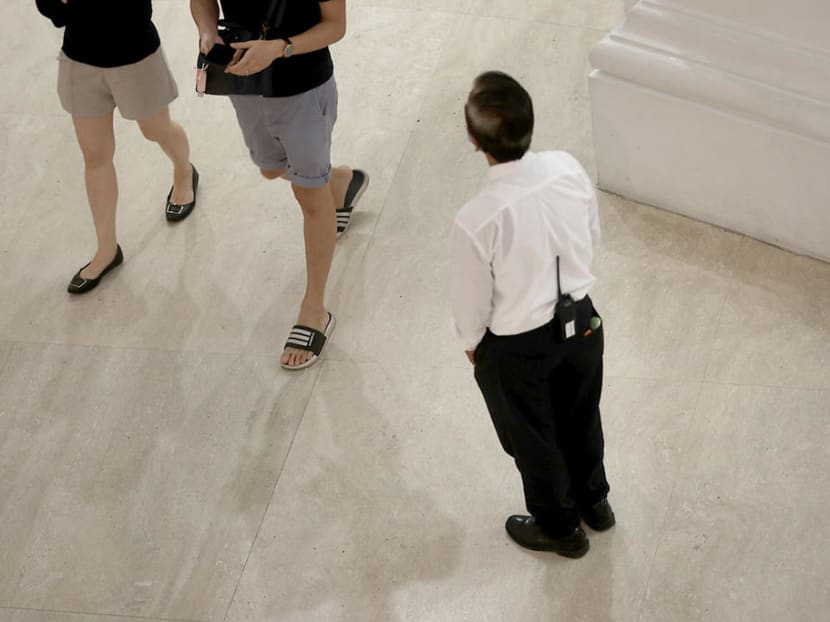 SINGAPORE — A security firm was fined S$34,000 on Tuesday (Oct 19) for violating employment laws by making four of its employees work for more than 12 hours a day over several months last year.
It was not Peregrine Security's first time committing such offences — the company had paid an S$8,000 fine out of court last year for similar breaches. 
Last month, a representative pleaded guilty on the company's behalf to four charges under the Employment Act, which mandates that shift workers should not work more than 12 hours, except under certain circumstances.
District Judge Janet Wang took into consideration three other similar charges for sentencing. 
Firms that are convicted can be fined up to S$5,000 for each charge, but Peregrine Security could have been fined up to S$10,000 for each offence due to the way the charges were framed.
TODAY first reported last month that Peregrine Security had been charged along with another firm, Sovereign Security Services. The latter's case is still pending. 
COMPANY SAID THAT 2020 WAS A 'MOST DIFFICULT TIME'
On Tuesday, the company's defence counsel — Madam Roslina Baba and Mr Ronn Yeo from law firm Legis Point — told the court that last year was their client's most difficult time in its 16-year history.
Peregrine Security's manpower crunch was worsened by border controls and limits on foreign nationals entering Singapore due to the Covid-19 pandemic, they said.
Mdm Roslina — who sought a fine of S$8,000 — added that out of some 300 security officers employed, 145 resigned last year with some citing the increased risk of contracting the coronavirus.
Nevertheless, the lawyer said that this was not an excuse to make its other employees work more than the prescribed limit.
Ms Justine Loh, senior prosecuting officer from the Ministry of Manpower, previously told the court that excessive work hours in Peregrine Security's case "occurred almost on a day-to-day basis".
There were occasions when the security officers "worked for 20 hours per day for several days at a stretch", Ms Loh added.
Their employer had asked them to work back-to-back shifts lasting 13 to 20 hours a day because of insufficient manpower. This meant that they were occasionally given merely four hours of rest in between the shifts.
Court documents stated that one security officer worked for more than 12 hours a day for 33 days between Sept 2 and Oct 25 last year. Another did so for 44 days around that period.
The third officer worked such hours for 27 days, and the fourth did so for two days.
The security officers were deployed to places such as 888 Plaza mall in Woodlands, Keppel Shipyard in Tuas, and the HomeTeamNS clubhouse in Khatib.
An MOM inspecting officer began investigating the company on Sept 23 last year after receiving a complaint. No other details were given on who made the complaint.
COMPANY: OFFICERS WERE PAID OVERTIME, AGREED TO DO WORK
Mdm Roslina also argued on Tuesday that the affected officers had been paid overtime and had agreed to do the work.
She told the court that the firm's senior management was not aware of a ground executive asking them to do so, and have since "taken him to task". 
He left the company in early October last year, and the management implemented an electronic logging system to stop these breaches from happening again, said the lawyer. It also issued an internal note to employees not to exceed the work hours limit.
Ms Loh from MOM, who asked for a S$35,000 fine, responded that the company had continued breaking the law despite paying the S$8,000 composition fine for 16 similar breaches in March last year. 
"Just merely six months later, such breaches were found to have occurred again on a very extensive basis. We would say the steps taken should have been taken earlier since the company was aware that such practices were ongoing," the prosecutor said.
She further noted that after the ground executive left Peregrine Security, the company carried on with the practice of making security officer work beyond the prescribed 12 hours.
When questioned by District Judge Wang on why the company's directors were not charged, Ms Loh said that it was more of "systematic malpractice" on the firm's behalf, and that the excessive work hours could be traced back to the instructions of two employees and not that of the directors.
As for Mdm Roslina's argument that the employees were not forced or coerced to work more than 12 days a day, Ms Loh said they had been asked to work such shifts and "felt pressured to do so".
During sentencing, District Judge Wang agreed with the prosecution that it was challenging to detect such offences, and that the "risk of potential health hazards" cannot be ruled out.
"It is not sufficient to have in place state-of-the-art technology when basic monitoring, supervision and accountability are conspicuously lacking," she added.