Comparing Singapore's newest and oldest MRT lines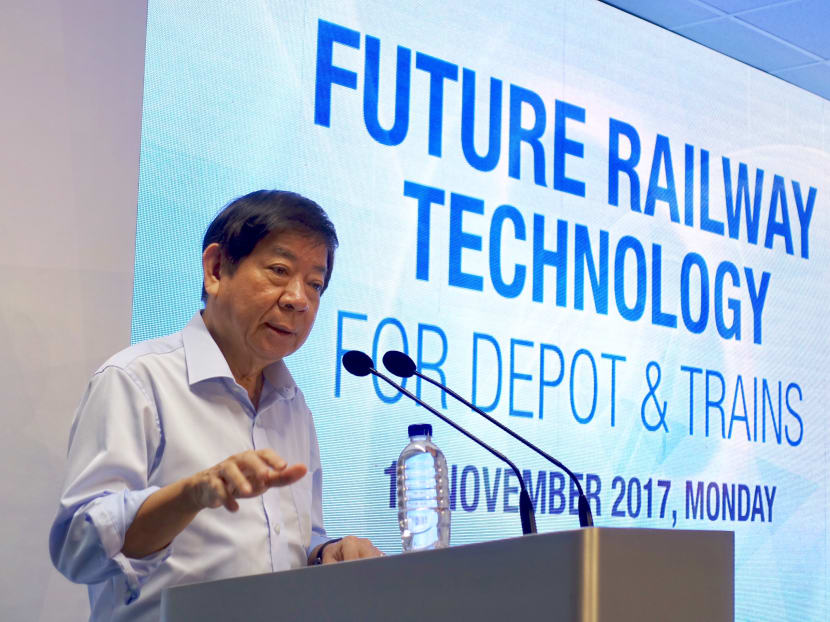 Singapore's MRT services began 30 years ago this month. In a speech on Monday (Nov 13), Transport Minister Khaw Boon Wan sketched out the key differences between the oldest line, the North-South Line, with the newest on the network - the Downtown Line. This is his speech in full:
Good morning ladies and gentlemen,
At age 30, the North-South Line is our oldest MRT line, while the Downtown Line is our latest.
I asked the Land Transport Authority (LTA) to make a comparison between the two lines and highlight the differences. Thirty years separate these two lines and some of the differences are stark, to be expected.
First, the first phase of the North-South Line, cost us around $2.7 billion to build, or $4.4 billion in today's dollars. The Downtown Line cost us close to $21 billion.
The cost per kilometre has gone up from $160 million to $490 million. Each kilometre will therefore cost half a billion dollars - partly due to technology and partly due to inflation.
Second, the North-South Line is about 40 per cent underground while the Downtown Line is completely underground.
Third, the North-South Line has 26 stations, of which eight, or 30 per cent are interchange stations. The Downtown Line has 34 stations, of which 11, or 32 per cent are interchange stations.
We would have preferred for every station to be an interchange station. Then life would be simpler as any problem with a line, there will always be an alternative. More interchange stations means a higher level of network resilience.
Fourth, the North-South Line has an average of two entrances/exits per station. Likewise for the Downtown Line.
For the new Thomson-East Coast Line that is under construction, we have doubled the average to almost four entrances/exits per station.
Some of you who have visited Japan or Hong Kong metros would have noticed there are multiple entrances/exits.
As former colleague Mr Lee Yi Shyan told me, each station is akin to an 'octopus' and therefore you can enter/exit in many ways, and this helps with the first-mile and last-mile connection tremendously. It also means that there are retail business opportunities.
The most famous are the Japanese which have underground retail shops everywhere. When I asked them, they said commuters do not mind walking. Sometimes they walk up to 2km but the shops distract them and they do not get tired.
Fifth, the North-South Line, which has seen some extensions since its early days, has a total fleet of 70 six-car trains for its current length of 45km.
In contrast, the Downtown Line has a total fleet of 88 three-car trains to serve the rail length of 42km. This difference reflects the different catchment populations along the route.
Sixth, the North-South Line operated, until recently, on a Fixed Block Communication System which is largely analogue.  The Downtown Line operates on a Communications-Based Train Control system which, as a digital system allows remote control of most train functions, making the Downtown Line a more reliable line.
That is why we are changing the signalling system of the North-South Line to a communications-based system too, and in due course, for the East-West Line in a few a months' time.
Seventh, the North-South Line shares one major maintenance facility at Bishan Depot with the East-West Line, whereas the Downtown Line has its own facility at Gali Batu. This is a critical difference which I will elaborate later.
Technology advancement partly explains the differences. But there is a major factor underpinning the stark differences. Thirty years ago, Singapore's per capita GDP was about $16,000, last year in 2016, it has grown more than four times to about $73,000.
 It was a very different era. Finance was tight, so we really had to scrutinise every dollar of spending.
The government of the day thought very hard if we could really afford an MRT line. It took months to think through and debate through this major strategic decision.
It was not easy. Some of you who are younger might not remember.
But I remember, as a civil servant, the big debate which was televised on the options - an all-bus system or an MRT system.
There were proponents for the MRT, as a city without MRT is almost impossible. But there were others who were extremely worried whether we can really afford it.
So sometimes today we spend money as if money comes easily. We forget that it was not too long ago. So when there are people who criticise the North-South and East-West Lines on why we did not do this and that, we were simply short of cash.
Since we are at an MRT depot, let me use our expenditure on depots as an illustration.  For 30 years, we have only the Bishan Depot to support two major MRT lines, for all their major maintenance overhaul activities.
This is a severe handicap for our engineering and maintenance crew.
That is why it was such a relief when this Tuas Depot was completed recently. It is now possible for the North-South Line and the East-West Line to each have its own dedicated major maintenance facility.
In a way, Tuas Depot is 30 years' late, but better late than never!
There is another reason why the completion of the Tuas Depot has allowed us to sleep a little bit better. That was how I reported to Cabinet few months ago - that we have never slept well since taking on this project. But we sleep a little better when the Tuas Depot commenced operations.
This is because it comes with a new Tuas power substation. We were cutting it so close. Until now, the North-South and East-West Lines were drawing power from four substations, at Buona Vista, Bishan, Stamford and Yasin. Peak hour power load was about 80 per cent of the network capacity.
As engineers, we are very worried when the buffer is so thin. It was anticipated to increase by a further 25 per cent with the opening of the Tuas West Extension and completion of re-signalling works, thus requiring us to tap into the backup reserves.
That was how close we cut it. And to add to our misery, we needed to reduce crowdedness in trains because it was such a major political issue after 2011.
We had no choice but to add new trains, further pushing the limits on our power capacity. That is why every now and then, we hear about power trips.
This is because when you cut it so fine, any slight fluttering of a butterfly can cause problems for the system.
The fifth substation at Tuas has increased the network power capacity by 50 per cent and is therefore greatly welcomed.
But we cannot yet heave a sigh of relief, because the existing equipment in all the power substations are thirty years old and ought to be renewed a few years ago.
So we are overdue for a renewal and that is why we need to quickly replace and upgrade them.  Power supply is one of the six key ageing assets of the North-South and East-West Lines which we need to renew.
We have only done two (sleepers, third rail), four more to go (signalling, power supply, trains, track circuits).
For power supply, I am a little bit nervous as the trains run on electricity, and if there is no power, there will be no service! That is why we need more engineering hours. This can only come if we reduce train operating hours. It is a zero-sum game. More time for engineering hours means less time for service. It is as simple as that.
Besides quantity, I have also urged LTA to push for a qualitative upgrade for our depots. Technology has moved ahead. Maintenance approach has largely moved from preventive to predictive.
So we need to invest in technology to exploit predictive maintenance, and to build up capabilities to do so.
This morning, we will see a sample of some of these predictive maintenance technologies, including an Automatic Vehicle Inspection (AVI) System.  We will progressively install them in existing depots, as soon as we can get the money and physically do so.
Meanwhile, we are building the new Mandai Depot for the Thomson-East Coast Line.  When I was in Ministry of Health (MOH), my colleagues knew of my constant mantra when we were reviewing hospitals and adding new polyclinics.
Something that I have learnt from our public libraries was the mantra that "every new library must be better than the existing libraries" so that each library provides a different experience. Not different for the sake of being different, but it is a qualitative change.
Likewise, in MOH, in our polyclinics and hospitals. I personally have been involved in three reviews of our hospitals. Every hospital is different.
The latest which I was involved was Khoo Teck Puat Hospital - when you walk in, you know that it is a very different hospital from Singapore General Hospital. It does not mean that the existing hospitals are not good, they are just different.
There are aspects of it which we can do, and ditto for engineering depots. Every depot really should be different because I genuinely believe that technology continues to improve.
If the depot visually or physically looks almost the same as an older depot built 30 years ago, then something is wrong.
Either we are ignorant of technology or the whole world has stagnated in rail technology - which I do not think so as people have moved ahead.
Not as fast as I hope they could but I think we should be part of that movement in upping the capabilities of railway technology, just as the aviation sector has done so, and to some extent, shipping sector too.
This means more money but I think this is an investment in capability for Singapore which we can make use of.
Hundreds and thousands of kilometres of train lines are being built just in Asia alone with the One Belt One Road initiative which will create so much train opportunities.
And that is why I am glad to see ST Engineering be part of this whole industry redevelopment of which I hope twenty years from today or earlier, we can proudly say that the new train line or system in Asia or Europe of which a significant component/capability comes from Singapore. And I think that can be done.
Thank you.