Confidential data of 14,200 people with HIV leaked online by deported fraudster: MOH
SINGAPORE — The confidential information of 14,200 individuals diagnosed with the human immunodeficiency virus (HIV) and over 2,000 others is in the hands of a deported American fraudster, and has been illegally disclosed online, said the Ministry of Health (MOH) on Monday (Jan 28).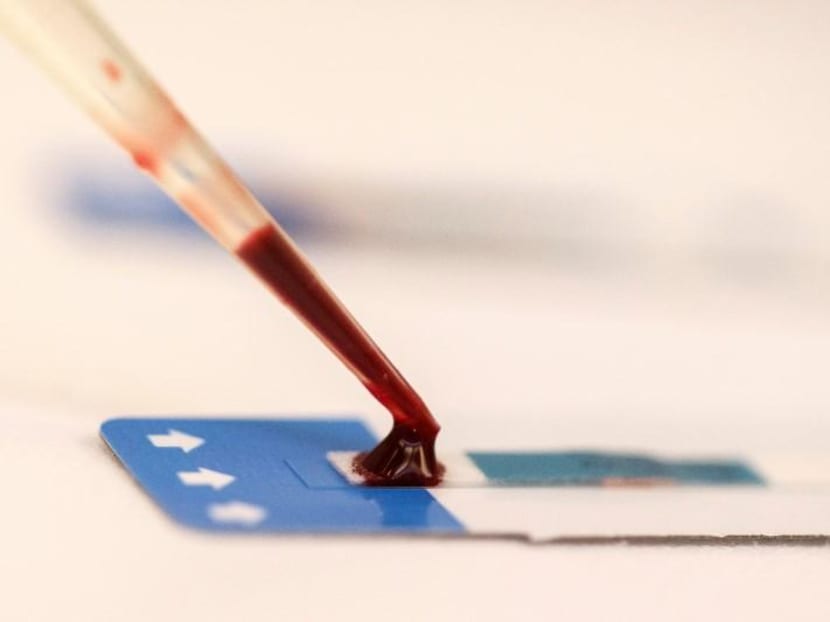 SINGAPORE — The confidential information of 14,200 individuals diagnosed with the human immunodeficiency virus (HIV) and over 2,000 others is in the hands of a deported American fraudster, and has been illegally disclosed online, said the Ministry of Health (MOH) on Monday (Jan 28).
The records, which include names, identification numbers, phone numbers and addresses, are those of:
5,400 Singaporeans and Permanent Residents diagnosed with HIV up to January 2013. Of these, 3,500 are still living, with 90 per cent of them males.

8,800 foreigners diagnosed with HIV up to December 2011.

2,400 individuals identified through contact tracing up to May 2007. They carry a risk of having HIV through coming into contact with HIV-positive individuals, such as through drug-use or sex.
The leaked records of the HIV-positive individuals also included their HIV test results and related medical information. They date as far back as 1985, with the most recent records from January 2013.
The person in possession of the data has been identified as Mikhy K Farrera Brochez, a male citizen of the United States who lived in Singapore on an employment pass between January 2008 and June 2016.
He is currently under police investigation for various offences and the authorities are seeking assistance from their foreign counterparts, as he is based overseas.
The 33-year-old has made the news here previously — his boyfriend Ler Teck Siang was found guilty last year of helping him deceive the Ministry of Manpower.
This was done when Ler submitted his own blood sample so that Brochez, who is HIV-positive, could get an employment pass.
Ler was a general practitioner and former head of the National Public Health Unit (NPHU) in MOH.
He resigned from MOH in January 2014. Since then, he had no access to the National Electronic Health Record system.
MOH said that it was notified by the police on Jan 22 that confidential information from its HIV Registry may have been disclosed by an unauthorised person, and the ministry made a police report the following day.
On Jan 24, the ministry determined that that the information matched its HIV Registry records up to January 2013 and "worked with the relevant parties to disable access to the information".
"We are sorry for the anxiety and distress caused by the incident," said MOH.
"Our priority is the well-being of the affected individuals. Since Jan 26, we have been progressively contacting the individuals to notify them and render assistance."
MOH Permanent Secretary Chan Heng Kee said during a press briefing on Monday: "We know many people will be anxious and distressed and our priority is their well-being.
"We started calling those affected and to offer them assistance such as by giving them a number to call, arranging counsellors on standby to render assistance and the outreach effort is ongoing."
MOH said that it started contacting the affected individuals on Jan 26. As of 4pm on Monday, it has attempted to contact all 3,500 of the Singaporeans who are still alive, and successfully reached more than 1,000 of them.
"There was a certain element of anxiety and distress" among those they did speak to, Mr Chan said.
"We think that even after that phone call and conversation, they may have additional questions and concerns, that's why we have provided a hotline number and put counsellors on standby."
On the 8,800 foreigners whose information has been leaked, Mr Chan said that as the records are "fairly dated", there may be "quite a number of individuals whom we will not be able to proactively contact".
They include work pass applicants and holders, most of whom are no longer in Singapore. They would have gone through a medical examination when applying for a work pass.
The ministry added that while access to the confidential information has been disabled, it is still in Brochez's possession and could still be publicly disclosed in the future.
It is working with relevant parties to scan the Internet for signs of further disclosure of the information, added MOH.
When asked whether Brochez is in police custody and what the risk of him leaking more information is, Mr Chan said: "Brochez is currently not in Singapore. MOH does not know where he is. There is a risk of him continuing to publicly disseminate the info."
Meanwhile, Ler remains a registered doctor, although he does not have the certificate required to practise medicine in Singapore. Associate Professor Benjamin Ong, who is the ministry's Director of Medical Services and the Singapore Medical Council's registrar, said that the SMC will "take action" after his case is concluded in the courts.
Speaking to the media after the press briefing, Health Minister Gan Kim Yong said: "I'm sorry that one of our former staff who was authorised to have access to confidential information in our HIV registry appears to not have complied with our security guidelines."
He added: "Going forward, we will continue to strengthen and review our systems to ensure they're secure, and our priority remains on the patients' well-being and to extend whatever assistance and support we can."
THE POLICE SAY...
In response to media queries, the police confirmed that a report was lodged by MOH on Jan 23 regarding a suspected leak of confidential information from MOH's HIV Registry.
"We are seeking the assistance of our foreign counterparts in our investigations. It is inappropriate to comment on the case further as investigations are ongoing," the police said in a statement.
They added: "The police would like to remind the public that it is an offence under the Official Secrets Act (OSA) for any person to be in possession of, communicate or use any of the confidential data that may have been disclosed."
A person found guilty of the wrongful possession, communication or use of confidential data shall be liable to a fine not exceeding S$2,000, and to imprisonment for a term not exceeding two years.
ABOUT THE CASE
Brochez, a former polytechnic lecturer in Singapore, was remanded in prison in June 2016 and convicted of numerous fraud and drug-related offences in March 2017 and jailed for 28 months.
Brochez's fraud offences were in relation to him lying about his HIV status to the Ministry of Manpower in order to obtain and maintain his employment pass, providing false information to police officers during a criminal investigation and using forged degree certificates in job applications.
He was deported from Singapore in May last year after completing his sentence.
Brochez's partner Ler was sentenced to two years' jail in November last year after being found guilty of helping him forge his blood test results so that he could continue to work in Singapore.
Ler, 36, is appealing against his conviction and sentence. He is currently out on bail pending his appeal, which is scheduled to be heard in March.
He was convicted in the State Courts on two charges each of abetment of cheating and giving false information to a public servant.
His fifth charge under the Official Secrets Act for failing to take reasonable care of confidential information regarding HIV-positive patients was stood down for the trial and is pending before the courts.
In May 2016, MOH lodged a police report after receiving information that Brochez was in possession of confidential information that appeared to be from its HIV Registry.
Their properties were searched and all relevant material found were seized and secured by the police, said the ministry.
Two years later, after Brochez had been deported, the ministry received information that Brochez still had part of the records and the information "did not appear to have been disclosed in any public manner".
MOH made a police report and notified the affected individuals.
On Jan 22 this year, MOH was notified that more information from the registry could be in Brochez's possession and that he had disclosed the information online.
MOH said in its press release: "The incident is believed to have arisen from the mishandling of information by Ler, who is suspected of not having complied with the policies and guidelines on the handling of confidential information."
The ministry is also appealing to the public to notify it immediately if they come across information related to this incident, and to not share it further. Members of the public who have the information or have other concerns can call MOH's hotline at 6325 9220.