Conservation of S'pore's marine ecosystems 'starts at home', say experts
SINGAPORE — Many Singaporeans may not have heard of Pulau Satumu or Pulau Semakau, but these small southern islands boast a diverse marine ecosystem of coral reefs, coastal forests, mangroves and more.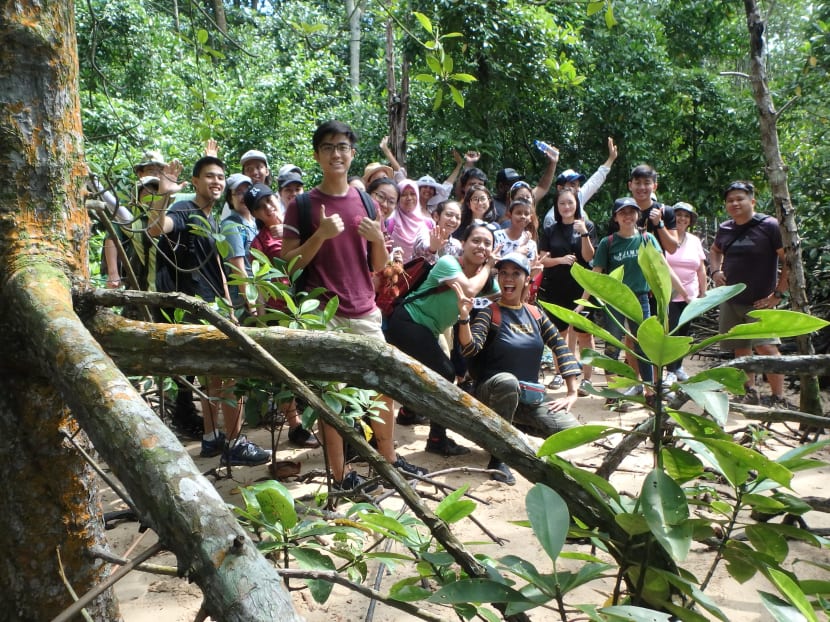 SINGAPORE — Many Singaporeans may not have heard of Pulau Satumu or Pulau Semakau, but these small southern islands boast a diverse marine ecosystem of coral reefs, coastal forests, mangroves and more.
They are part of three island groups that the Singapore Blue Plan has proposed to be designated as marine reserves, among a list of other recommendations in the third instalment of the proposal for the conservation of marine ecosystems.
The Southern island clusters are: Pulau Semakau-Hantu-Jong, Pulau Satumu-Biola, and Pulau Ubin.
The 230-page proposal, which is published every decade, was prepared by marine biologists and included contributions of more than 100 academics, environmental lawyers, and stakeholders. It presented six broad recommendations to manage and conserve the marine ecosystems in Singapore, and was submitted to the Government on Saturday (Oct 13).
Dr Zeehan Jaafar, Lead Editor of the Singapore Blue Plan, said these islands are important because they harbour a high diversity of marine life. They also represent the "little that remains of our natural areas", and serve as emblems of our national heritage, added Dr Zeehan, a lecturer at the National University of Singapore's Department of Biological Sciences.
For instance, the landfill island of Pulau Semakau boasts an ecosystem of coral reefs, patch reefs, coastal forests, intertidal sandflats, seagrass meadows, and mangrove areas.
Pulau Satumu, where the Raffles Lighthouse is located, and the adjacent islet of Pulau Biola comprise the highest percentage of coral cover in Singapore, and host a high diversity of corals and marine organisms.
"These are considered source reefs for the region and the sites can contribute to regional genetic diversity," said Dr Zeehan, who added that these reefs produce young that follow water currents and settle in coral reefs in Indonesia.
According to the World Wide Fund for Nature (WWF), coral reefs not only support enormous biodiversity, they also help prevent coastal erosion, and can even be a source for medical research.
Dr Zeehan said that protection for Pulau Satumu and Biola is more urgent as there have been signs that ship grounding has destroyed portions of these reefs.
She added: "We are not advocating for these areas to be closed off from members of the public. Instead, we are encouraging their protection through better management."
With larger protected areas, sensitive portions will be closed off to large groups, but other areas can continue to be utilised, said Dr Zeehan.
For example, including Pulau Hantu in the protection plan will mean that diving companies will have to be more careful about anchoring in the area, and divers have to take more care when diving to minimise harm to the coral reefs.
The proposal said that designating the islands as marine reserves will allow for better protection of marine biodiversity through better management, such as clearer agency roles and better legislation, as well as include community involvement and stakeholder participation.
Other recommendations in the Singapore Blue Plan include providing continued funding for research initiatives, and long-term monitoring programmes.
The proposal said that ensuring the "long-term sustainability of these related programmes" would be crucial to "the success of marine science in Singapore".
It also made a suggestion for the establishment of formal management systems for marine environments, including introducing an Environmental Impact Assessment (EIA) law that requires projects to be subjected to impact assessments.
Existing legislation and administrative practices also need to be amended to fill gaps in regulation and detection of maritime offences, said the Blue Plan.
For instance, the Fisheries Act could be amended to incorporate the Prevention of Pollution of the Sea Act. This would make it illegal for fishing vessels to indiscriminately dispose their equipment in the sea, which could endanger marine life.
MARINE CONSERVATION 'STARTS AT HOME'
Dr Zeehan said the previous Singapore Blue Plan in 2009 resulted in a number of positive developments for marine conservation, including the 2010 Comprehensive Marine Biodiversity Survey, and the establishment of the Sisters' Islands Marine Park.
Over 1,100 species, including several new ones, were discovered around Singapore's waters during the five-year Comprehensive Marine Biodiversity Survey by the National Parks Board (NParks) and the National University of Singapore.
Regarded as a conservation milestone by the community, the Sisters' Island Marine Park saw NParks initiating projects such as a coral nursery, and Singapore's first dive trail.
Singapore's first sea turtle hatchery was also opened on the island's Marine Park on Sept 29 this year.
Dr Zeehan said: "Due to (the sea's) vast nature, there is still so much that we do not know. But we do know that many human activities are causing harm to marine organisms and affecting natural marine processes."
"How can we even start fixing this seemingly insurmountable global problem? We start at home!"