With 'consistently high cost of living', Singapore ranked world's most expensive city for 8th time in a decade: Survey
SINGAPORE — Singapore has tied with America's New York to share the unwanted title of being the most expensive city to live in, according to the Economist Intelligence Unit's (EIU) latest Worldwide Cost of Living index.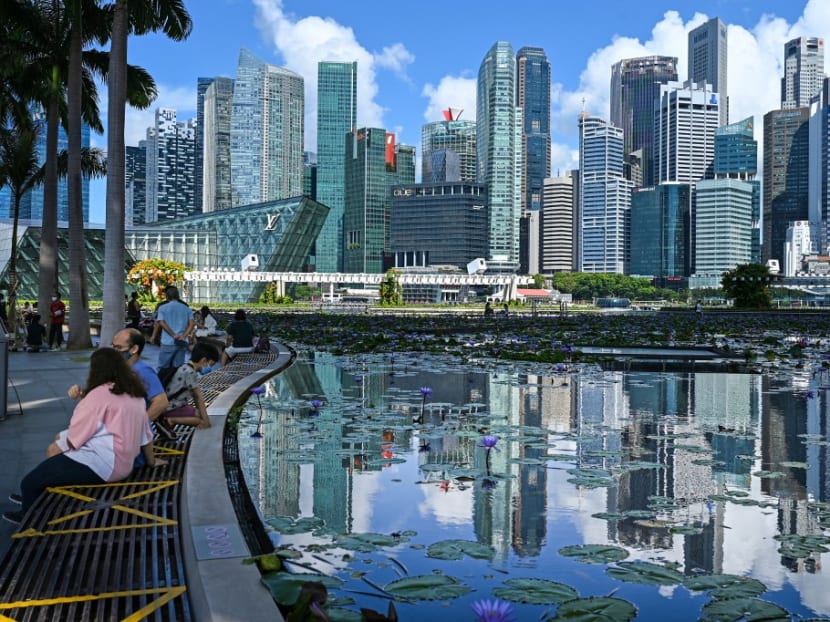 Singapore has tied with New York to share the top spot on EIU's index of the world's most expensive cities
This is the eighth time within a decade that Singapore has ranked first
EIU said Singapore has faced a consistently high cost of living 
Singapore also has a tendency to rank highly due to its strong currency 
SINGAPORE — Singapore has tied with America's New York to share the unwanted title of being the most expensive city to live in, the latest Worldwide Cost of Living index showed.
Results of the survey by the Economist Intelligence Unit (EIU), which were released on Thursday (Dec 1), showed that a combination of high incomes and a strong exchange rate propelled both financial hubs to the top of the list.
While this is the first time New York has topped the rankings, it is the eighth time for Singapore in the past decade.
Last year's top spot was held by Israel's Tel Aviv, with Singapore sharing the second position with France's capital, Paris. New York was ranked sixth.
CITY RANKINGS FOR 2022
TOP 10 POSITIONS
1. Singapore
1. New York, United States
3. Tel Aviv, Israel
4. Hong Kong, special administrative region of China 
4. Los Angeles, US
6. Zurich, Switzerland
7. Geneva, Switzerland
8. San Francisco, US
9. Paris, France
10. Copenhagen, Denmark
10. Sydney, Australia
BOTTOM 10 POSITIONS
161. Colombo, Sri Lanka
161. Bangalore, India
161. Algiers, Algeria
164. Chennai, India
165. Ahmedabad, India
166. Almaty, Kazakhstan
167. Karachi, Pakistan
168. Tashkent, Uzbekistan
169. Tunis, Tunisia 
170. Tehran, Iran
171. Tripoli, Libya
172. Damascus, Syria
The bi-annual survey, conducted between Aug 16 and Sept 16 this year, compares more than 400 individual prices across more than 200 products and services in 172 cities.
EIU — the research and analysis division of the Economist Group, which also manages the Economist newspaper — said that the survey has been designed to enable human resources and finance managers to calculate cost-of-living allowances and build compensation packages for expatriates and business travellers.
The Ministry of Trade and Industry (MTI) said in December last year, after the release of EIU's previous report, that the results "may not reflect the cost of living of Singaporean households".
For instance, it said that the EIU consumption basket includes items such as international foreign daily newspapers that tend to be more expensive than what Singaporean households typically consume, such as Singapore's newspapers.
In response to TODAY's queries, Ms Upasana Dutt, head of Worldwide Cost of Living at EIU, said on Thursday that its survey includes products and services, which are common all across the cities in order to provide standardisation and direct city-to-city comparisons.
These include categories such as food, drinks, clothing, household supplies and personal care items, home rent, and transport, she added.
Last year, MTI said that EIU's survey findings were compiled by comparing the prices of goods and services across countries and converting them from their domestic currencies to US dollars.
"This means that the rankings are sensitive to currency fluctuations. However, currency fluctuations have less impact on the cost of living of Singaporeans who earn their income in Singapore dollars," MTI said then.
'CONSISTENTLY HIGH COST OF LIVING'
Commenting on its latest findings for Singapore, EIU said that the country has faced a consistently high cost of living.
"The city-state has the world's highest transport prices, owing to strict government controls on car numbers. It is also among the most expensive cities for clothing, alcohol and tobacco, thanks to its success as a premier location for business investment," the company added.
And because of Singapore's strong currency, it has a tendency of ranking highly on EIU's index.
EIU said that prices are higher when expressed in international common currency, while structural factors such as competition or high demand play a key role in determining the cost of living as well.
It added that because it converts domestic currency prices into US dollars to calculate each city's index, EIU's rankings are also driven by exchange rates against the dollar.
Ms Dutt said that as compared to other currencies, the Singapore dollar depreciated relatively less, which caused the city to stay as one of the most expensive.
Beyond Singapore's strong currency, EIU also pointed to high inflation, which has led to the cost of living soaring in the world's major cities as war in Ukraine and continuing Covid-19 pandemic restrictions disrupt supply chains, particularly for energy and food.
On average, EIU said that prices have risen by 8.1 per cent in local-currency terms, the highest rate in the 20 years for which the firm has collected digital data.
Utility and food prices have increased sharply in the midst of trade restrictions caused in part by the Ukraine war, but petrol prices have seen the most rapid increases, it added.
The firm found that the price of a litre of petrol has risen by 22 per cent year-on-year on average in local-currency terms at a time of higher global oil prices and a stronger US dollar.
Separately, prices for gas and electricity saw a global average increase of 11 per cent, compared to the 29 per cent on average in local-currency terms in western European cities as the region tries to wean itself off Russian energy.
Despite the relatively bleak outlook, EIU said that "prices may be starting to ease" in some countries as interest rates bite and the global economy slows. Supply-chain blockages should also start to ease as freight rates come down and demand softens.
"Unless the war in Ukraine escalates, we predict that commodity prices for energy, food and for supplies such as metals are likely to fall sharply in 2023 compared with 2022 levels, although they are likely to stay higher than previous levels." 
Overall, EIU forecasts that global consumer price inflation will fall from an average of 9.4 per cent this year to a still-high 6.5 per cent in 2023.
In response to TODAY's queries, MTI reiterated on Sunday (Dec 4) that the Worldwide Cost of Living report "does not reflect the cost of living for Singaporeans".
The ministry added that it tracks the prices of products that Singaporean households tend not to purchase due to their relative cost. This includes items such as "Burberry-type raincoats", said MTI.
MTI added that while a strong local currency influences how cities rank on EIU's list, it does not raise the cost of living of Singaporeans who earn their income in Singapore dollars. 
"On the contrary, a stronger Singapore dollar helps to dampen imported inflation in Singapore by lowering the prices of our imports, in Singapore dollars, and subsequently, consumer prices," said MTI.  
The ministry said EIU's report comes at a time when many countries around the world, including Singapore, are facing strong inflationary pressures amidst the ongoing Russia-Ukraine war and protracted supply disruptions. 
It said that the Government recognises Singaporeans' cost of living concerns and has rolled out a comprehensive set of measures totalling more than S$3.5 billion across three packages this year. 
The Government will continue to monitor the situation closely and support Singaporeans through these challenging times, said MTI.