Corporate transfers of Indian workers to Singapore 'consistently low', at 300 to 600 a year: Tan See Leng
SINGAPORE — The annual number of intra-corporate transferees from India has stayed "consistently low" over the years, Manpower Minister Tan See Leng said in Parliament on Tuesday (Sept 14), as he accused the Progress Singapore Party (PSP) of peddling "dangerous" sentiments over free trade agreements.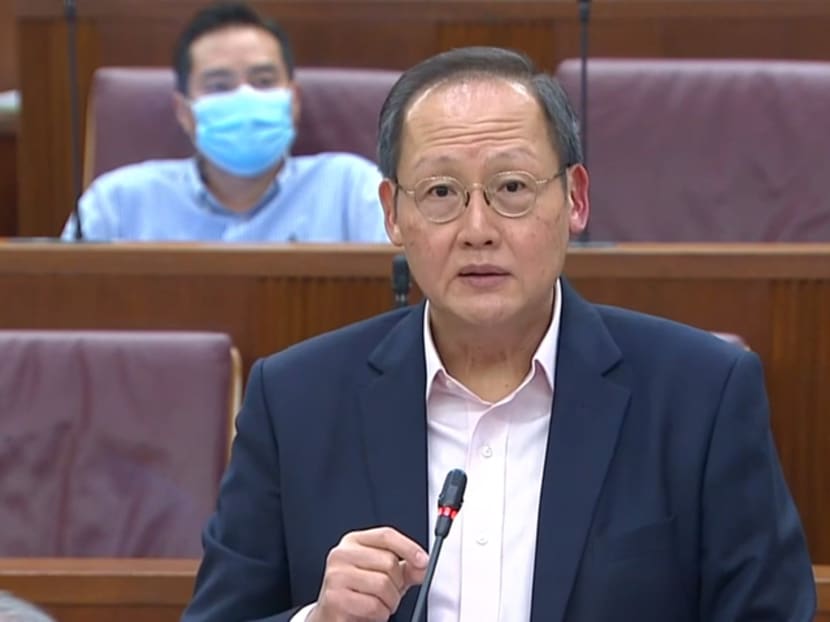 The total number of corporate transferees from abroad has risen from 2,100 in 2016 to 4,200 in 2020
Those from India made up between 300 and 600 over the same period, with 500 in 2020, Manpower Minister Tan See Leng said
Dr Tan acknowledged that the number foreign PMETs has increased
But resident PMETs have also experienced "positive outcomes", he said
He then criticised PSP's manpower policy proposals, which he called "shortsighted"
SINGAPORE — The annual number of intra-corporate transferees from India has stayed "consistently low" over the years, Manpower Minister Tan See Leng said in Parliament on Tuesday (Sept 14), as he accused the Progress Singapore Party (PSP) of peddling "dangerous" sentiments over free trade agreements.
He added that contrary to PSP's assertions, manpower data are readily available, such as the periodic labour market reports from the Ministry of Manpower (MOM).
Dr Tan said that from 2016 and 2020, the overall total number of intra-corporate transferees has grown from 2,100 to 4,200. 
In comparison, the number of these transferees from India had risen from 300 in 2016 to 600 in 2019, before falling slightly to 500 in 2020.
MOM's website states that intra-corporate transferees are foreign employees who have worked for at least a year in overseas offices of multinational corporations and are brought in to work in their branches or subsidiaris in Singapore.
Dr Tan said: "The PSP continues to equivocate about free trade agreements, claiming it does not have enough information... Given the racial undertones on this issue… the PSP's equivocation is not only misleading, but also dangerous."
The minister was speaking during a debate over two motions on the issue of foreign labour, one of which was filed by two Non-Constituency Members of Parliament (NCMPs) from PSP on foreign talent policy and free trade pacts such as the India-Singapore Comprehensive Economic Cooperation Agreement (Ceca).
He had revealed the number of corporate transferees from India for 2020 before, in a ministerial statement in July this year, but not the figures for the preceding years.
Two government ministers before him had taken turns to label PSP as racist and xenophobic, although the two NCMPs from PSP, Mr Leong Mun Wai and Ms Hazel Poa, rejected the characterisations.
Over close to 50 minutes, Dr Tan pointed to a range of statistics in a bid to prove that Singapore's employment policies have worked for the vast majority of its citizens.
He expressed disappointment at PSP's approach, which he said would mean that Singapore closes its economy to the world.
'POSITIVE OUTCOMES' FOR PMET SEGMENT
PSP, Dr Tan said, fixates on the rise in foreign professionals, managers, executives and technicians (PMETs) to argue that Singapore residents have been displaced and have lost out.
"It has painted a picture of widespread displacement based on the anecdotes it has heard."
The vast majority of resident PMETs have experienced "positive outcomes" despite the rise in foreign PMET numbers, he added.
Over the years, there was an even larger growth in local PMET employment, low local PMET unemployment, a growing number of PMET job vacancies and rising local PMET wages, he said.
The number of resident PMETs grew by 300,000 over the past decade to 1.3 million last year. Over the same period, the number of Employment Pass (EP) and S Pass holders increased by 110,000 to 350,000 last year.
Even in the finance, infocomm and professional services sectors that hire more EP holders, the number of resident PMETs increased by 155,000 while EP and S Pass holders in these sectors grew by 40,000.
"This goes to show that competition between locals and foreigners is not a zero-sum game," he said.
EPs are issued to foreign professionals who need to earn at least S$4,500 a month and have acceptable qualifications. S Pass holders are mid-level skilled workers who have to earn at least S$2,500 a month.
Dr Tan also said that the increase in foreign PMETs has not caused unemployment rates to rise.
Local PMET unemployment rates, outside of crises, have generally remained at 3 per cent or lower, one of the lowest in the world, he added.
Long-term unemployment for this group has been even lower, at below 1 per cent.
He went on to say that the proportion of Singapore's workforce in PMET jobs is among the highest in the world at almost 60 per cent, up from 30 per cent in the early 1990s.
"This is a very different picture from the dire situation that the PSP has portrayed. If you hear Mr Leong, you would have thought that it has been midnight in Singapore for the past 30 years." 
PSP'S APPROACH 'SHORTSIGHTED'
Having said that, Dr Tan acknowledged the anxieties of a small group of workers including those who have lost their jobs.
A growing number of older resident PMETs are losing their jobs as they struggle to keep up with digital advancements that require new skills and face competition from younger and more tech-savvy Singaporeans.
Gig workers may also be feeling anxious because they cannot find a permanent job.
But rather than opting for the "effortless route" of pinning the blame on foreign PMETs, which seems to be PSP's approach, the best way out will be to continually invest in these workers to help them adapt and compete, Dr Tan said.
He then went through a list of policy proposals by PSP and presented a point-by-point rebuke of each.
These included imposing a S$1,200 levy on all EP holders, a 25 to 30 per cent cap on work pass holders and permanent residents, a 10 per cent nationality cap in each firm and greater protection for top leadership roles in companies.
Imposing a levy on EP holders would lower the quality of foreign professionals, managers and executives who are brought into Singapore because employers having to pay the S$1,200 levy will mean they can only offer a lower salary for the role with the same budget.
And while tensions may rise when there is a dominant foreign nationality group in a company, the Government has levers to address the issue such as the Fair Consideration Framework watchlist, which identifies these firms and puts them under heavy scrutiny for potential discriminatory hiring.
"I worry that the PSP is calling for policies that are not only shortsighted, but protectionist, and this will do grave harm to Singaporeans," Dr Tan said.
In response, Mr Leong said that PSP has never advocated for a closed society or economy.
"We have just suggested policies that you disagree (with)," he rebutted.
PSP, too, wants an open society but the difference lies in how it and the Government is proposing Singapore gets there, Mr Leong added, before he was cut off by the Speaker of House to reserve his speech until the end of the parliamentary debate.