The cost of raising children: Saving for their education
Educating your children can cost a lot. While schools in Singapore provide a superb education, parents are spending more on everything from tuition to independent schools and overseas universities. If you are a parent keeping up with what everyone else is doing, you will find that you have to put money aside to meet these expenses.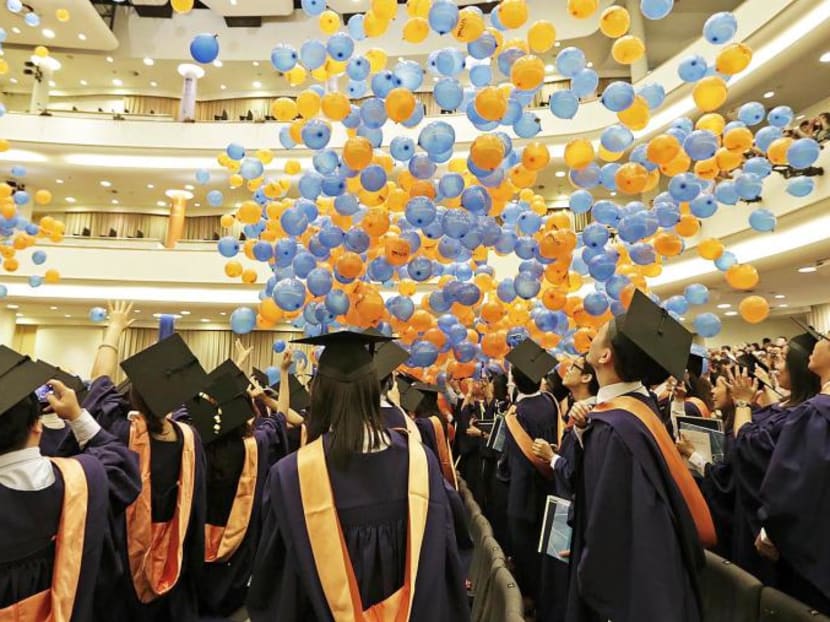 Educating your children can cost a lot. While schools in Singapore provide a superb education, parents are spending more on everything from tuition to independent schools and overseas universities. If you are a parent trying to do the best for your child, you will find that you have to put money aside to meet these expenses. 
Whether you have children or plan to have children in the future, you may not have thought directly about the cost. Expenses for them, such as clothes, food and medical care, may somehow fit into your budget. 
Even though The Asian Parent magazine reported that the estimated cost of raising children in Singapore is about S$340,000, it may not seem that high on a daily basis.
When you start paying for education, though, the costs can gradually shoot up.
The costs start out low: Monthly fees for primary school can be just S$6.50 per month, and few students in the early years of primary school go for tuition. 
Indeed, the basic costs from primary school through to the O Levels total just about A$2,136 (S$2,156), financial website BankBazaar.sg estimated.    
Where parents start to struggle is when children start going for tuition and then attend university.   
RISING COSTS
While data on tuition is scarce, anecdotal reports indicate that tuition costs between S$150 and S$400 per subject per month, or more. Five subjects would be at least S$750 per month. 
When students reach tertiary level, an education in a junior college costs about S$792 for two years and at polytechnics, it is about S$2,900 per year, BankBazaar.sg reported.
Costs for university are far higher. The average cost of a degree course at Nanyang Technological University is about S$28,000 to S$32,600. At Singapore Management University, it is about S$45,600 to S$50,400 and at the National University of Singapore (NUS), it ranges from about S$29,650 to S$146,750 depending on the course of study.  
In total, HSBC bank found in a recent survey that parents in Singapore spend a total of about US$70,939 (about S$97,000) on each child's education. 
And if your child goes overseas for a university education, the cost is usually at least S$100,000 and can rise to US$271,400 for tuition, room, board, and fees alone for a four-year degree at Harvard University, for instance. 
For many families, the challenge of funding all these costs is acute. 
HSBC also found that 74 per cent of parents are using their day-to-day income to help pay for their child's education. Many don't have the savings they need for education expenses. 
A 2017 Global Wealth Report from Credit Suisse stated that while the average wealth per adult Singaporean is one of the highest in the world at US$268,800, about 22 per cent of adults here have wealth below US$10,000 and another 26 per cent have between US$10,000 and US$100,000.
START SAVING EARLY
To make sure you have enough money for education expenses, it is essential to start saving early. Three steps can help you help your child to achieve their full educational potential.
First, figure out how much you need. While it can be hard to tell how much tuition your child will take and whether they'll stop school after A Levels or study medicine at NUS or Harvard, you can estimate the cost. 
Using the HSBC figure of about S$97,000 would be a reasonable start. Next, figure out how to save that amount. 
One of the best ways is to use an automatic savings plan, where you take money out of your salary and invest it automatically each month in an account designated for children's education. 
If you save S$275 per month for 18 years and earn 5 per cent interest annually, you'll end up with over S$95,000. 
The earlier you start saving and the more time you take to choose the right investment, the more likely you are to have the money they need.
CHOOSE TO LIVE SIMPLER
If it seems hard to save that much, one option is a lifestyle change. Professor Christopher Sarlo of Canadian research organisation Fraser Institute, who has four children, suggested that it's all about priorities. "When I look at other people my age, they tend to have dual incomes, with fewer children," he wrote. 
"They drive nicer cars, eat out more, go on vacations and complain about daycare costs." 
By taking simpler vacations, cooking at home and choosing other less-fancy options, his family will likely save enough to send his children to university. You can do the same.
With about two-thirds of Singaporeans sending their children for tuition, looking for effective yet less-costly alternatives could help, too. 
Tuition subsidies through groups such as the Chinese Development Assistance Council, online tuition through providers such as the Khan Academy and other lower-cost options could be a solution. 
Or skip tuition altogether, since research by NUS lecturer Kevin Seah found that children who received tuition scored lower on their tests than those who did not. 
MANAGE YOUR CHILD'S EXPECTATIONS
The third part is teaching your children well. 
You can talk to them about the educational options once they're old enough, for example, and explain the trade-offs between fancy dinners or mobile phones now and a better education later. 
You should also make sure they understand the benefits of long-term savings and teach them to deposit some of their pocket money in it, too.
While education for children is expensive, it is critically important for their future. Saving enough to enable them to reach their potential is essential, even if it requires some sacrifice along the way.
CORRECTION: In an earlier version of the article, it was stated that the cost of a degree programme at the Singapore Management University is about S$45,600 to S$50,400 per year. This is incorrect. The figures refer to the total cost over four years. We are sorry for the error.  
Sign up for TODAY's WhatsApp service. Click here: