Costa Coffee exits S'pore, as tide turns in favour of indie coffee shops
SINGAPORE — Over the last three-and-a-half months, British coffee chain Costa Coffee has closed six outlets in Singapore, with its two remaining branches at Holland Village and VivoCity mall bowing out in the next fortnight.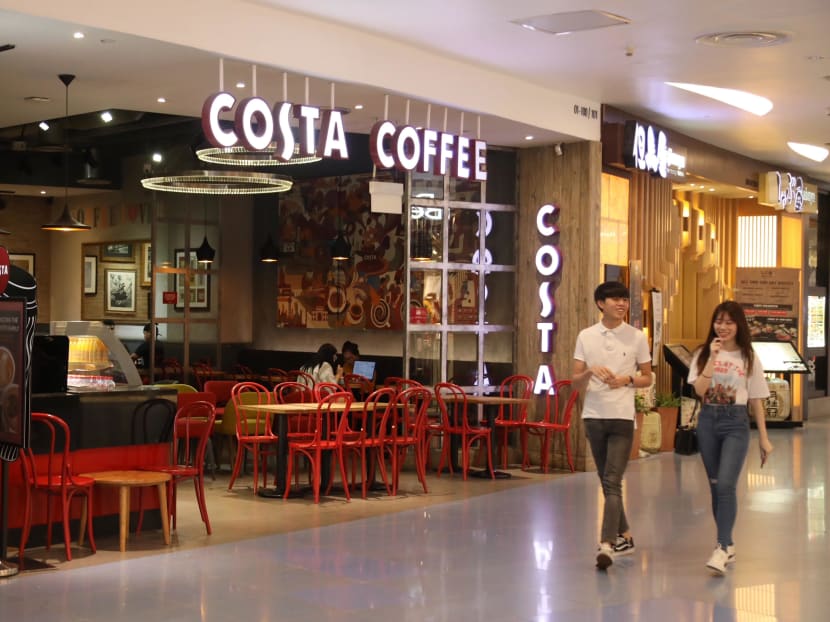 SINGAPORE — Over the last three-and-a-half months, British coffee chain Costa Coffee has closed six outlets in Singapore, with its two remaining branches at Holland Village and VivoCity mall bowing out in the next fortnight.
Japanese chain St Marc Cafe has also shut two of its four outlets, at Marina Square mall and VivoCity, around the same period.
Both entered the Singapore market in 2012.
The falling fortunes of major cafe chains — hit by hefty rents and soaring costs — come as independently run cafes become more popular.
These "indie" cafes, which serve up java that is roasted in-house or sourced from roasters around the world, are part of the so-called "third wave of coffee" movement. It emphasises, among other things, an appreciation of high-quality coffee as a craft beverage, with a similarly artisanal production process and alternative preparation methods.
Coffee chains such as Starbucks formed the second wave, after the first wave from the 1800s to the post-war years saw coffee introduced to homes — in the form of instant, mass-produced brews — and entrenched as a convenient beverage of choice.
Responding to TODAY's queries on Tuesday night (Sept 4), a Costa spokesperson confirmed that the company decided at the start of this year to close its eight Singapore stores.
For the last two, the Holland Village store will shut on Friday and its shop at VivoCity will close next Sunday.
No other stores in South-east Asia are affected by the move, the spokesperson said, though the company did not say why the chain was pulling out of Singapore.
Asked if it would return in future, Costa, the world's second-largest coffee chain after Starbucks, said: "We are committed to remaining within the South-east Asia region and have ambitious plans to grow the Costa brand."
Beverage giant The Coca-Cola Company is set to take over Costa from parent company Whitbread after a US$5.1 billion (S$7 billion) deal announced last week.
Costa's employees here said that news of the store closures in Singapore, communicated to them in February, came as a shock. High rents were part of the reason, they said.
The announcement left a barista maestro and store supervisor, who wanted to be known only as Ms Yana, 31, "speechless".
Competition from specialty coffee shops was also a factor, Ms Yana said, given that consumers are increasingly going for "taste".
Customers approached by TODAY were unaware of the closures, with most saying they visited the chain out of convenience and would simply turn to alternatives. "They are no different from any other cafe," Mr James Chia said. The 29-year-old manager goes to Costa's VivoCity outlet twice monthly.
CUSTOMERS' CHANGING TASTES
Operators of independent coffee shops observed that consumers are turning to the higher-quality brews they sell, over the mass-produced offerings of bigger coffee chains.
Mr Avin Tan, co-founder of Percolate cafe in Bedok North, noted that patrons want more information about the coffees they drink and are keen to find out about their origins, and this has "created a perception of value" among consumers.
He has seen greater concern among customers about the ethical sourcing, farming and processing of coffees, as well as their sustainability. "Smaller companies tend to be able to meet these requirements and demands a lot faster compared with bigger groups, which are usually slower to react," he said.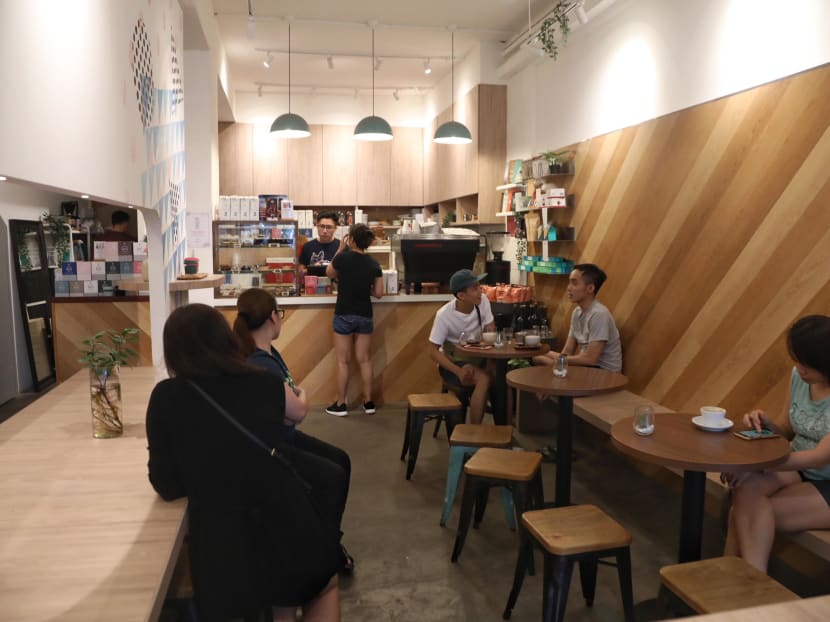 Percolate buys roasted coffee from roasters in places including Singapore, Australia, Italy and Germany.
The Dutch Colony Coffee Company's co-owner Suhaimie Sukiman said that independent coffee houses, which tend to roast their coffee on-site or buy from roasters here, have a slight edge in serving quality coffee at the same prices or cheaper than the offerings from global chains.
Another edge that these independent cafes have is that they tend to understand their customers better. Mr Harry Grover, director of Common Man Coffee Roasters and Forty Hands, said: "It's always good to have an independent owner-operated store as your local coffee shop, where the barista knows your name and your order, (and it is) not just another cookie-cutter generic offering."
While this is not entirely different from neighbourhood kopitiams (food centres at public housing blocks) where the drinks stall-holders are familiar with residents and know how they want their cups of coffee, the majority of the customers at indie cafes is typically the younger set who are active online.
These customers seek the "experiential factor", Mr Grover pointed out. "People want to advertise their lifestyle on their social media feeds. This is good for us — but it also keeps us honest and we have to really deliver."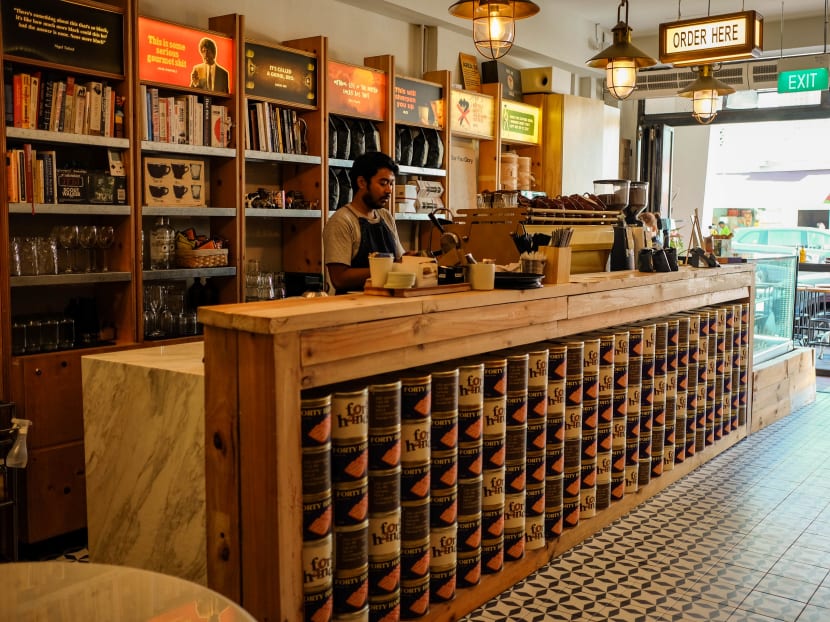 Mr Terence Ong, 26, an executive who visits independent coffee stores weekly, said of why he preferred these places: "The taste of coffee is more to my liking, as I don't like the over-roasted coffee taste that is served by most commercialised coffee chains. Also, I find the quality is generally better at independent coffee shops."
Still, Mr Suhaimie acknowledged that each cafe has a selling point, and he would still visit major chains such as Starbucks for their "ice-blended coffee".
On how customers' changing taste keeps businesses on their toes, Ms Esther Ho, director of the School of Business Management at Nanyang Polytechnic (NYP), said that food-and-beverage (F&B) chains could take a leaf from independent coffee brands, which focus on "experiences" that help command premium prices.
The bigger coffee chains could introduce unique options — such as wholly different offerings — rather than replicate stores with the same products, she suggested.
A spokesperson for Starbucks told TODAY that Singapore, where it has more than 2,600 baristas across 140 stores, remains an important market for the company. Seeing that more consumers here seek "unique coffee experiences" and to cater to this demand, the chain has introduced new products, including Starbucks Reserve coffees, which are available in limited quantities.
HIGH RENTAL COSTS
On the operations side, while independent cafes tend to anchor their businesses in public housing estates where the operating costs are lower, bigger chains such as Costa have had to contend with hefty rentals weighing down on their bottomlines.
NYP's Ms Ho said that the situation is more pronounced in F&B, as some coffee chains are located in areas with high human traffic, which fetch high rents.
Mr Gary Lin, course manager for the diploma in marketing at Temasek Polytechnic's School of Business, said that F&B businesses have had to devise new ways to retain existing customers and reach new ones. "All this means keener competition, and the need to pay higher rents for prime locations and higher salaries to keep good staff to provide a good and consistent service experience.
"Added to all these are the usual reasons of limited manpower locally or from overseas sources," he added.
Even the independent cafes are not spared the brunt of manpower shortage and high rental costs.
Mr Suhaimie said: "Rents are definitely a killer in Singapore and slow down the scalability of growth for indie (coffee shops). Developers are definitely giving prime locations… to brands that can meet their expectations of rental and this is where we pale in comparison… to commercial brands."
Apart from the rivalry with independent operators who have a better understanding of what they sell to customers, coffee chains also face competition of another sort: Sophisticated coffee machines that allow users to make their own drinks from the comfort of their homes.
Associate Professor Ang Swee Hoon from the National University of Singapore (NUS) Business School said: "I don't have to go to the outlet to drink… There must be something very special about (the store for one to do so)."
Moving ahead, Mr Grover from Forty Hands said that the F&B industry will face many challenges, with rising rents and the labour crunch posing major threats to continued growth.
"While there are plenty of new places that open, there are also many, or most, that don't survive past their first year or two."
Among those that do is The Dutch Colony Coffee Company, which now has three cafes in eastern, western and central Singapore. Mr Suhaimie said that its retail business has used about 30 per cent more coffee beans this year — up until August — compared with the whole of last year.
Mr Tan from Percolate hopes to open a second outlet within a year once it finds the right space, while Forty Hands, which started its business in Tiong Bahru, recently opened its second store in East Coast.
Mr Grover is hopeful that the coffee-drinking trend will continue to "favour the independent operators who can do a good job, as this is what the new consumer is looking for".