Court orders Healing the Divide founder Iris Koh to pay her ex-lawyers S$23,000 in legal fees
SINGAPORE — A Supreme Court registrar has ordered Iris Koh, founder of controversial anti-vaccine group Healing the Divide, to pay about S$23,000 in professional legal fees that she owes her former lawyers.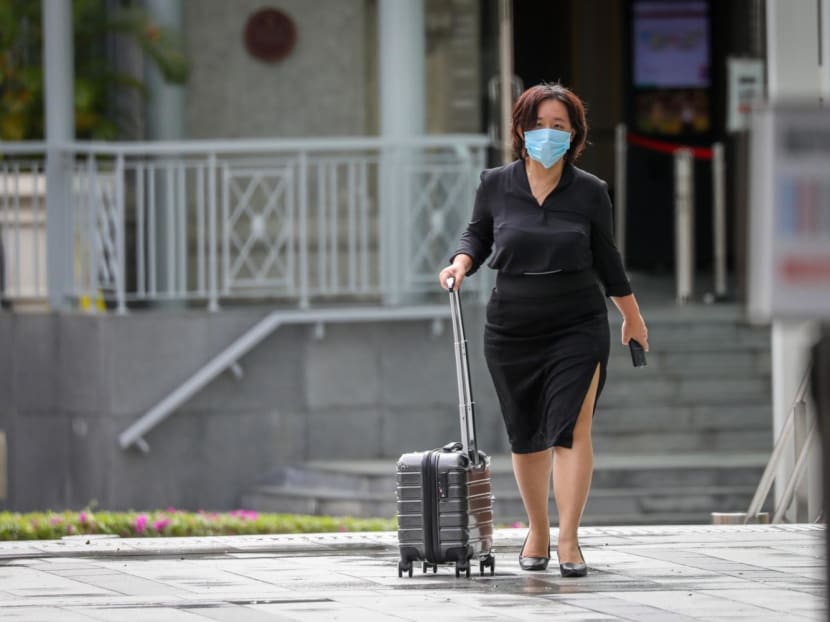 Iris Koh failed to make payments for several invoices from her previous set of lawyers earlier in the year
She has been charged with defrauding the Ministry of Health over fake Covid-19 vaccination records, for one
The lawyers filed a statutory demand to compel her to fork out the balance of about S$30,000
A Supreme Court assistant registrar ordered her to pay about S$23,000
SINGAPORE — A Supreme Court registrar has ordered Iris Koh, founder of controversial anti-vaccine group Healing the Divide, to pay about S$23,000 in professional legal fees that she owes her former lawyers.
Court documents seen by TODAY showed that the order was made against Koh on July 5. She faces two criminal charges of obstructing a police officer and defrauding the Ministry of Health over fake Covid-19 vaccination records.
In dismissing the 42-year-old Singaporean's application to set aside a statutory demand from her ex-lawyers from Fervent Chambers LLC, Supreme Court assistant registrar Gan Kam Yuin described Koh's conduct as "ungracious".
The lawyers issued the statutory demand on March 21 due to Koh's failure to pay several invoices.
The outstanding balance amounted to about S$30,000, of which Ms Gan awarded S$23,373.80.
Registrars are judicial officers who have the power to hear a wide range of civil matters, such as those involving taxation and assessment of damages. They can exercise the authority and jurisdiction of a High Court judge in chambers.
Koh was first hauled to court and charged in early January, which was when she hired defence counsel Clarence Lun and his team from Fervent Chambers for her criminal case.
The case is now pending, though she has since engaged a new lawyer who successfully argued for her to be allowed to travel to Malaysia to seek alternative treatment for her thyroid cancer.
She returned to Singapore last week and is due back in court on July 27.
Ms Gan noted that for the current proceedings over the unpaid legal fees, Mr Lun's work could be broadly divided into three parts.
This included a criminal motion for Koh to be released on bail right before the Chinese New Year festivities. A High Court judge dismissed it before she was granted bail a few days later.
Another area of work was a potential judicial review application over Covid-19 advisories issued by the Ministry of Manpower.
A judicial review seeks to ensure that the law is not in conflict with the doctrines of rule of law and separation of powers, or inconsistent with Singapore's Constitution.
Ms Gan found that the contract of engagement between Koh and her lawyers was for:
An hourly rate of S$500 for the criminal motion and earlier court proceedings
An agreed fee of S$2,500 for withdrawing an originating summons
An hourly rate of S$500 for the potential judicial review application, subject to an overall fixed fee of S$70,000 payable over four months
In considering work done for the criminal motion, Ms Gan took into account the urgency surrounding it. The motion was heard on Jan 31, the eve of the Chinese New Year festive period.
Koh had argued that Mr Lun's team overcharged for work done and did not follow instructions. The lawyers claimed a total of S$24,125, while Koh said that they were entitled to only S$5,000.
Mr Lun earlier agreed to a S$1 discount due to a disagreement over whether the lawyers had obeyed instructions about Koh's request for access to counsel.
While Ms Gan accepted Koh's argument that bail was not a complex or unique area or law, the registrar noted that Koh apparently failed to acknowledge that the lawyers worked at short notice and over a weekend.
Ms Gan also ruled that Koh's argument — that the lawyers could not have advised her or taken her instructions because she was remanded — was "without merit".
Mr Lun previously told the court that they had dealt with Koh's spouse Raymond Ng, and that Koh had authorised them to proceed that way.
Ms Gan added: "I note that the client took the benefit of the work that was done through the husband. It is ungracious, to say the least, for the client to disavow the advice and the instructions that flowed through the husband." 
In a hearing held on May 11, the registrar also commented on emails that Mr Ng had sent to Mr Lun while Koh was remanded. Mr Lun claimed in an affidavit that he was subjected to abuse from Koh's husband.
Court documents showed that in one such email, Mr Ng referred to the S$1 discount, saying he sues people "as a hobby" and has "no qualms bringing lawyers to court".
He wrote in another email: "Putting our understanding aside, do note, I am your CLIENT at that point of time, YOU are my SERVANT. You are obliged to obey EVERY of my instruction even if you knew that they were wrong."
Mr Ng also wrote a vulgarity at one point and asked Mr Lun to "mark your next steps very very carefully".
Ms Gan told Koh and Mr Mohamed Arshad from Fernandez LLC, who is her lawyer for the present proceedings, not to "hide behind the fact" that the emails came from her husband. 
Mr Arshad had argued that the "vulgarities and abuse are regrettable" but did not stem from Koh.
Mr Ng, 48, and Koh were previously investigated for allegedly instigating more than 2,000 members of Healing the Divide's Telegram chat group to call and overwhelm public phone lines that help the public with Covid-19 matters.
In January, the Ministry of Health also filed another police report against Healing the Divide for purportedly telling parents to overwhelm medical staff members at paediatric vaccination centres with questions.