As Covid-19 cases surge abroad, Singaporean travellers make adjustments to their trips, take extra precautions
SINGAPORE — As Covid-19 cases are once again surging in parts of Europe and South Korea, travellers from Singapore who have planned their highly anticipated holidays abroad via the various vaccinated travel lanes are making adjustments to their trips and taking extra precautions in a bid to stay as safe as they can.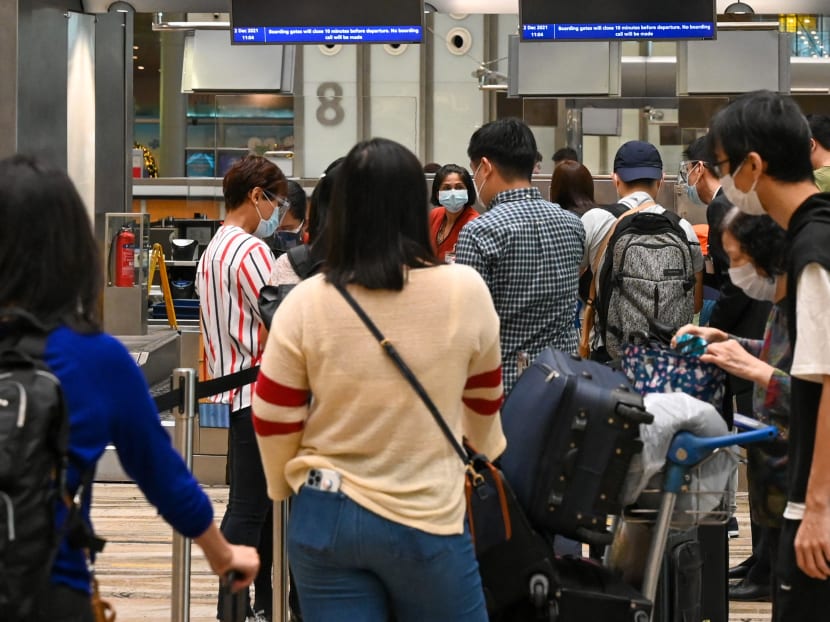 Some Singaporeans have gone for a holiday overseas via the vaccinated travel lanes
They said they had to plan ahead and monitor situations in the destination countries
This was stressful for at least one traveller and a hassle for another
While there, they take extra safety precautions to not get infected with Covid-19
These include driving a rental vehicle rather than taking public transport, keeping to one city or wearing masks
SINGAPORE — As Covid-19 cases are once again surging in parts of Europe and South Korea, travellers from Singapore who have planned their highly anticipated holidays abroad via the various vaccinated travel lanes are making adjustments to their trips and taking extra precautions in a bid to stay as safe as they can.
Insurance agent Andy Tan, 30, who went to Germany on Nov 29, told TODAY on Thursday (Dec 9) that when the "​​situation wasn't very enlightening" in mid-November, he decided to cancel his pre-booked car rentals and hotel stays there.
Cases in Germany have climbed to more than 50,000 daily, with a total of 69,601 new infections reported on Wednesday. ​​The German authorities announced last week that unvaccinated people will not be able to enter non-essential shops, restaurants and places of culture or leisure. 
Mr Tan, who has since made his way to Switzerland from Germany, said via a phone interview: "The rules and regulations for every country are changing day by day so it was hard for us to pre-plan everything like before."
He will travel to France next before returning to Germany where he will fly back to Singapore on Dec 30.
Mr Tan and his travel companions, his girlfriend and her father, decided that they would explore the countries in a caravan to avoid crowded city areas.
"So we decided our holiday would just be for sightseeing only. Just to relax and look at scenery and enjoy the weather.
"Because we have a caravan, we can just stay in remote areas and roam about. We've been staying in our caravan only and we are taking a free-and-easy route. We just decide where we want to go and just go," Mr Tan added.
The only time they will be staying in a hotel is for three nights in France.
Ms Ashley Goh's family is taking similar precautions.
The 22-year-old university student has been holidaying in a ski resort in France with her parents and younger sister since Dec 6.
Ms Goh said in a phone interview that once their week in the resort is up, they will continue travelling through the country by driving, to avoid crowds on public transportation, "which might be a bit dangerous".
She also said that the weeks leading up to their trip was a hassle because the family monitored the number of Covid-19 cases in France daily. Feelings of anxiety and uncertainty also arose because they were unsure if they would have to change their travel plans.
"And in the end, just two days before, the news on the Omicron virus strain came in and we had to do (an antigen rapid test) 48 hours before departure, which was very disruptive and also meant more costs for us.
"So all these costs kept accumulating and we also had to make sure that we had the SafeEntry equivalent in France. 
"You need to keep track of all these regulations and especially when you're in a country that isn't predominantly speaking English, that might be a bit tough. I think when it comes to traveling during the pandemic, there's a lot of responsibility on you," Ms Goh said.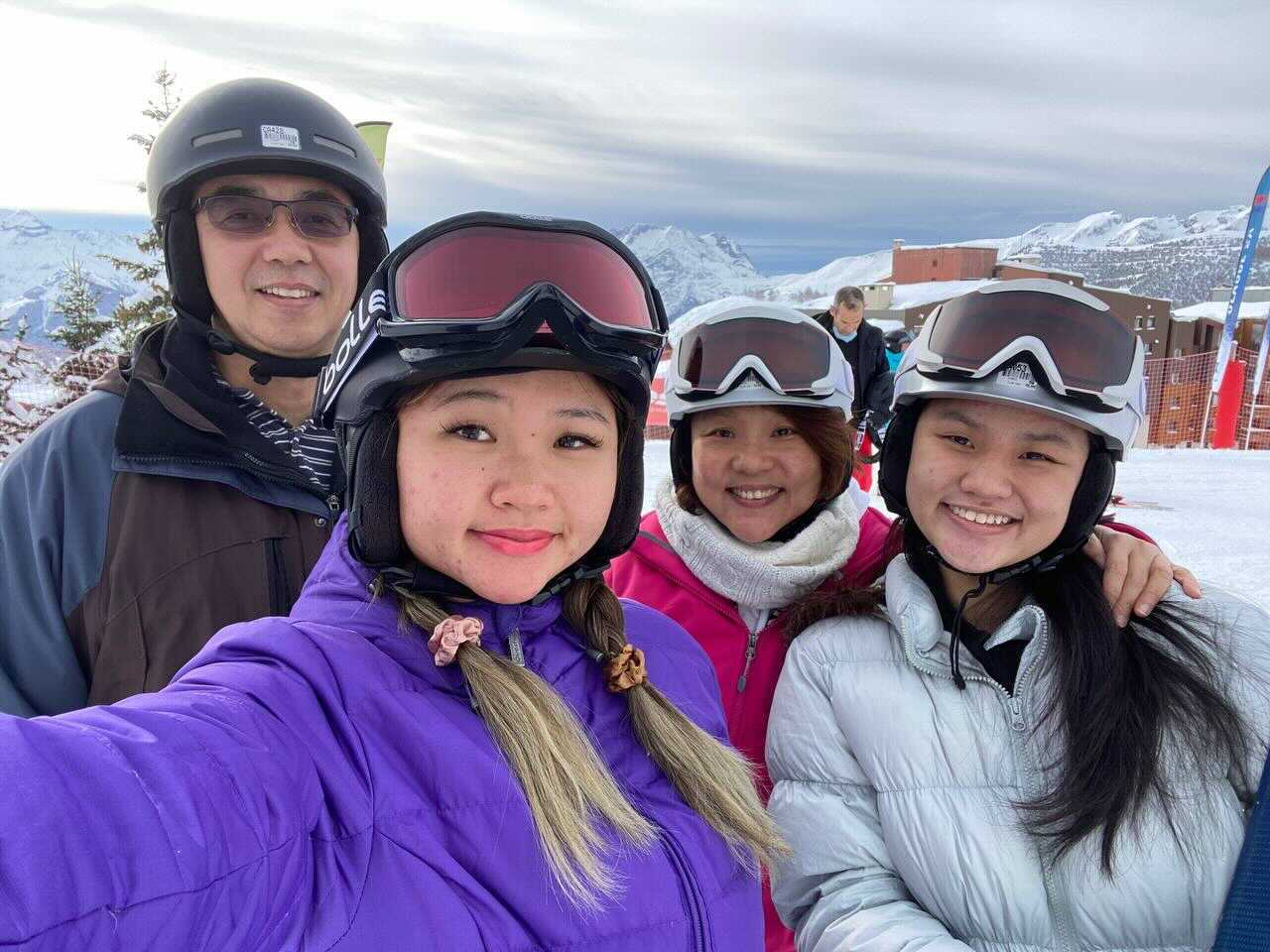 She and her family acknowledged that by travelling abroad, they have exposed themselves to higher risks since the restrictions in place are different from those in Singapore.
"You just have to do your best to try to stay away from crowded areas. You can still enjoy it, you don't have to compromise on your plans. It's taking calculated risks," she said.
"I think, overall, the experience is great and for anyone who is really dying to experience that wanderlust again, just take that leap of faith but also make sure you take your own safety precautions."
Auditor Muhd Ameer, 36, who left for Italy on Dec 3, said over the phone that he felt stressed in the weeks leading up to his trip because he had to consistently keep checking if there were new restrictions being imposed over there.
It was also stressful ensuring that all the paperwork for the destination country was complete, Mr Ameer said.
Moving around Italy has not been an issue and there were not as many tourists as compared to before the pandemic.
He also said that regulations in the cities such as Venice and Florence are similar to those in Singapore where everyone has to wear masks all the time and one's vaccination status is checked before entering restaurants, buildings, trains and hotels.
"(To keep safe), I wear a N95 mask when I'm indoors like in malls and trains, and a regular surgical mask when I'm outdoors," Mr Ameer said. 
"Also, I sanitise and wash my hands often. Every three days, I test myself with a rapid test kit just to be safe. I also bought travel insurance just in case I get quarantined here in Italy."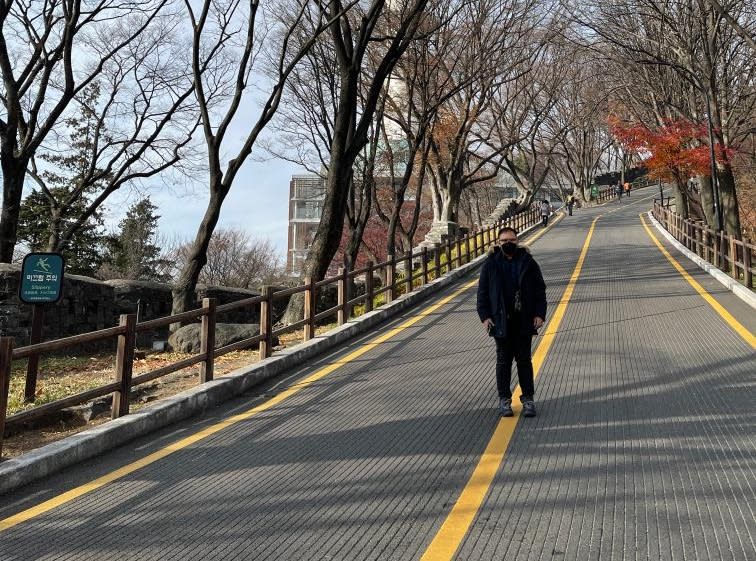 Information and communications technology associate Muhammad Hafiz Mohamed Yasim, who travelled to South Korea on Nov 28, decided to press on with his plans because the number of cases in Seoul was still standing at around 1,000 a day, similar to Singapore at that time.
However, the 32-year-old and his friends decided to keep their itinerary to Seoul rather than travel to Busan as initially planned, to reduce their exposure to the coronavirus. 
During the trip, like Mr Ameer, they also took the usual safety precautions of sanitising their hands constantly and keeping their masks on to reduce their chances of contracting Covid-19.
During his stay in Seoul, the case counts were climbing each day through the public safety alerts sent by the South Korean Government to mobile phones daily, Mr Hafiz said.
"We slowly saw the numbers going up and we were quite worried. Everywhere is dangerous because the virus is airborne, but to keep myself at ease, I brought my sanitiser everywhere."
Mr Hafiz also avoided crowds and reduced their interaction with other people as much as possible.
"We were so thankful we returned to Singapore before South Korea's new tightened measures on Monday. Once we landed in Singapore, we were, like, 'We're home free!'"
Over in the Netherlands, Ms Loo LJ, 34, a compliance officer who has been there since Dec 1, said that before her trip, there was an impending partial lockdown over there, which meant that almost all shops and attractions would be closed between 5pm and 5am.
In addition, there were also protests in major Dutch cities over the new restrictions.
"We were lucky the protests subsided two days before our departure.
"We had two defined markers for trip cancellation: One is if the travel lane flight were suspended and we would have to spend quarantine in either country, the second is if there were a complete lockdown in the destination country.
"Both markers did not happen before departure and we went ahead," Ms Loo said in a phone interview.
She and her husband have had three shots of a messenger ribonucleic acid vaccine and they wear N95 masks while abroad whether outdoors or indoors.
The partial lockdown in the Netherlands did not cause any inconvenience for them at all, because the restaurants offered takeaways after 5pm.
"It also gets dark much earlier in winter so we start our day earlier. And it is good that they reinstated compulsory mask wearing indoors and 1.5m safe distancing." Ms Loo said.
"Travelling overseas is not for everyone during this pandemic and it may never become normal again. For those who do travel, there is a risk.
"But the benefits and fun of travelling, being able to resume normalcy is a risk worth taking provided you are fully vaccinated, have no underlying medical conditions, and comply with mask wearing and safe distancing."