Covid-19: Frustrated F&B operators accept rationale of latest measures but hope Govt, landlords offer more aid
SINGAPORE — The latest round of dining-in restrictions, which come into force on Thursday (July 22) came as no surprise to many food and beverage (F&B) operators, who told TODAY that they had already seen the writing on the wall due to the surge in Covid-19 infections in the community.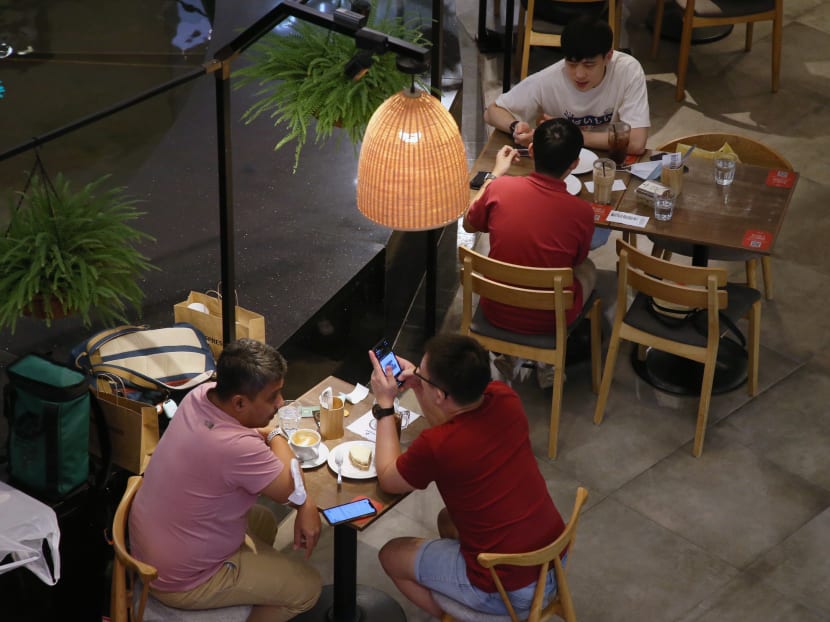 F&B operators told TODAY that the dining-in restrictions are disruptive but necessary to stem the spread of Covid-19
Some said they were more prepared for this round of restrictions due to their past experiences
Others were worried for their future and hope they get more financial help
The Restaurant Association Singapore said landlords must step up and help tenants by offering rental rebates, for instance
SINGAPORE — The latest round of dining-in restrictions, which come into force on Thursday (July 22), came as no surprise to many food-and-beverage (F&B) operators, who told TODAY that they had already seen the writing on the wall due to the surge in Covid-19 numbers from the karaoke nightclubs and Jurong Fishery Port clusters.
Yet, while they understood that there was a need to stem the spread of infections, they stressed that it will be vital for both the Government and landlords to help them tide through the industry's third dining-in ban or it might sound their death knell.
A number of F&B operators expressed frustration as well at the many changes to the dining rules since the pandemic hit early last year.
On Tuesday, the multi-ministry Covid-19 task force announced at a press conference that infection control measures would be tightened again to those in Phase 2 (heightened alert), which were first implemented from May 16 to June 13.
The reimposition of the measures will allow people to gather in groups of up to two — down from the current five. The daily cap of five distinct visitors for each household will also be cut to two a day.
It also means that Singaporeans will not be allowed to eat out at F&B places including hawker centres and coffee shops from July 22 to Aug 18, except to do takeaways or order deliveries.
One reason the three co-chairs of the task force had given for re-introducing the stricter measures was that Singapore's public health situation has deteriorated in "a short few days" due to the Covid-19 outbreak at the Jurong Fishery Port.
Finance Minister Lawrence Wong, who co-chairs the task force, said therefore that the measures were to buy the authorities more time to vaccinate more seniors and let those who have received one dose of the Covid-19 vaccine to complete their second dose.
'ROLL WITH THE PUNCHES'
Mrs Christina Keilthy, who co-owns the Godmama Peranakan restaurant located at Funan mall, said that it was not thrilled to hear the latest announcement.
However, she and her crew were mentally prepared for tighter restrictions when the infection numbers went up into the hundreds.
"We get what the Government is trying to do (by trying to rein in infection numbers)," she said, adding that people will be a lot unhappier if nothing is done and the numbers go up to as high as 500.
"The restrictions are very disruptive... but we just have to roll with the punches," she said. "Moaning and groaning is not going to help."
One businessman who is similarly trying to take the latest setback in his stride was Mr Marcus Foo, chief executive officer of PPP Coffee — a company that manages the popular Chye Seng Huat Hardware cafe in the Jalan Besar area.
Mr Foo said that having experienced the circuit breaker last year that was the equivalent of a partial lockdown, and the previous round of the heightened alert phase, his team has devised a set of standard operating procedures as a back-up.
These procedures, he said, included guidelines of how to manage their business seamlessly and keep the regulars informed of any changes to their business operations.
"Basically, we just push a button and everything falls in place," he said. "So we know what to do (this time) and not panic and scramble."
Still, while it was not a new problem that the operators were facing, some said that it could have been handled better.
Mr Bryan Tong, manager of the Tender Fresh Classic restaurant along Cheong Chin Nam Road in Upper Bukit Timah, said that the constantly changing Covid-19 rules are confusing and frustrating.
"First, two-persons can dine-in, then five-persons (depending on their vaccination status)... Now there is no dining-in... it's really very luan (Chinese for confusing)."
The F&B industry has see-sawed between dining bans and partial reopenings since the partial lockdown was announced in April last year.
Most recently, rules for people to eat out in groups of two resumed on June 21.
The maximum group size was later increased to five from July 12, but saw revised infection controls kicking in on July 19, where groups of up to five could dine together if they were all fully-vaccinated. Otherwise only groups of up to two would be allowed, regardless of vaccination status.
WORRIES ABOUT THE FUTURE
For other F&B operators such as Mr James Ang, the latest move has him worrying about how he can keep his business going in the foreseeable future.
Mr Ang, who is co-owner of Enjoy Eating House and Bar in Jalan Besar, said: "Us and the other restaurants in Singapore did not earn money over the last two months. In fact, we lost quite a bit.
"We have been making projections to see how we can make it up after we reopen, but it doesn't seem like we are reopening. So it's like being forced deeper into a hole." 
Mr Ang added that it is difficult for the restaurant to plan marketing and promotional materials when any plans may have to be scrapped due to any sudden rule changes.
Agreeing, Ms Bonnie Wong, chief operating officer of Creative Eateries, said that the situation F&B operators face now is worse than during the circuit breaker period last year because customers are experiencing pandemic fatigue and are therefore not ordering in or sending food to friends and loved ones like they did last year.
Creative Eateries owns brands such as Bangkok Jam, Siam Kitchen and Suki-Ya.
Another uncertainty, Mrs Keilthy of Godmama Peranakan said, relates to how much support in the form of subsidies the operators will receive this time round.
Mr Lawrence Wong said on Tuesday that businesses and workers affected by the tightened rules will get help from the Government through a new package of targeted support measures.
While the specific details have yet to be ironed out, he said that it will take reference from the support provided in the previous heightened alert period from mid-May to mid-June, which worked out to between S$800 million and S$900 million in total.
Ms Wong of Creative Eateries said that the support measures available to operators have been significantly reduced and so, the impact of the pandemic on restaurants has been far greater this time round.
"The important thing is to understand the needs of the businesses right now in a longer-term context, which will require landlords to play a much larger role in supporting tenants, such as being proactive and prompt with rental support," she said.
'DON'T MAKE US GROVEL'
Indeed, the Restaurant Association Singapore said in a statement on Tuesday evening that it was calling for the Government to mandate rental rebates from landlords, so that their tenants' businesses may continue.
The statement was signed off by 20 association members that include its president Andrew Kwan of Commonwealth Capital investment firm, restaurant chain Tung Lok Group's chief executive officer Andrew Tjioe and Ms Wong of Creative Eateries.
It said that F&B operators have been struggling because they have been coping with various safety regulations and reduced seating capacity for the past year-and-a-half.
Yet, they noted that record earnings were announced by various real estate investment trusts in recent months.
"(This) is not surprising as landlord rental income is spinning freely and hardly remitted," the statement read.
That is why they said that rental rebates from the landlords, and not the Government, should be given voluntarily "without the need for tenants to reach out to grovel for support each time Singapore goes into restricted safe mode".
Furthermore, the statement said that rebates should be given in proportion to the drop in revenues and exclude revenues from deliveries.
"Landlords should not be enjoying and insisting on collecting 100 per cent rentals when their constituent tenants are unable (to) operate freely as contracted and make ends meet. It is inequitable and unconscionable."
NO RUSH TO DINE OUT
Despite the impending dining ban, there was no surge in crowds rushing to have a meal with their friends or family outside when TODAY visited various popular dining spots between 6pm and 7pm on Tuesday, a public holiday.
Sparse crowds lined the usually bustling Cheong Chin Nam Road and there were no queues observed along any of the shops when TODAY visited, though there were still customers dining at these places.
It was much the same at the various eateries and restaurants at Jem mall in Jurong East and Junction 8 mall in Bishan, which includes popular eateries such as Japanese restaurant chain Genki Sushi.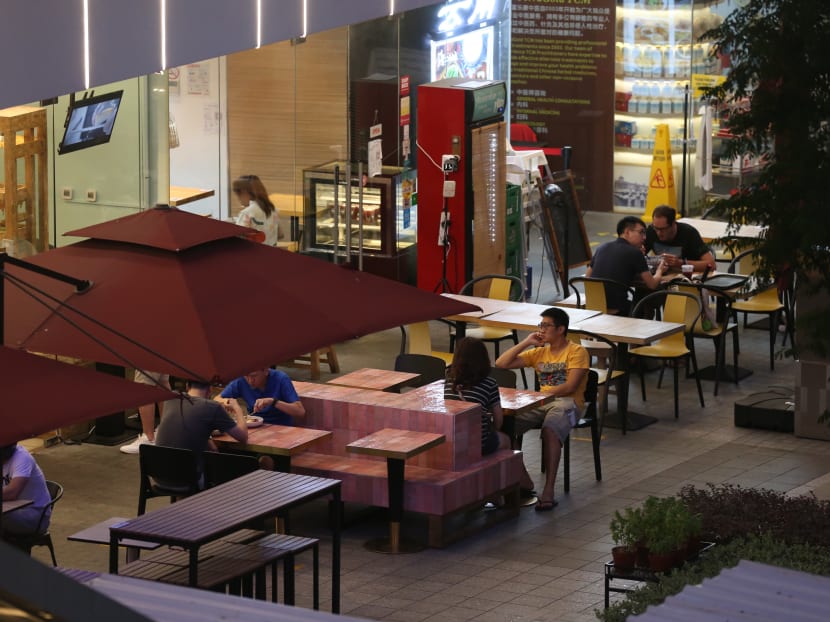 Crowds were found mostly in the basement of both malls, where the takeaway shops are located.
It was little different at Velocity and Square 2 malls in Novena. Most of the restaurants still had empty tables when TODAY visited at around 7pm.
Still, there were some patrons who decided to dine out on Tuesday evening after hearing the latest news of the upcoming dining ban.
Though they had plans at first to stay home and cook curry chicken for dinner, videographer Timothy Heng, 24, and his family decided to head out for a meal together as a last hurrah before Thursday.
"Our family is fully vaccinated, so we are not so scared (of getting infected)," Mr Heng said.