Covid-19: Frustrated travellers struggle to get responses from deluged airlines over refunds, cancellations
SINGAPORE — Having booked a 13-day road trip across South Korea for April at the start of December last year, Mr Ng Cher Pheng and his family were still raring to go up until recently, even though Covid-19 cases were on the rise in China.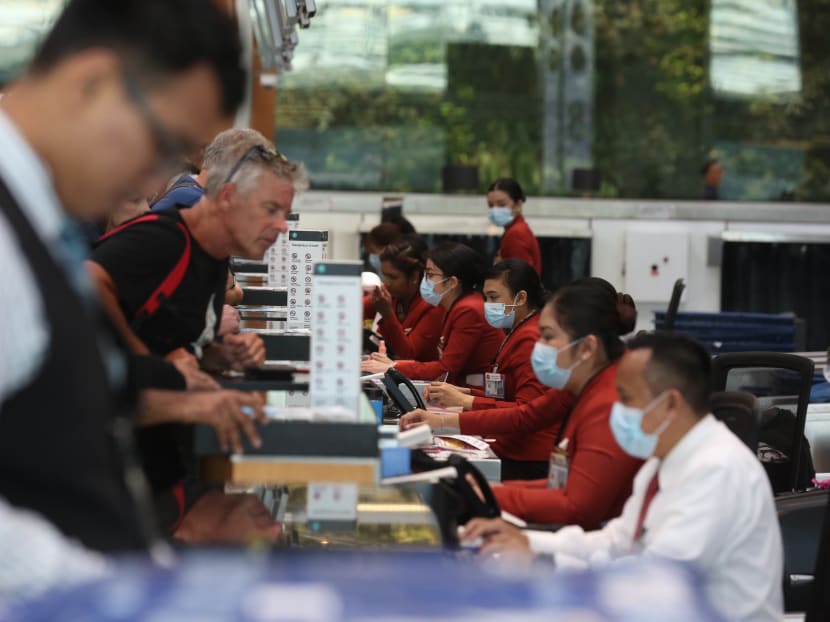 SINGAPORE — Having booked a 13-day road trip across South Korea for April at the start of December last year, Mr Ng Cher Pheng and his family were still raring to go up until recently, even though Covid-19 cases were on the rise in China.
It was only when cases of the viral infection in South Korea began to spike dramatically that the 65-year-old retiree, along with his wife and daughter, decided to cancel their trip.
The problem he now faces? Securing a refund for his Korean Air flight tickets, having paid S$2,200 for three return tickets to Seoul. He had called and emailed the airline last Wednesday (Feb 27) to inquire about the possibility of a refund, but has not yet received any replies.
"The airlines should see the situation. We are flying to their country and it's not so safe," Mr Ng told TODAY last Friday. "They should pay us back… even if it's just 50 per cent… but if it's been two weeks and they haven't got back to us, what can we do?"
Korean Air's website does not make it clear whether Mr Ng and his family would be entitled to a refund.
In a reply to queries from TODAY, a spokesperson said the airline has taken note of Mr Ng's case.
"The average number of inquiries at our reservation call center have increased dramatically due to the Covid-19 issue," she said. "Please be assured we are doing our best to reduce the waiting time for our customers, as well as handling inquiries in order of receipt. We are also updating the latest change/refund guidelines on our website as quickly as possible."
The airline will continue to monitor the situation and adjust its policies accordingly to ensure the safety and health of passengers and to minimise customers' inconvenience, she added. 
Reported cases of Covid-19 in South Korea have shot up from a mere 31 cases on Feb 18 to 4,212 as of March 2.
Some airlines flying between Singapore and China or South Korea have offered their customers full refunds for cancelled flights, and for those customers from countries with travel restrictions whose plans have been affected.
But many customers are still not able to get their hands on these refunds, given the high volume of calls the airlines have been getting in recent weeks amid the Covid-19 outbreak that has been spreading worldwide.
PUT ON HOLD FOR THREE HOURS
A customer of budget carrier Scoot, who wants to be known only as Benedict, said that his flight from Tianjin, China to Singapore at the start of February was cancelled abruptly, and he had to make hasty arrangements to return home, which involved booking several transfer flights that amounted to S$1,600.
The 29-year-old who works in the finance industry said that he tried calling Scoot to ask for a refund on the S$400 return fare, but had to call about 10 times — being put on hold for as long as three hours on one attempt — from Feb 2 to Feb 26 before he finally got confirmation that the refund would be sent to his bank in five days.
However, not all customers caught up in the outbreak have been able to secure refunds and they have had to settle for date changes instead.
Mr Jack Wee, a student at a tertiary education institute, said that he had booked a flight with Scoot to Seoul on March 7 with his girlfriend and wanted to cancel the holiday due to the outbreak there, but managed to contact the customer service hotline only two weeks after he began calling on Feb 17.
"I tried to call three times a day and waited up to 30 minutes per call," the 23-year-old said.
It was only last Friday morning that he managed to get through to Scoot, which told him that he could not cancel his booking, but could only reschedule it to a later date. Though the fee to make the change was waived, Mr Wee still had to pay the fare difference of more than S$400 for both tickets, on top of the S$600 he already paid for them.
"It kind of made me feel trapped — either I spend another S$400 or I just go ahead (with the trip) and pray that I don't catch the virus."
Replying to queries from TODAY, Scoot said that it "sincerely apologises for the inconvenience caused, and would like to assure passengers that all committed refunds will be processed within 30 business days".
It added that there has been a delay in the process of refunding due to the "high volume of bookings that need to be refunded, beyond the initial batch of mainland China flights that were cancelled".
Instead of calling its phone line, Scoot urged customers to reach out to the company via Facebook messenger or through its online feedback form.
Its website stated that customers travelling from Feb 25 to April 30 on flights to or from South Korea — excluding those whose flights originate from Taiwan — can either re-route to another destination, rebook the flight, or refund the value of the flight via a Scoot travel voucher.
Among other measures, Scoot has also been providing refunds for ticket holders to mainland China routes where operations have been suspended since Feb 8.
OTHER AIRLINES AND THEIR POLICIES
Scoot is not the only airline company with frustrated customers.
The Facebook pages of other Singapore-based airlines such as Singapore Airlines (SIA) and Jetstar, as well as international airlines that fly into Singapore, have been inundated with comments from their customers, with many confused about refund policies or frustrated that the firms have been unresponsive.
Like Mr Wee, some of these Facebook users claimed that they had spent days trying to contact the airlines to no avail.
In response to queries from TODAY, SIA said that it is "closely monitoring the evolving situation", and that customers should check its website for the latest waiver policy.
As of Monday, SIA said on its website that for those travelling to South Korea, it would waive all change fees for customers with travel dates between Feb 25 and April 30, for tickets issued on or before Feb 25. For those with travel plans to mainland China, Hong Kong and Macau, customers may have their cancellation and change fees waived for travel dates from Jan 24 to April 30, for tickets issued on or before Feb 8.
At Jetstar, its website states that customers travelling to mainland China, as well as Hong Kong, may request a full refund or waiver of change fee should their flight have been cancelled or rescheduled.
Both SIA and Jetstar acknowledged on their websites that their respective customer service hotlines were facing a high volume of calls and sought the understanding of their customers for the delays.
Chinese airline companies China Eastern Airlines and Air China have also announced on their Facebook pages that within certain departure dates, they would be refunding customers who face travel restrictions into China.
MANY MARKETS AFFECTED
Analysts interviewed by TODAY said that the airline industry is struggling to cope with the sudden flood of cancellations because this is a "once in many years situation".
Aviation analyst Brendan Sobie of Sobie Aviation said that airline companies will find it "hard to plan for this kind of scenario, because they are trying to cut costs and capacity, but at the same time they don't know how long (the outbreak) would last".
While there are incidents such as volcano eruptions that affect individual markets, the worldwide effect of the outbreak makes this situation especially difficult for airline companies due to the many markets involved, he added.
"Customers want a faster response, but companies cannot (hire) staff (to handle customer service) just for this once-in-many-years situation." 
CORRECTIONS: In an earlier version of this report, we got aviation analyst Brendan Sobie's designation wrong. It has been amended. An earlier photo published on March 2 was wrongly credited as a TODAY file photo. The photo has since been replaced. We are sorry for the errors.