Covid-19: GP clinics may have to cut hours, use fewer doctors under MOH guidelines, say some doctors
SINGAPORE — Private doctors, especially at general practitioner (GP) clinics, say that they face a manpower crunch after the Ministry of Health (MOH) restricted the number of clinics at which doctors can practise to three. Previously, no limits applied and the recent restriction is to curb the possible spread of Covid-19.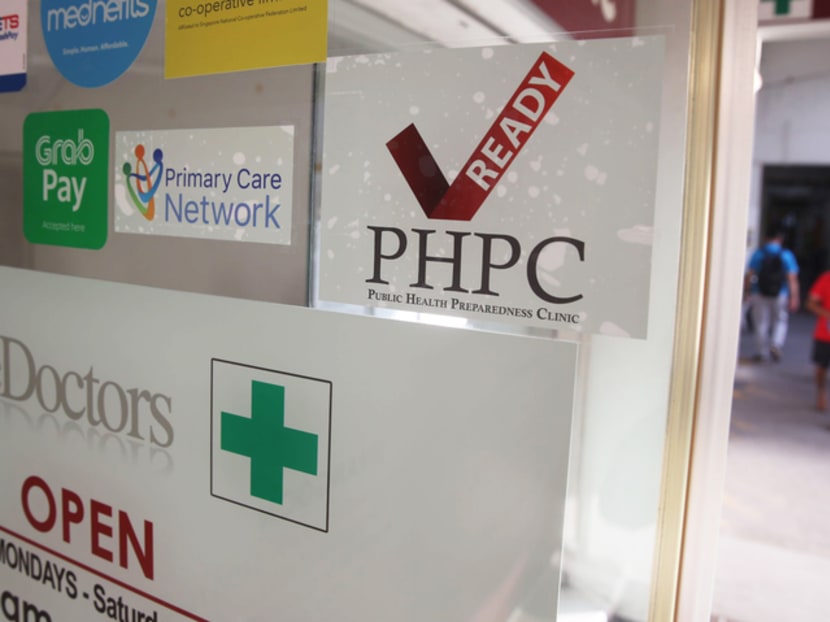 SINGAPORE — Private doctors, especially at general practitioner (GP) clinics, say that they face a manpower crunch after the Ministry of Health (MOH) restricted the number of clinics at which doctors can practise to three. Previously, no limits applied and the recent restriction is to curb the possible spread of Covid-19. 
Doctors at GP clinics who have been working more shifts battling the outbreak told TODAY in interviews over the past week that it would be harder to operate their clinics for the same number of hours under the new rules. This is because the use of locums, or stand-in doctors, is now greatly restricted since locums might have worked at five or 10 clinics before the public health crisis erupted.
An MOH internal circular, issued on Feb 27 and obtained by TODAY, sets out detailed rules for healthcare workers at clinics and hospitals. The rules limit the number of healthcare institutions at which they can work to minimise the cross-institutional spread of Covid-19.
In the circular, MOH said that the restrictions were determined based on the risks assessed in the different healthcare settings, taking into account the acuity, volume and movement of patients receiving clinical care. TODAY has sought comment from MOH.
Dr Wong Tien Hua, 50, who practises at Mutual Healthcare Medical Clinic in Sengkang, told TODAY that the new guidelines would mean that clinics are forced to rely on fewer locums to cover regular shifts at GP clinics.
He said that the new guidelines have had a huge impact at his clinic, which falls under the Public Health Preparedness Clinic scheme. The scheme provides subsidised services in the event of public health emergencies. The clincs are also expected to operate for longer hours.
"(These clinics) are expected to maintain certain operational hours," he said, adding that doctors are already working up to 10 hours each day and might not be able to cope.
"If there is not enough supply of locums to meet demand for GP clinics, some doctors need to close night sessions," he said.
'HARD TO TAKE LEAVE EVEN IF UNWELL'
Dr Wong said: "Most doctors have cancelled their leave for the next three months as there is no point in going anywhere. Taking leave is not the top of our priority now, but the immediate issue is that we are extremely stretched."
Dr Kumar, 48, who declined to give his full name, is a GP who runs three clinics. He said that the guidelines will make it harder for doctors to miss work, even for sick leave, given that a stand-in doctor is not as easily available.
"We are now working round the clock and we can only pray that we don't fall sick because it is now harder to tap the locum market," he said.
"If we were to get sick, it would be impossible to cover without locums and the work will stretch remaining staff or our clinic will have to cancel or reduce sessions," he said. "It adds a lot of strain to the virus situation."
Dr Kumar added that the restriction on manpower adds stress on the private healthcare system.
"The locum market is vital to private healthcare and the system is now under strain without it."
LONGER CONSULTATIONS
A GP who wanted to be known only as Dr Lee, 35, said: "There is a way higher need for locums (during Covid-19) because every clinic owner, every doctor needs to be on deck now," he said. "Every consultation now takes twice as long because I have to address patient's concerns."
At Dr Lee's clinic in central Singapore, two of the four doctors are locums who might not be able to work there regularly now.
He will consider operating the clinic for fewer hours. "Effectively, I'm going to reduce my hours. So many clinics are going to do it because they will say that they physically cannot do this."
Dr Lee also works as a locum at up to 10 other clinics each month. He said that with the new guidelines, instead of working six days a week, he works for just four to five days.
"These kinds of measures are just killing off the private sector which accounts for at least 80 per cent of primary healthcare."
Dr Lee added that an adequate primary healthcare system is essential in supporting polyclinics and hospitals to prevent them from being overwhelmed.
He also said that he and other doctors had given feedback to MOH that limiting the number of healthcare workers to a few clinics might reduce operating hours at GP clinics.
DROP IN INCOME FOR LOCUMS
A full-time locum who has been practising in western Singapore and does not want to be named told TODAY that she used to work at five to 10 clinics but is now "trying" to follow the guidelines by working at three.
"It's difficult to stick to just three clinics because some clinics only require help once a week," she said, adding that this would mean a significant drop in her earnings, although she declined to say by how much.
Another locum doctor, 51, who does not wish to be named, said that his earnings will be cut by a third under the new rules. He said that he has had to rearrange his work commitments so that he can meet MOH's new requirement while maintaining his income.
This doctor said that he does not understand how the guideline can help to reduce transmission because he sees most of his patients for less than 20 minutes each time, which means that his contact with them can be considered as transient.
"If transient contact for 20 minutes on public transport is okay, then why restrict us from working at the fourth or fifth clinic?
"I don't understand the rationale for restricting us from (working in more clinics). Is this to say that we might be potential carriers and spreaders of the disease after working at three clinics and should therefore also keep away from social events and public events after our shifts?" he asked.
'PATIENTS SHOULD NOT CLINIC HOP'
Dr Lee acknowledged that the rationale for the guidelines is to reduce the risk of transmission of the virus from healthcare workers to patients. "But this hadn't happen yet," he said. "And if doctors are given adequate protection, it won't happen."
Dr Wong said: "The general overarching policy aims to be extremely cautious, but up till now, there is no scientific evidence to show that a doctor is at higher risk of contracting Covid-19."
He added that while limiting doctors to fewer clinics is one way of preventing potential transmission, patients should also be encouraged to stick to the same clinics for continuity, and to prevent doctor-hopping, which may spread Covid-19.
Another GP who has been practising for 18 years and wants to be known only as Dr Ong said that the guidelines might cause patients to clinic-hop.
"Restriction of the locums to three clinics does not meaningfully reduce cross-institution contamination risk, but ironically increases clinic-hopping by patients," he said.
NEW GUIDELINES A 'NECESSARY EVIL'
Most GPs interviewed by TODAY pointed out that they are now required to cover more shifts in the absence of locums but they understand that it is necessary.
Dr Elaine Chua, 36, who works at Bedok Medical Centre, said that she understands the necessity of the guidelines and regards the inconvenience as a small price to pay.
"The policy is a necessary evil as the consequences would be too severe otherwise.
"Locums may increase the risk of infection at their different workplace locations if they have worked at many clinics. If one doctor or staff member subsequently gets infected from contact with a particular locum, the entire clinic may have to be shut for 14 days, with everyone quarantined," she said.
Dr John Chiam, who has been practising for more than 20 years and runs a single practice, said that the guidelines are designed to achieve the best outcome.
"However inconvenient, we are willing to make the sacrifice even if it means we are hurt financially to ensure that everything can go back to normal, for the greater good."