Covid-19: Household contacts of patients must register online for home quarantine from Sept 14 under new rules
SINGAPORE — From Tuesday (Sept 14), household contacts of Covid-19 patients who are not traced to sensitive clusters such as those in schools, hospitals and markets frequented by seniors will be required to register online before they isolate themselves at home.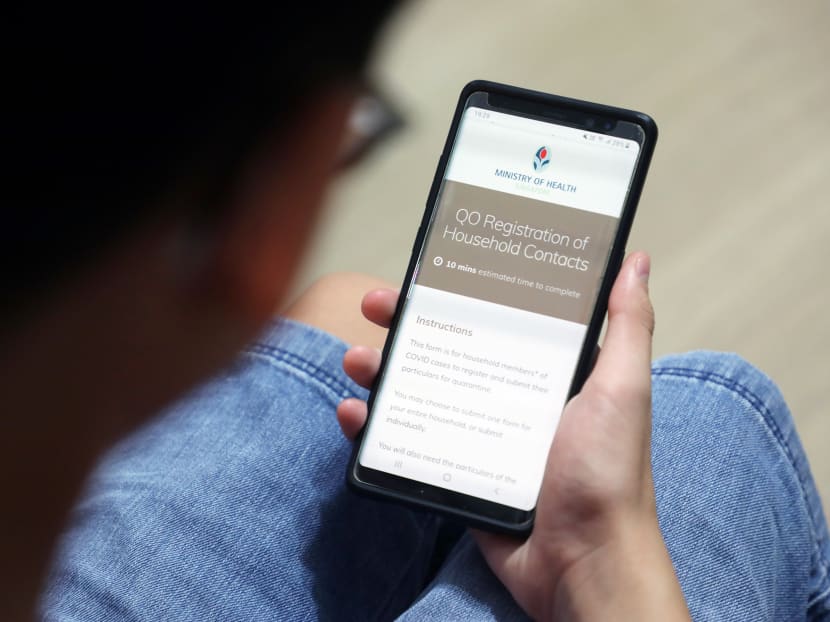 From Sept 14, household contacts of Covid-19 patients must register themselves online to receive electronic quarantine orders
Progressively, the quarantine period will be shortened for those who began isolating before Sept 11
They have to had passed the 10-day mark or more and tested negative
The period covered for people who get health risk warnings has also been lowered from 14 to 10 days starting Sept 14
SINGAPORE — From Tuesday (Sept 14), household contacts of Covid-19 patients who are not traced to sensitive clusters such as those in schools, hospitals and markets frequented by seniors will be required to register online before they isolate themselves at home. 
This is part of an update to home quarantine protocols announced by the Ministry of Health (MOH), in an effort to allow contact tracers to focus on the more sensitive clusters.
Last Friday, the Government had
announced that it was shortening quarantine periods from 14 to 10 days starting this week, to free up contact-tracing resources to focus on stemming large clusters at high-risk and vulnerable settings.
In a statement on Tuesday, MOH said that the shorter quarantine period kicked in last Saturday. 
Those in quarantine before that day who have completed 10 or more days in isolation and tested negative for Covid-19 would have their quarantine orders cancelled earlier progressively.  
Even so, they must continue to test themselves for the coronavirus using antigen rapid test kits on the 11th to the 14th day from their last exposure to confirmed Covid-19 cases. 
NEW HOME QUARANTINE RULES
From Tuesday, all confirmed Covid-19 cases who are not part of sensitive clusters will be notified by SMS (short message service) on the need to tell their household contacts to register themselves for quarantine online at https://go.gov.sg/quarantinereg.
There, household contacts must provide the last date of exposure with the patient and a phone number. 
They will then receive an electronic quarantine order specifying the quarantine period and instructions to book Covid-19 polymerase chain reaction (PCR) swab tests. 
Those in quarantine will then have to go online to schedule their tests — one at the start of their quarantine, and the other, at the end — at a regional screening centre near their home.
They will be able to travel to these centres to undergo the tests, collect free antigen rapid test kits, administer the self-tests daily and upload their results.
They will have access to round-the-clock telemedicine services during their quarantine, should they feel unwell or need medical attention. 
As is the case now, those with unsuitable home settings for quarantine may request to be sent to a government quarantine facility. 
HEALTH RISK WARNINGS: WHAT TO EXPECT
In line with the shortened quarantine periods, MOH said that the period covered under health risk warnings has also been reduced from 14 to 10 days from Tuesday. 
The ministry issues such warnings to close contacts of Covid-19 cases based on data from the TraceTogether contact-tracing tool.
These contacts may not be from the households of confirmed cases and have a smaller risk of infection. 
Those who receive such warnings are required by law to take a PCR swab test on receiving the notice, self-isolate until they receive a negative result, and administer three self-tests over the 10 days. They must also go for another PCR swab test at the end of that period.
Aside from health risk warnings, individuals may be issued health risk alerts.
These are for relatively shorter contacts with a Covid-19 case based on TraceTogether data or when their SafeEntry check-in records from the previous 14 days overlapped with an area of increased viral transmission. 
They must monitor their health for the 10 days and are strongly encouraged to take a free PCR swab test, carry out regular self-tests over that period and minimise interactions with others.
MOH said that some individuals may receive an electronic quarantine order and health risk warning or alert at the same time. 
It made clear that in such a case, they have to attend to the quarantine notification first.
A risk assessment will be made after the submission of their home quarantine registration and they may later have their quarantine converted to a health risk warning.
HOME RECOVERY: WHAT NEEDS TO BE DONE
From Wednesday, fully vaccinated individuals infected with Covid-19 — such as those with no or mild symptoms and aged between 12 and 50 — will be eligible to stay home to recover from the illness as the default arrangement, MOH announced last week. 
These patients must also have no severe illnesses or household members who are older than 80 or in vulnerable groups such as pregnant women, or those with weakened immune systems or many illnesses. 
MOH said in its latest statement that such individuals may start their home recovery as soon as they test positive for Covid-19. 
They must set aside a room with an attached bathroom and will undergo an initial remote assessment by a telemedicine provider on the first day. 
They will also be given an isolation order and may be tagged with an electronic monitoring device to ensure that they remain in their designated rooms at home.
Parents of children who contract the coronavirus can take them home, provided that their children are at least five years old and have no underlying illnesses.
"For the child's safety, a clinical assessment would first have to be done at a hospital before the child can return home to recover," MOH said. 
Patients recovering at home may ask for a care pack containing a thermometer, pulse oximeter, surgical masks and hand sanitiser.
They should monitor, measure and record their health signs such as temperature, pulse rate and blood oxygen saturation at least once daily using a diary given to them. 
They will have round-the-clock access to a telemedicine provider if they need medical help.  
Patients may contact the telemedicine provider to arrange for a PCR swab on the sixth day of illness to end their home recovery period earlier, MOH added.
They will be discharged on the seventh day if their PCR swab test comes back negative or if they have a low viral load.
Otherwise, home recovery will end on the 10th day without further tests, as long as the patient is well. 
"After discharge, Covid-19 patients will no longer be subject to any movement restrictions, although they are still advised to minimise social interactions for the next seven days," MOH said.
The ministry pointed out that patients may be undergoing home recovery as their household members are quarantined. 
In some cases, it would be logical for infected individuals to be discharged before their household members who are in quarantine. 
This is because viral loads dwindle quickly for fully vaccinated infected persons and typically clear by the seventh day.  
By contrast, the viral load of those in quarantine may take up to 10 days to build before the illness manifests itself.
"Overall, the more extensive use of home quarantine, health risk warnings, health risk alerts and home recovery will allow us to ensure appropriate care and self-isolation for our Covid-19-infected individuals, while mitigating the risk of further transmission in a more scalable and sustainable manner," MOH said. 
"This approach requires a whole-of-society effort as we shift towards greater personal responsibility and self-care."
Writing on Facebook on Tuesday evening, Health Minister Ong Ye Kung noted that for many people, quarantining or recovering from home gives them a sense of familiarity even as their health continues to be monitored carefully.
He also said that MOH is setting up two new community care facilities, with a total capacity of 1,000 beds, by the end of this month.
"From today, we are stepping up another 300 beds to 1,300 isolation beds for Covid-19 cases in NCID (National Centre for Infectious Diseases) and hospitals," he added.