Covid-19: NGOs step up outreach efforts, as seniors try to stay occupied while isolated at home
SINGAPORE — Over the course of the pandemic, Mdm Chua Sick Hoo has become something of a tech whiz.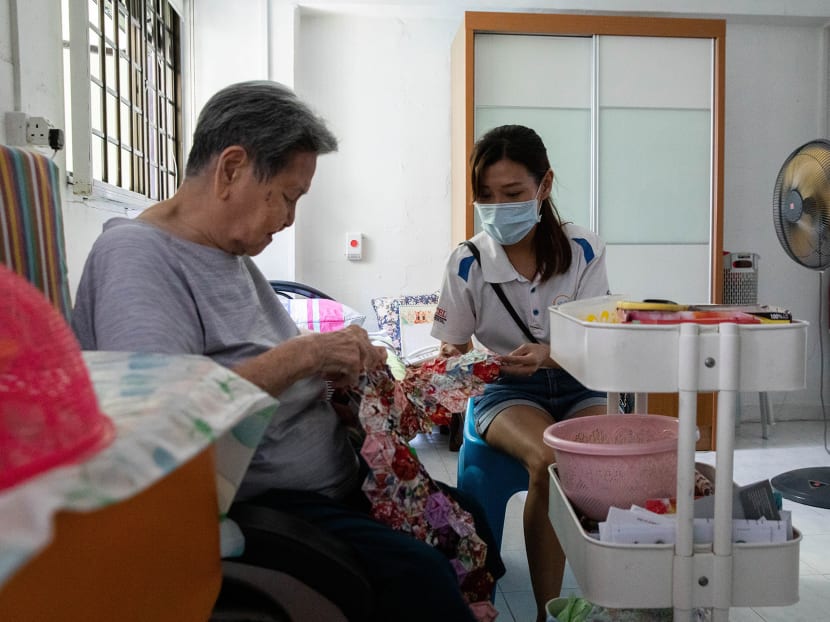 With the surge in Covid-19 cases, seniors have been urged to stay at home to protect themselves
Seniors told TODAY it does get boring, but they understood the advice to stay indoors and have kept to it
Some of them stay engaged through activities organised by NGOs both virtually and physically
NGOs have stepped up outreach efforts to support seniors who need more help
SINGAPORE — Over the course of the pandemic, Mdm Chua Sick Hoo has become something of a tech whiz.
The 82-year-old is now a certified pro at using video conferencing platform Zoom and messaging app WhatsApp, thanks to the staff members from Touch Community Services' senior activity centre in Wellington.
The organisation equipped their elderly beneficiaries with digital skills so they can stay connected with their friends and loved ones as social restrictions were put in place to stem the coronavirus.
The restrictions also meant that many non-governmental organisations (NGOs) which serve seniors, like Touch, had to move their activities online as large in-person gatherings had to be suspended.
With her newfound tech skills, Mdm Chua even gathered her non-tech-savvy friends to her home and showed them how to use Zoom and WhatsApp so that they could benefit from technology as well.
She said being able to participate in virtual activities, like bingo and exercise sessions, has helped her to occupy her time and keep entertained while she hunkers down at home to minimise her risk of getting exposed to Covid-19.
Mdm Chua's foray into the world of tech is an example of how seniors are learning to adapt to the social restrictions which have been put in place for more than a year now to curb coronavirus infections.
As Singapore battles its latest surge of Covid-19 cases brought about by the highly infectious Delta variant, the authorities have once again strongly urged seniors to stay at home and minimise social activities to protect themselves from the disease.
Seniors whom TODAY interviewed said though it does get boring and lonely to be at home all the time, they understood why the Government made its appeal for them to stay indoors and have kept to the advice.
Some said they were intending to minimise their social interactions anyway as they lived alone and therefore would have to take care of themselves if they were to get sick, which would be a challenge.
On the NGOs' part, they have been stepping up outreach efforts, be it through visits or phone calls, to help seniors who may need more support to tide over the loneliness during this period.
They have also shifted their programmes online, and have encouraged seniors to learn how to use technology, so that their beneficiaries can continue to stay engaged through their regular activities and programmes.
Some in-person activities and programmes have resumed, but with a cap placed on the number of people that can be present at each time.
SPREADING OUT CHORES TO FILL THE TIME
When asked how they pass the time at home, many of the seniors interviewed said they do so by doing a little bit of chores here and there, catching up with their friends on the phone and watching some television.
Some, like Mdm Wee Ah Bee, 78, engaged in their own hobbies. She sews blankets for her friends and the volunteers who help her.
Mr Yong Chit Chow, 80, would visit the Lions Befrienders senior activity centre at his block two to three times a week to read the newspapers or talk to his neighbours.
"I don't like to dance, so I don't go very often," he quipped. But even when he did not participate in the activities, he liked to sit and watch the festivities, he said.
For the seniors who are not very mobile, they were already used to not leaving their homes much even before the pandemic and would prefer to stay indoors lest something were to happen to them outside.
One such senior, Mdm Ching Lai Guat, 75, told TODAY that she tries her best to avoid crowds as she is afraid of falling and getting injured outside.
Many seniors have a similar mindset, said Ms Irene Woon, 43, the centre manager at Helping Joy.
"They would think: 'If I go out and contract the virus, there would be nobody to take care of me'. They also don't want to trouble other people," she said.
Ms So Man Shan, centre supervisor for Awwa's active ageing centre in Ang Mo Kio, said some seniors living alone may choose to default on medical appointments or refuse recommended medical assistance during this period.
"This may be because they are unfamiliar or have misinformation regarding medical resources available."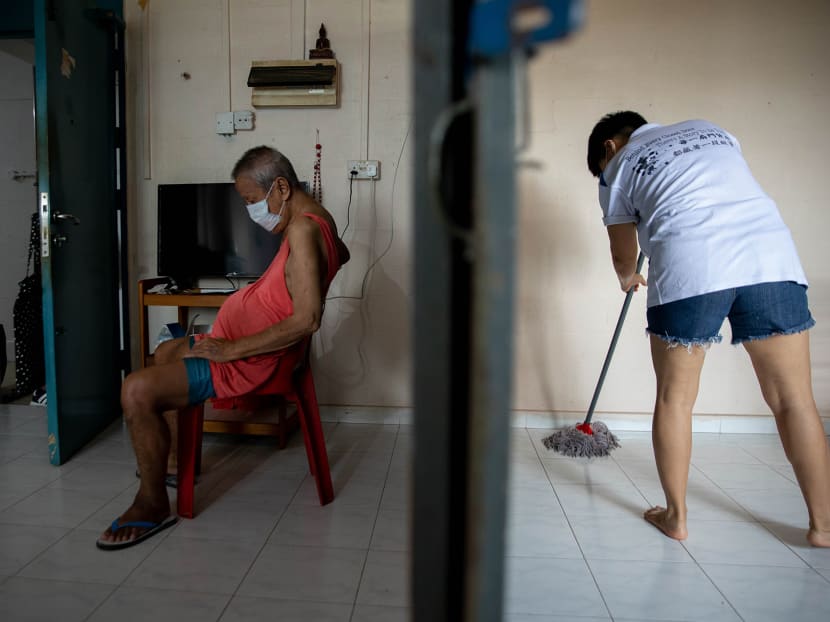 SUPPORTING SENIORS DURING COVID-19
The NGOs acknowledged that loneliness and isolation remains the biggest challenge for seniors during this period.
As such, many of their efforts have been focused on bridging this gap, even when some activities have to be suspended due to prevailing Covid-19 regulations.
Ms So said Awwa, a social service agency, collaborates with different agencies to reach out to seniors to convince them to connect with the resources available in their community.
It also engages befrienders who will reach out to such seniors to offer support.
Mr Kelvin Lee, Touch's assistant director for active ageing, said its student volunteers engage the elderly through arts and exercise.
"For seniors who are more homebound, we loaned them tablets with senior-friendly games and activities to keep their minds active and alert," he said.
"Seniors are also kept connected to us and their neighbours through our virtual weekly walks and exercise sessions."
Still, some challenges remain.
Helping Joy's Ms Woon said that with group sizes limited to just two people, it is challenging for volunteers to manage the cleaning of houses in pairs as cluttered homes need more manpower to shift bulky items.
It is also difficult to distribute rations when volunteers have to be split up in pairs to cover all the flats.
As people are themselves afraid of catching Covid-19, not as many volunteers have come forward as well, said Ms Woon.
"We are very short handed, so a lot of activities cannot be done."