Covid-19: MCCY to consider putting 5 Taoist temples on pilot scheme to allow more people to pray
SINGAPORE — Five Taoist temples may be added to a pilot programme that allows religious organisations to increase their congregational size at worship services from 50 to 100, the Ministry of Culture, Community and Youth (MCCY) said.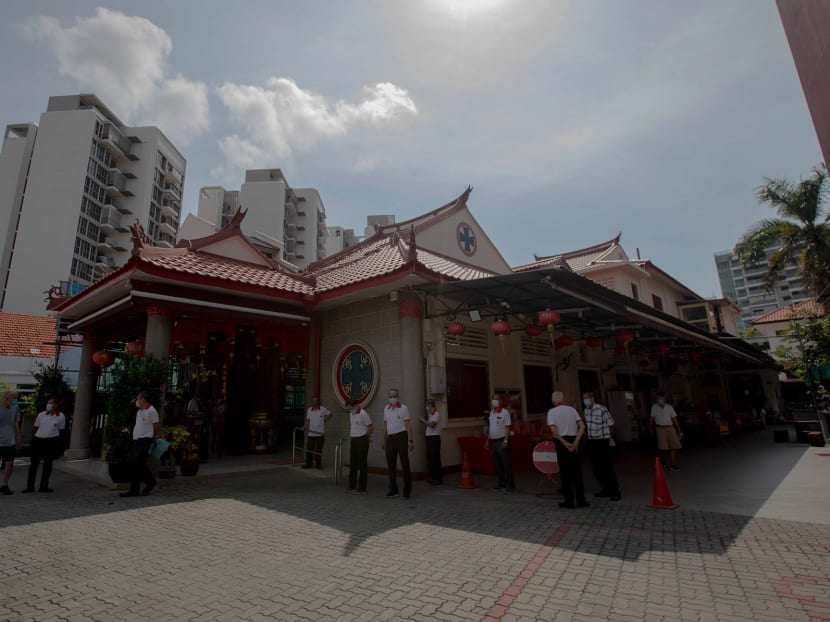 Five Taoist temples were nominated to take part in MCCY's pilot scheme
If approved, they will be allowed to take up to 100 people at prayer services
The temples were considered after a meeting between the federation and MCCY on Aug 5
There are now 12 places of worship on the pilot, which did not have any Taoist temple
Roman Catholic churches are also not part of the pilot but the archdiocese declined to comment on this

SINGAPORE — Five Taoist temples may be added to a pilot programme that allows religious organisations to increase their congregational size at worship services from 50 to 100, the Ministry of Culture, Community and Youth (MCCY) said.
The pilot, which is part of efforts to contain the spread of Covid-19 during religious activities, is to begin on Friday (Aug 7).
However, given that participants are required to submit their updated Covid-19 safe management plans to the ministry at least three days before the pilot begins, the temples may not be able to take part in the programme until a later date. MCCY did not specify a date in response to queries from TODAY. 
The five temples are:
Lorong Koo Chye Sheng Hong Temple at MacPherson

Loyang Tua Pek Gong at Loyang

Thian Hock Keng Temple at Telok Ayer

Jin Fu Gong Temple in Jurong West

San Qing Gong near Simei
Most Taoist temples are preparing to celebrate two upcoming festivals this month and next: The Hungry Ghost Festival in the seventh lunar month of the Chinese calendar, which is around mid-August this year, as well as the Nine Emperor Gods Festival, generally held from the last day of the eighth lunar month to the first day of the ninth lunar month.
Earlier on Monday, MCCY announced that 12 religious organisations had been picked for the pilot and they can accommodate up to 100 people at any services or events where there is an assembly of worshippers.
In addition to safety precautions such as worshippers needing to wear a mask at all times and the banning of singing and other live performances, religious organisations have to adhere to more measures.
MCCY said that the 12 religious organisations on the pilot were identified in consultation with religious leaders, who are also members of the National Steering Committee on Racial and Religious Harmony, including the Singapore Taoist Federation.
At that time, there were no Taoist temples or Catholic churches on the list of 12. 
However, MCCY told TODAY that following a "fruitful meeting" with the Singapore Taoist Federation on Wednesday, five Taoist temples may be included in the pilot. 
It said: "The Taoist Federation will nominate Taoist temples to participate in the pilot and we look forward to working with them." 
When asked why these temples were not included in the list of 12, Mr Benjamin Tan, a representative of the Taoist Federation, said that there had been a "misunderstanding" between the federation and MCCY. He added that the "issue was settled" during the meeting.
Mr Tan also said that other temples are welcome to approach the federation for more information on how to become part of the pilot programme. Whether or not the temples will be added to the list is subject to MCCY's approval. 
Before this meeting took place, the Taoist Mission Singapore — an organisation that aims to develop the understanding of Taoism in Singapore — had appealed to the authorities to ask that a Taoist temple be added to the list of 12 organisations. 
In a letter dated Aug 4, the Taoist Mission stated that there are temples with "big premises" and they could be considered for the pilot.
Master Lee Zhiwang, president of the Taoist Mission, told TODAY that the organisation had sent the letter in because it was "surprised when the media reported the pilot scheme and it had no inclusion of a Taoist temple". 
He added that he was "disappointed with the Taoist representative" whom MCCY had consulted when deciding on the list of 12.
WHAT OTHER PLACES OF WORSHIP SAY  
Separately, TODAY reached out to the Roman Catholic Archdiocese of Singapore about the pilot but it declined to comment on the matter. The archdiocese oversees 32 Catholic churches here.
Representatives from places of worship that are not included in the list told TODAY that they have not faced any challenges in meeting the criteria and are confident that they can cater to double the size of congregants should they be allowed to do so.
One of them is Pastor Billy Lee from Blessed Grace Church in MacPherson estate, who said that its worship service has been running smoothly since it resumed three weeks ago.
"A hundred people is manageable. I think most churches have the capacity to cater to that. For us, we will just have to implement the same safe distancing measures we did with 50 people."
Pastor Lee added that some of these measures include frequent sanitation of all high-contact surfaces and spaced seating for congregants. 
As for making the list for MCCY's pilot programme, he said: "Of course, I hope we can quickly open up but I understand that the ministry is playing it safe by not letting all (places of worship) to open (more spaces) all at once."
He added that the church has already written to the ministry last month to seek approval on expanding its capacity. 
Similarly, City Harvest Church said that it will continue holding all church activities online, and is looking forward to the resumption of weekend worship services. 
It did not say if it has written to MCCY for approval to expand its capacity. ADDITIONAL REPORTING BY NABILAH AWANG