Longer hours for conservancy workers due to Covid-19, but some not getting more pay
SINGAPORE — Cleaners in Housing and Development Board (HDB) estates have been clocking longer hours, working up to 14 hours a day since the start of the Covid-19 pandemic, but not all of them were getting overtime pay.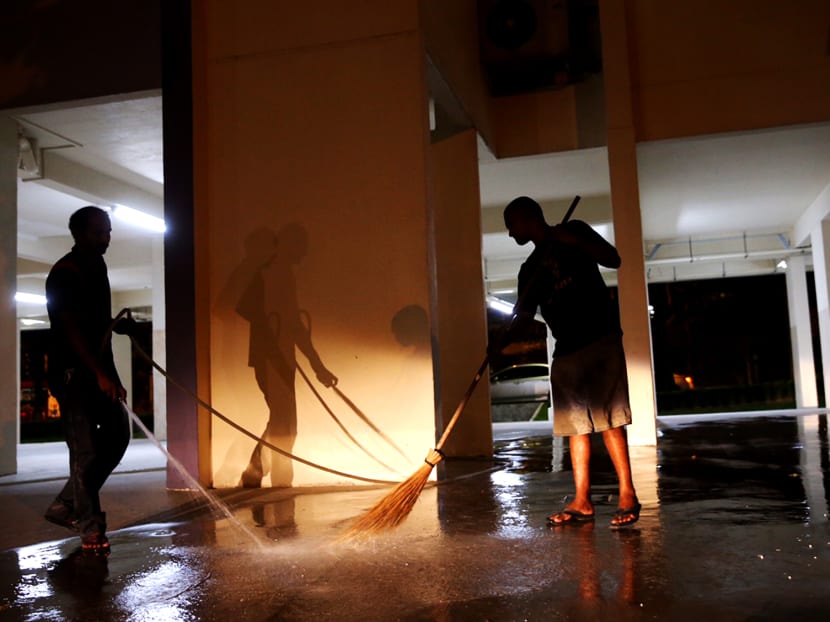 Three workers TODAY spoke to said they were working longer hours but not getting overtime pay
Residents working from home are contributing to more trash, meaning more work for estate cleaners
Most conservancy workers work weekends and do not get rest days throughout the year
An employer said workers would rather work weekends for extra pay
SINGAPORE — Cleaners in Housing and Development Board (HDB) estates have been clocking longer hours, working up to 14 hours a day since the start of the Covid-19 pandemic, but not all of them were getting overtime pay.
Three out of 10 conservancy workers TODAY spoke to — all of whom are Bangladeshi work permit holders — said they were getting the same pay despite the longer hours.
The seven who did receive overtime pay said they earned about S$50 to S$100 extra a month.
Some also said that they had to work even if they had "minor illnesses" like flu and cough. Most said that they work weekends and get no days off.
With more people working from home and ordering in food instead of dining out, bin chutes in housing estates are filling up faster, resulting in more work for bin collectors like Mr Hawlader Manik. During the circuit breaker period, he had to clear each bin chute as many as three times more frequently than before, but said the workload has lessened since.
When TODAY approached the 32-year-old conservancy worker at an HDB estate in Sims Drive, it was already past 7pm but he and a colleague were still busy carrying discarded furniture to a rubbish collection point.
A typical day for them begins at 6am and sometimes ends as late as 8pm. This was not the case before Covid-19 struck, when work would normally end at 6pm.
Mr Hawlader also has to sanitise public spaces such as lifts, exercise areas and playgrounds twice a day, rather than cleaning them just once before the pandemic.
Conservancy workers compared their current workload with festive periods like Chinese New Year or Hari Raya.
A report by the Humanitarian Organisation for Migration Economics (Home) published on Aug 31 found that estate cleaners worked up to 15 to 16 hours a day during these periods, compared to the usual 12 hours. It had spoken to more than 30 Bangladeshi conservancy workers between 2014 and 2020.
The difference is that the Covid-19 crisis has persisted for months.
Home said that of the workers it spoke to, none saw a wage increase despite working longer hours since Covid-19 hit.
The advocacy group also brought up perennial difficulties faced by Bangladeshi conservancy workers, such as the heavy debt burden they take on to work in Singapore and their lack of rest days and annual leave.
NOT ALL RECEIVE OVERTIME PAY
The workers TODAY spoke to earn between about S$660 and S$1,000 a month. A Singaporean conservancy worker, by comparison, makes at least S$1,440 under the Manpower Ministry's progressive wage model.
For the overtime they put in during the pandemic, some of the Bangladeshi workers said they received about S$50 to S$100 a month.
Mr Hawlader said he received a one-time payment of S$200 from his employer as a "bonus" for the additional workload, on top of his basic and overtime pay.
Theng Liang Lee Services (TLSS), a company that employs 121 conservancy workers, said it pays its staff the regulated 1.5 times hourly basic rate for overtime, though it added that its estate cleaners are working "as per normal working hours before Covid-19".
Others are not as fortunate. Mr Ahmad, 30, and Mr Sabbir, 29, said they received no overtime pay despite starting work an hour earlier at 5.30am, and ending about an hour later at 8pm, over the past months.
Their monthly salary — about S$660 — has also remained stagnant for the past four years.
"Sometimes they said they want to reduce the salary," Mr Sabbir said. "They said (my salary was) high already, how to ask for more?"
Their names have been changed to protect their identities. TODAY tried to contact their employer but the company did not respond.
Based on Home's findings, Bangladeshi conservancy workers earn around S$2 an hour even after adding payments for overtime and working on their rest day.
"It is unclear, however, if these entitlements are calculated in full compliance with Singapore's labour laws, as time cards and itemised payslips have not been scrutinised," Home said.
Some workers also receive the same salary regardless of the hours they put in and the number of public holidays that month, it added.
NO REST DAYS FOR MOST
Most conservancy workers said they had no days off and worked every day throughout the year. When they work on weekends and public holidays, they are given overtime pay instead.
On Sundays, most Bangladeshi conservancy workers finish their work by midday, which means they get the rest of the day off. But for bin collectors, their work still ends around the same time.
Having worked in Singapore for 10 years, conservancy worker Bikash is used to that.
"Sunday we never take off because it's difficult; the bin chute must always be cleared," he said. "If (we) don't clear, the rubbish will rise to the second, third floor."
Workers are sometimes allowed to take leave, but only after they have completed their work for the day. Said Mr Ahmad: "If I ask my friend (to cover for me), he can help. But I have to think, he is also working, also very tired. How?"
Some workers believe it is possible for employers to give them one rest day a month, on a rotational basis so others can take over the workload for the day.
But Home in its report said that would be an "uncomfortable compromise". Instead, stakeholders should allow workers one rest day a week "in accordance with local labour laws and recognised international standards".
Conservancy worker Sajib, 27, who works in an HDB estate in Aljunied Crescent, said he gets half a day off on Saturdays, and that is it.
"If we don't work, it gets very dirty. If in the morning we don't sweep then who takes the rubbish, who cleans the area? We must work," he said.
His employer, TLSS, said in response to TODAY's queries that while it offers its workers days off, most of them take half-days off instead.
The spokesperson said that the company does not "force" the workers to work overtime but will reimburse them accordingly if they choose to work on weekends. TLSS' workers are also given annual leave for them to return to their home country.
It is often the workers' choice to forgo their days off, said Ms Ang, an employer who did not wish to reveal her real name as she is not allowed to speak to the media.
"They usually choose to work (weekends) to get extra pay," she said. "If they don't work and choose to stay at home, they also have nothing to do."
HEALTHCARE SUBSIDISED FOR MOST
Healthcare benefits for workers also varied.
Some companies pay for their employees' medical bills in full, but some workers like Mr Ahmad and Mr Sabbir said they have to pay for medicine costs because their company subsidises only the consultation fees.
If they fall sick, they can get a medical certificate to rest, but that is only reserved for more serious illnesses like fever and not for "minor" ones such as cough or flu, Mr Ahmad said.
Nevertheless, most workers said their employers will encourage them to see a doctor whenever they fall sick.
"If (I'm) sick, I will go and see a doctor," said Mr Bikash, 37. "If I'm sick and still work, I will have more problems."
Said Ms Ang: "We tell them if they're sick, please take sick leave.
"We don't want any accidents to happen because if they do, we get into trouble."