Covid-19: Mosques closed for disinfection, so some Muslims improvise while others go elsewhere to pray
SINGAPORE — On Friday (March 13) around lunch hour, a group of men were spotted praying on the pavement across the road from Masjid Omar Kampong Melaka.
SINGAPORE — On Friday (March 13) around lunch hour, a group of men were spotted praying on the pavement across the road from Masjid Omar Kampong Melaka.
The six of them, who all work as despatch riders, told TODAY that they gather almost every day to pray at the mosque — located near Havelock Road — and have lunch together. Friday was no exception. The only thing was, the mosque was closed.
A day before, the Islamic Religious Council of Singapore (Muis) announced that all 70 mosques in Singapore will be closed for at least five days for cleaning and disinfection. This is to help curb the spread of Covid-19, in hopes of preventing the emergence of a new cluster of cases.
All mosque activities, such as classes, lectures and mosque-based kindergartens are also cancelled for 14 days from March 13 to 27.
This came after two Singaporeans who attended a religious gathering at a mosque on the outskirts of Kuala Lumpur in Malaysia were diagnosed with Covid-19.
There are at least 82 Singaporeans known to have gone for the gathering held between Feb 27 and March 1, and some are frequent congregants at several mosques here. The Ministry of Health is conducting contact tracing on these attendees.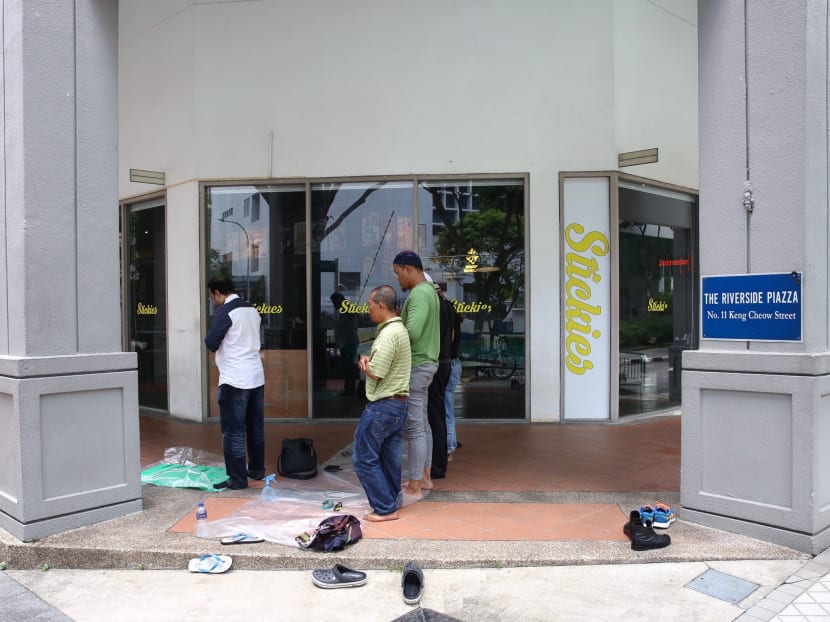 When the six men opposite Masjid Omar Kampong Melaka were approached, they said that they had no intention of praying in the mosque.
Mr Zaini Saban, 62, said: "One or two friends suggested why not just pray here (across the road) because there's a toilet nearby where we can wash up."
However, he was not used to the sudden change and asked: "Why must all the mosques be closed? (Why) not just the mosques affected? Why must they close on Friday? They should have started the closures on Saturday."
Mr Malik Halid, 52, who visits the mosque daily, said: "Today is the first time in my whole life that I can't go for Friday prayers at a mosque."
Another man from the group, who declined to be named, said: "It's a weird feeling not hearing the azan (call to prayer) for the first time."
The six riders said that they would have "no choice" this period but to pray at car parks, stairwells, designated prayer rooms in buildings or to go home for their prayers. This change in surroundings, however, will not deter them from praying together, they said.
When the men were done with their prayers, they were approached by patrolling police officers.
A policeman asked them if they had seen anyone who may be heading to the mosque, because he was concerned that people, specifically the elderly, might not be aware of the closures and wanted to notify them of the news.
The men then told the officer that the closure of the mosque was inconvenient because it was where they pray and "not everybody has a place to pray at work".
TODAY has reached out to Muis and asked if it has received reports of the faithful turning up at other mosques despite the temporary closures. 
'VIBE IS VERY DIFFERENT'
Mr Ayoob Aguilla, chairman of Anguilla Mosque, located on Serangoon Road, said that he understands the decision to close mosques because people can die from Covid-19. 
"We are very willing to close the mosque and we follow the instructions to do thorough cleaning so that when we open, we are safe and secure and ready to accept the congregation again."
Mr Najiy Farooq, 24, a third-year student at the Singapore Management University, who typically visits a mosque every Friday for his prayers, also supports the move.
"As a Singaporean, we should respect (Muis') directive and play our part to pray at home to stop the potential spread of this virus."
Likewise for Mr Abdul Aliff Mainondin. However, the 29-year-old technician noted that there is a "big difference" between praying at home and in the mosque. 
"The vibe is very different because you don't hear the azan or khutbah (the sermon before Friday prayers) at home," he said.
Muhammad Hafiz Abdul Rahman, 27, an assistant engineer who prayed at work with his colleagues, said: "One of my colleague knows how to lead the prayer. We might do the same thing next week. Of course, there is a big difference, but what can we do? Public health is equally important."
For one final-year undergraduate, he skipped the routine. Mr Ramez, who declined to give his family name, said: "Friday prayers are conducted as a congregation. Since I couldn't go to the mosque today, I didn't pray."
BREAKING THE CYCLE OF TRANSMISSION
On Friday morning, Mr Masagos Zulkifli, Minister-in-charge of Muslim Affairs, convened an 18-member working committee in response to the Covid-19 pandemic.
The group, which comprises religious teachers, medical professionals, representatives from the Muslim community, will meet every two weeks.
Mr Masagos will co-chair the committee with Dr Janil Puthucheary, Senior Minister of State for Communications and Information. Dr Puthucheary's role is to lend his perspectives as a member of the governmental task force on Covid-19 and as a medical doctor.
Mr Amrin Amin, Senior Parliamentary Secretary for Health and Home Affairs, is a committee member.
Muis said that the aim of this work group is to provide the Muslim community here with "practical and sound guidance" on how they can continue to adopt practical religious practices as part of efforts to contain the spread of the coronavirus. 
Speaking to the media at the close of the group's first meeting, Dr Puthucheary said that there will be some inconveniences.
"There are some particular practices in the Muslim community that are going to put them at risk," he said, but did not elaborate.
He thus stressed the importance of breaking the cycle of transmission from one person to the next. "This is really very important because we have to protect our critical healthcare infrastructure, and reduce the number of cases multiplying here in Singapore."
The day before, Mr Masagos said at a press conference that social norms "need to be adjusted" to reduce the chances of the virus spreading.
For example, he suggested that Muslim men should take along their own prayer mats to the mosque when they pray, and for women to use their own telekungs, a prayer garment.
If possible, he said that when eating, people should refrain from sharing from a communal platter or, at the very least, use a serving utensil.
He also suggested that people touch their own chests by way of greeting instead of shaking hands.
Ustaz Zahid Zin, a member of the work group, said on Friday the community needs to know that the temporary closure of Singapore's mosques is not because of "religious issues". 
It is about social distancing, Ustaz Zahid said.  
The chief executive officer of the non-profit Muslim Youth Forum added: "We are not encouraging any mass gathering, (and) at the same time, (we are) emphasising the importance of taking personal responsibility."