Covid-19 outbreak: Cleaners work more hours on disinfection as firms struggle to meet soaring demand
SINGAPORE — Each time she steps into Graduate Hall 1 at the Nanyang Technological University to clean the rooms occupied by students on quarantine, 70-year-old Sam (not her real name) is afraid.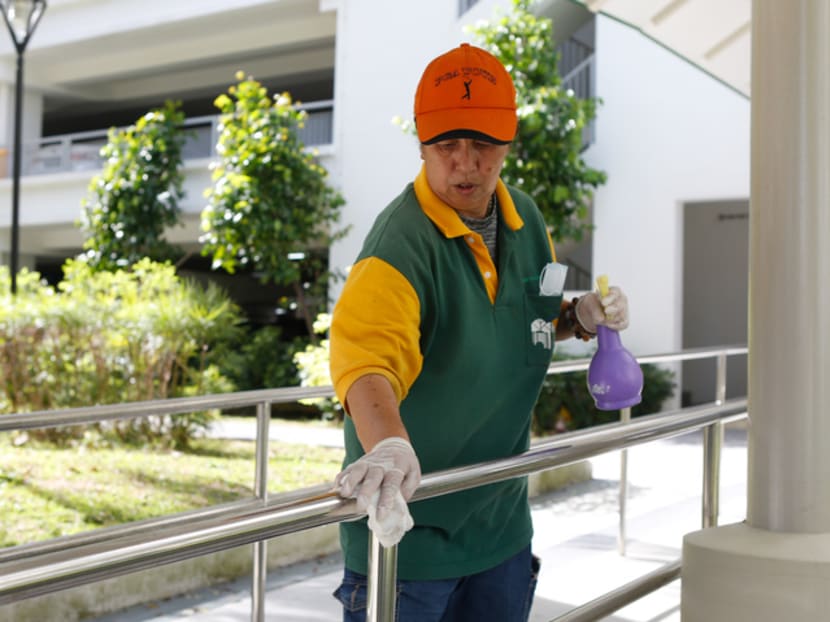 SINGAPORE — Each time she steps into Graduate Hall 1 at the Nanyang Technological University to clean the rooms occupied by students on quarantine, 70-year-old Sam (not her real name) is afraid.
She was transferred there from another hall during the last week of January and has since cleaned the rooms there on two days.
On the days she cleans those rooms at the Government-designated quarantine facility, Sam heads home and washes everything she wears with boiling water including her shoes. She said: "I am very scared of the virus. So I have to wash everything that I am wearing so that I don't carry any (virus) home and infect my family."
Sam is one of the nation's many cleaners who have been taking on more disinfecting tasks or working longer hours as a result of the Covid-19 coronavirus outbreak.
Their workload has increased to meet the demand for disinfection services that has doubled since two weeks ago due to the outbreak, cleaning companies told TODAY on Thursday (Feb 13).
Disinfection control is different from standard cleaning procedures because it involves special chemical solvents and technology such as cold fogging that kills viruses, as advised by the National Environment Agency (NEA) and its guidelines.
Cleaning companies have also revised their operating procedures to include precautionary measures such as mandating their cleaners to use gloves, masks and hand sanitisers. Some cleaners must also take their temperature daily.
LABOUR CRUNCH
Mr Raymond Ng, 47, managing director of Conrad Maintenance Services, told TODAY that he has been receiving 40 per cent more requests from companies asking for disinfection services.
The sudden surge in demand for these services was unprecedented and having to work long hours every day feels "worse than Sars (severe acute respiratory syndrome in 2003)", he said.
Working hours for Mr Ng and his special task force, which does disinfection control, have doubled from the usual eight to 16 hours a day.
"We used to do disinfection control for our clients once a month. Now, our team is struggling to manage."
Mr Peter Peng, 30, owner of Abba maintenance services, said that his company does not have enough equipment to meet the demand.
"Besides limited numbers, we also have limited machines to carry out disinfection control. Before the outbreak, clients were asking for disinfecting works to be done just once a month," Mr Peng said.
"Nobody knew this virus was going to happen. We were not prepared to serve higher volumes."
WHY NOT HIRE MORE?
Companies are not hiring more workers because they face uncertainty during this period and because some people are afraid of taking up the job.
Mr Ng said that he has not been able to hire more people to take on disinfection work, even though he has tried to offer a more competitive salary.
"Many people are unwilling to take up this job due to the high risks involved. A month ago, I tried putting up hiring notices and offering S$30 to S$40 an hour. Still, nobody came forward."
Mr Peng has similarly not hired more workers. Some of his clients, which include corporations, have asked to temporarily halt their cleaning contracts since most of their employees are now working from home.
"While there is more demand, we are also reluctant to hire more people this period because we are unsure of what is going to happen next," he said.
"With more people working from home, our livelihood might be affected. We may not be able to retain our contracts and I still have to pay my staff every month."
Operations manager Jimmy Tong from EcoDeepClean said that those who carry out disinfection tasks need to be specially trained, which means that hiring temporary workers is not a viable option.
"We don't want to hire more staff because this situation is temporary," the 38-year-old said. "In two to three months when this outbreak is over, let's say, and (the extra) services are not needed, we may have to lay them off."
KEEPING SPACES CLEAN AND SAFE
Mr Kelvin Boo, 47, managing director of Trancom Group Sergent Services, told TODAY that his company, which oversees the maintenance of SBS Transit MRT stations such as the North-East Line, has been increasing the frequency of surface cleaning with hospital grade disinfectants.
"Instead of wiping down frequently touched surfaces once a day, we have been doing it every two hours." 
A shopkeeper at the Kovan Hawker Centre, who did not want to be named, said that the food centre has been kept much cleaner now than before the outbreak.
"Look at the floor, it's spotless. There are workers deployed to clean the floor every few hours," she said.
"Cleaners also have the option of wearing masks for hygiene, so I think proper measures have been put in place."
Town council cleaner Hassan Rakib, 30, works the same 12-hour shifts daily, but has more tasks to do.
Instead of wiping playgrounds and lifts with disinfectants once a day, he has to do so three times a day.
"I am tired, but there is the virus problem now," he said. "So I don't mind doing more (cleaning) to keep the place clean and safe."