Covid-19: Contractors looking to resume renovations face challenges complying with BCA guidelines
SINGAPORE — When Mr Eric Tan, the co-founder of interior design firm Space Factor, learnt of the Building and Construction Authority's (BCA) guidelines for the resumption of renovation works, he hoped to complete the dozen or so projects that he had in progress.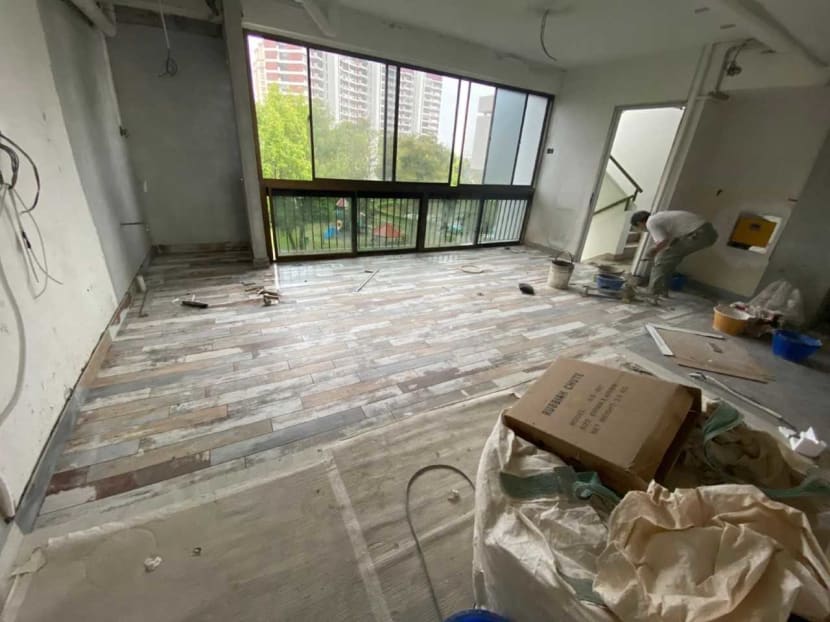 SINGAPORE — When Mr Eric Tan, the co-founder of interior design firm Space Factor, learnt of the Building and Construction Authority's (BCA) guidelines for the resumption of renovation works, he hoped to complete the dozen or so projects that he had in progress.
However, relief turned to frustration when the 44-year-old signed in to the 15-section application form to restart renovation works that BCA released last Wednesday (May 27) evening.
Contractors and sub-contractors handling residential renovations, such as Mr Tan, told TODAY that while renovation works will be allowed to begin on Tuesday, some believe that they are still weeks away from being able to start work under the guidelines.
Many have lamented that they still face a number of hoops to jump through before they can start work, such as submitting their application forms successfully and getting their workers swab-tested for Covid-19.
In Mr Tan's case, not only did he need to upload pictures to the online form for each of his job sites to prove that they were in progress, he also had to submit the residential addresses and contact details of all his workers and those of his sub-contractors as well.
"You can't save the form and continue later, and when I tried to fill it up, the form froze and I had to fill everything up again," he said.
He is also worried that workers at his renovation sites will not be able to take the safe management officer course, a course run by the BCA Academy.
When Mr Tan tried to sign up for the online course for himself and his employees, he found that the earliest course date on June 5 was fully booked and the next course he could sign up for was on June 18.
BCA has clarified that the course is not required for those working in the renovation sector, although they will still need to appoint safe management officers at their work sites, as per the Manpower Ministry's guidelines. These safe management officers will not be required to undergo training conducted by BCA as it is only applicable for those in the construction sites.
Furthermore, he has not received any confirmation on when his workers will be able to receive Covid-19 swab tests either.
All S-Pass and work permit holders involved in renovation works will need to test negative for Covid-19 before they can resume work, and once every two weeks thereafter.
"Because of all these obstacles, in reality, it's not possible at all to start work (on June 2)," he said, adding that he is unsure if he will even be able to start work in July.
Ms Julia Wee, 42, the owner of interior design firm FincHaus expects home renovation projects to be delayed owing to the guidelines, which require contractors to limit the number of workers on site and ensure safe distancing.
"Carpenters and electricians need to work together. Often, one person has to hold, one person has to screw. It's not possible for them to stand 1m apart or do (safe distancing). We won't be able to go back to work as usual. It'll take up a lot of manpower and time," said Ms Wee.
Moreover, having to complete the online training and test will be a challenge for her sub-contractors doing electrical, plumbing and painting works, many of whom are in their senior years and are illiterate.
She fears this will be a hurdle as they look to lodge applications to resume renovation works, which rely on contributions from multiple workers and suppliers.
"Renovation is different, it's not like construction. Construction companies can still get their materials. For us, if we want to do tiling work, we might not be able to purchase from the tile shop because they are not open.
"I've one project that's 90 per cent completed but now we're left with carpentry. We need to do a countertop but we can't get the materials because the factory is closed," Ms Wee said.
Mr Evan Seah, 48, director of Sincero, a shower screen and tempered glass sub-contractor also encountered a "Catch-22" situation as he tried to apply for BCA's approval to resume work. In a Catch-22 situation, there is no option that leads to the desired outcome.
As a sub-contractor, Mr Seah said that he does not have any printouts of renovation contracts because he does not work with customers directly, something that is required to complete the application form.
Instead, he issues invoices to contractors which engage his services, invoices which cannot be issued if he is not allowed to first return to work sites to take initial measurements.
However, he will not be able to take these initial measurements without first receiving BCA approval.
"Everything is quite messy now and I think they have to simplify the regulations and make it easier for us (to comply)," Mr Seah said.
Mr Jon Toh, director of Studio K, said that there are a number of grey areas in BCA's Covid-safe restart criteria.
For instance, the 43-year-old is unsure if he would be held responsible for the accommodation and transportation of workers employed by his sub-contractors if he includes their employee details into his application form for work resumption.
Since sub-contractors regularly work on different job sites, it would be difficult to prevent them from intermingling with workers from other job sites as well.
"I think a lot of us (contractors) are just filling up the form as much as we can and sending it to BCA for approval, then we'll see how we can move on from there," Mr Toh said.
His clients have also begun to ask him whether works will resume soon since they were assuming that works could resume from June 2.
"We can understand that there will be more rules and regulations but we can't work on such a short timeline," he said.
"While we've been busy getting projects approved, it may not even be useful by the time phase two comes and we may not have to go through these processes anymore."
Ms Goh Chai Hong, 42, a homeowner who has been waiting on renovation works at her Housing and Development Board (HDB) flat, said that she was shocked to hear from her interior designer that works would be delayed because they would still need to clear a number of hurdles to receive BCA approval.
As she had already moved out of her previous flat, home and warehouse rental costs are mounting as renovation works continue to be delayed at her new flat.
"I've already extended my rental lease twice, now I don't know how long I should extend it for at this point," she said.
BCA'S RESPONSE
TODAY sought clarification from BCA and HDB on some of the guidelines for the resumption of renovation works.
Why BCA needs individual responses from contractors and sub-contractors:
BCA said that this is because sub-contractors may perform works while the main contractor is not present. As such, BCA requires individual applications to ensure that renovation works are conducted in a Covid-safe manner.
On whether workers be able to resume work even if they have not completed the "Covid-Safe Training for Workers":
BCA has clarified that workers will need to complete the training at their own time after they have received their login details before resuming work. The online training will be free-of-charge and the course materials will consist mainly of illustrations and animation for ease of understanding.

As per the Manpower Ministry's Safe Management Measures at the workplace, contractors will be required to appoint Safe Management Officers at their work sites. However, these Safe Management Officers will not be required to undergo training conducted by BCA as it is only applicable for those in the construction sites. The first such training session will be conducted on June 5.
On when employees will be able to undergo Covid-19 swab tests:
BCA will contact eligible companies to arrange for their employees to be tested after receiving their applications for the resumption of works.
How freelance sub-contractors can apply for resumption of work:
Freelance sub-contractors that are not registered business entities may approach main contractors or sub-contractors for them to submit applications on their behalf. BCA said that it is also working with industry associations to further reach out to renovation contractors.
On whether renovation applications will need to be resubmitted to HDB after they have received BCA approval:
HDB has clarified that contractors will not be required to resubmit their applications. Instead, they will need to log in to HDB's system to apply to change the dates for the renovation dates as the dates in their earlier application would have lapsed. Contractors will be able to do so after they receive and submit a copy of BCA's approval to HDB.
What contractors can do if they are unable to get through to BCA's hotline: