Covid-19 restrictions: Taxi, private hire drivers report fall in income as some operators offer aid
SINGAPORE — After Singapore entered Phase Three of reopening its economy following the circuit breaker to curb the spread of Covid-19, private hire driver John Luo would typically find himself with back to back jobs driving passengers to their destinations.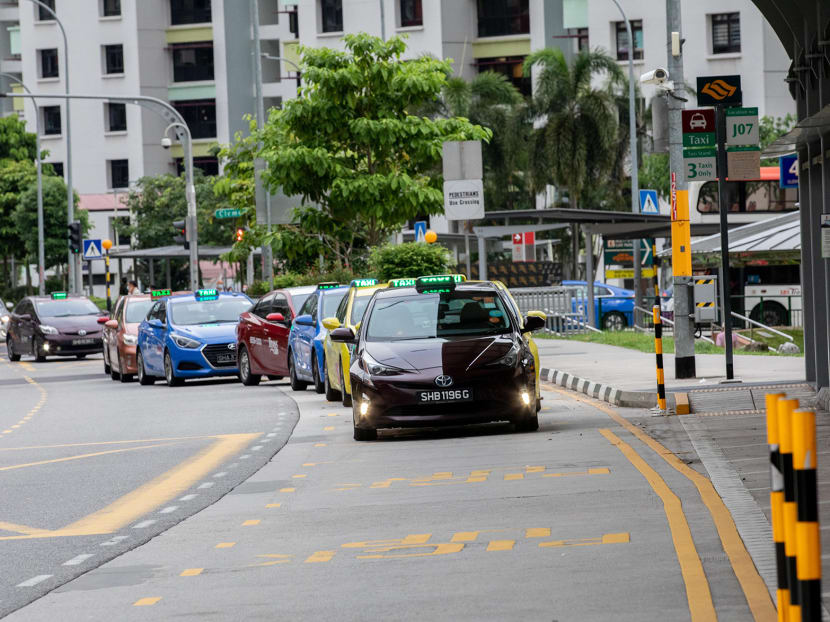 Several taxi and private hire drivers reported a drop in the number of passengers since Singapore announced Phase 2 (heightened alert)
Some said they may have to supplement their income by driving longer, while others said it will be better to find other sources of income
Several operators are offering various support measures to drivers, such as higher rental waivers and insurance coverage if they get Covid-19
SINGAPORE — After Singapore entered Phase Three of reopening its economy following the circuit breaker to curb the spread of Covid-19, private hire driver John Luo would typically find himself with back to back jobs driving passengers to their destinations.
After 12 hours of driving, the 36-year-old Gojek driver would, on average, rake in between S$200 and S$300 sending passengers to their workplaces or to their social engagements.
However, the situation was drastically different on Monday (May 17) morning. Despite plying the road for hours, he had completed only four jobs by 2pm.
"The situation is similar to last year, but not as bad," said Mr Luo, referring to the circuit breaker in April and May last year, when all but essential activities were prohibited.
Still, he expressed concern about his drop in earnings, and suspects he will have to drive for up to 16 hours a day to make up for it.
Mr Luo's plight was shared by other private hire and taxi drivers who told TODAY that they are taking on fewer passengers since Singapore entered Phase 2 (heightened alert) on Sunday.
On Friday, the multi-ministry taskforce announced that Singapore would tighten its restrictions on movements and activities from Sunday until June 13 amid a spike in community cases of Covid-19.
This round of public health safety measures is not quite as strict as the circuit breaker last year from April 7 to June 1, and allows groups of two outside, for instance, but no dining-in. Working from home should be a default as well.
Mr Alan Lim said business for him was "not so bad" on Sunday, as he had picked up a number of passengers who were out doing grocery shopping, but the 53-year-old Grab driver described Monday as slow.
For the first three hours of his shift, he had earned less than S$40. "It's quite bad, normally I would clock about S$60 or S$70 in the same amount of time."
Mr Lim said he intends to take up more food delivery jobs with Grab instead, as he noticed that there is still demand for such services.
While it is still too early to know how massive an impact the newly imposed restrictions will have on drivers, 39-year-old Grab driver Avery Hoo said he was not optimistic.
After all, he said most private hire drivers usually rely on office workers for more than half of their passengers, and with most working from home now, this will be a huge blow.
"I'm very worried...I predict the drop in income will be about 90 per cent," said Mr Hoo, who has been a private hire driver for two years.
However, he said he has learnt his lesson from his experience last year, and has diversified his income sources to include doing ad-hoc deliveries.
He does not believe working longer hours during this period will necessarily result in having more customers.
Unlike taxi drivers, who can wait at taxi stands, private hire cars cannot, said Mr Hoo. Waiting in a carpark would not be feasible as they would incur parking charges.
As such, they have to constantly be on the move, which is not ideal as they will be burning up petrol even though there is no guarantee they can recoup the costs.
Some drivers, like Madam Kirsty Foo, are currently running a deficit.
Since the onset of the pandemic, the 62-year-old said that her earnings have not been enough to cover her car's daily rental of S$120 with ComfortDelGro. As a result, she sometimes finds herself having to fork out between S$20 and S$50 a day from her own savings.
Lately, she has managed to bring down the additional cost to between S$5 and S$10 a week after taking on additional jobs ferrying people to the airport. "It's very high risk because of Covid-19," she said.
With her contract with ComfortDelGro due to end in September, Mdm Foo said she is weighing out whether it will be worth it renewing with the company.
Another driver with ComfortDelGro, Mr Peter Quek, said the latest situation has left him worried and stressed.
As a single father to two kids, he estimates that he might earn only about S$2,000 this month.
As it is, he has already tightened his belt and ensured that his family can survive on this tight budget, and he hopes that more help can be given.
Last December, the Land Transport Authority (LTA) announced the formation of the Covid-19 Driver Relief Fund, which would replace the Special Relief Fund for taxi and private-hire car drivers from January this year.
LTA said the Covid-19 Driver Relief Fund would cost S$133 million, in addition to S$55 million already committed to the Special Relief Fund, which will be transferred over from January.
Under the new grant, drivers had received S$600 per vehicle every month from January to March this year. This has been reduced to S$450 a month from April to June.
On a company level, firms such as ComfortDelGro had offered rental waivers of 15 per cent, while Grab reduced its upfront commission rate by 50 per cent and waived 30 per cent of the rental fee for drivers using GrabRentals for the period of April 6 to May 4 last year.
WHAT SUPPORT IS THERE?
On Monday, ComfortDelGro told TODAY that it expects taxi demand to "fall quite significantly during the latest Phase 2 (heightened alert) period".
To help cushion the impact, Ms Tammy Tan, the company's group chief branding and communications officer, said it will be increasing its daily taxi rental waiver to 50 per cent per taxi from May 18 to June 13, up from 15 per cent previously.
"This is on top of the Government's Covid-19 Relief Fund. To assist cabbies further, our call levies will continue to be waived till June 30, 2021," said Ms Tan.
SMRT Taxis' general manager Shaun Lee said that aside from existing Government support, the firm has lowered their rentals by S$5 per day since Sunday, and this will be in place until June 30.
"We have been working with our taxi partners on other job opportunities, including delivery services," said Mr Lee.
TransCab general manager Jasmine Tan said the operator will be similarly offering a S$5 reduction in the daily car rental fees for its drivers between May 16 and June 13.
Gojek Singapore's general manager Lien Choong Luen said the company will be offering insurance coverage of up to S$6,900 for drivers who are diagnosed with Covid-19.
These drivers will also have their vehicle rental waived if they are on the company's vehicle rental programme GoFleet, he said.
While Grab did not directly respond to TODAY's questions about the kind of financial support it will be providing to its drivers, a spokesman said it is introducing various schemes to keep its drivers safe.
For instance, the spokesman said it will be suspending GrabHitch services during this period, and it will not allow more than two passengers to ride in one vehicle, unless they are members of the same household.
This passenger cap is in line with directions from the LTA which were announced on Sunday, and it similarly applies to taxis.
"The health and safety of our partners and users have always been our top priority," said Grab's spokesman. "As the situation remains fluid, we stand ready to adjust our services in response to the current situation."
In response to TODAY's queries, National Taxi Association and National Private Hire Vehicles Association advisor Yeo Wan Ling said that the National Trade Union Congress (NTUC) is in discussions with the Ministry of Transport, LTA, as well as the taxi and ride-hailing platforms, to discuss how best to support drivers during this period.
"Most importantly, NTUC and our associations have our ears on the ground, by consistently checking in with our drivers to understand the challenges they face," said the Member of Parliament for the Pasir Ris–Punggol Group Representation Constituency.
"We appreciate the strong support that LTA has provided with the Special Relief Fund and Covid-19 Driver Relief Fund. We will continue to push for the protection and welfare of our drivers, to ensure that they get the necessary support they need."