Covid-19: Some charities struggle to raise funds even as economy reopens, others thriving
SINGAPORE — For the past six months, Singapore Hospice Council, which supports palliative care, has achieved barely 10 per cent of its donation goals in fundraising campaigns.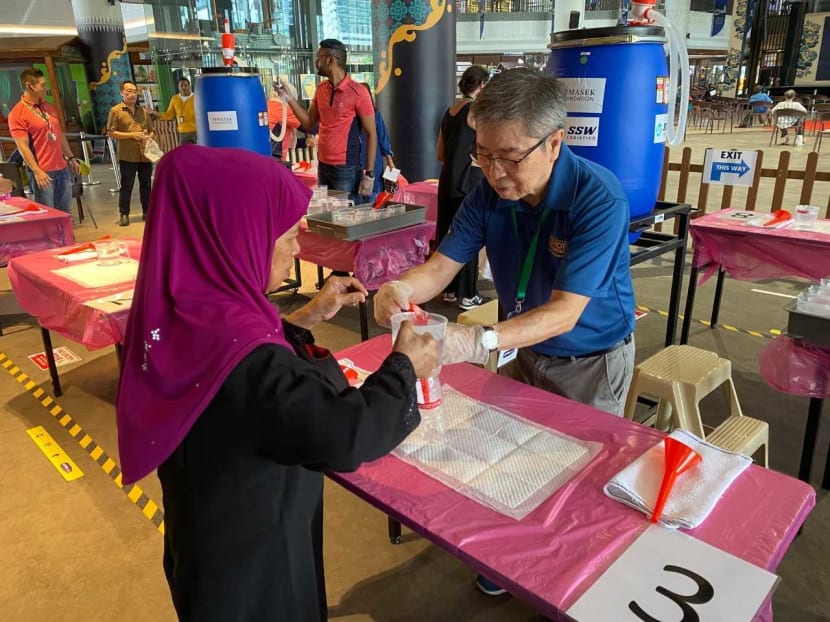 The impact on charities has been mixed, with donations holding steady for some but dropping for others
As corporations cut sponsorships, more donations from the public have plugged some of the gaps
But even those attracting more funds than before Covid-19 now have more beneficiaries to care for
SINGAPORE — For the past six months, Singapore Hospice Council, which supports palliative care, has achieved barely 10 per cent of its donation goals in fundraising campaigns.
Donations have plunged as fundraising events have had to be cancelled due to restrictions related to the Covid-19 pandemic.
A council spokesperson said the greatly reduced donations had "affected several of our programmes that are directly health-centric".
It is a situation familiar to a number of charities across Singapore, but based on TODAY's interviews with nine of them, Covid-19's impact on fundraising since the initial phases of reopening the economy has been uneven.
Charities such as Thye Hua Kwan Moral Charities, which receives a large portion of its funding from the Government, is doing fine and still able to deliver 1,000 meals twice a day to the needy.
But other charities have had to dip into their reserves or reduce their services as donations have dried up. A number are still struggling to raise enough money to keep their operations going.
One key problem faced by a number of charities is that corporate donations dropped both before and during the circuit breaker imposed in April and May to curb activities and movement, though some of these donations have since returned. This has forced some charities to rely more heavily on donations from individuals.
DONATIONS PLUNGE
Bo Tien Welfare Services Society, a charity for needy seniors, has been running low on food supplies since the circuit breaker.
It normally keeps a three-month buffer to ensure that food packs continue to be given out to the 2,500 families that need them. Since the circuit breaker, it has built up supplies somewhat but has just one-and-a-half month's supply in store.
Donations to Bo Tien have fallen by about 50 per cent on average since the pandemic hit and the charity has had to dip into its coffers for only the second time in its four decades of operations.
Dr Ang Hak Seng, the Commissioner of Charities (COC) who oversees charities in Singapore, said that his office has observed a fall in donations for some charities during the ongoing economic uncertainty of the Covid-19 crisis.
When asked, the COC's spokesperson said that it does not have figures for total donations received in the 2020 financial year because these were not due to be submitted to the commissioner yet.
The spokesperson also declined to reveal the number of charities registered or deregistered this year. This is because charities stop operations for many reasons and "it is not possible to list the number of charities which ceased their operations or decided to deregister because of Covid-19".
A survey conducted by the National Volunteer and Philanthropy Centre between April and July found that Singaporeans had become less willing to donate, mainly due to the lack of resources. Those willing to donate dropped nearly one-third from 32 per cent in April to 23 per cent in July.
In March, just before the two-month stay-home curbs, TODAY reported that donations had plummeted as people tightened their pursestrings, given the economic uncertainty.
For Food from the Heart, a charity that distributes food to the needy, sponsorship dropped by as much as 60 per cent after it lost some major corporate sponsors.
"Our regular corporate sponsors adopted a very conservative approach because at that time, nobody knew what was going to happen," said its chief executive officer Sim Bee Hia. "But when we did a callout for help, many Singaporeans responded, especially the individuals."
Donations from the public picked up in April through Food from the Heart's online campaigns, and the charity is now doing better than it did last year.
But the economic downturn has also resulted in more people needing the charity's support. It now hands out 9,400 food packs monthly compared to 6,200 packs in January. "So we cannot stop fundraising," she said.
In May, the Government set aside an additional S$100 million, besides the S$70 million set aside earlier, to partner the Tote Board to enhance the dollar-for-dollar matching on eligible donations up to S$250,000 for each charity. It also topped up S$18 million to the Invictus Fund, which was set up in April to help social service agencies.
To help the charities, the COC has also compiled various government support schemes and measures that charities can apply for on its online portal, as well as signed a number of agreements with various organisations to provide shared services such as accounting and legal guidance at low or no cost.
DIGITAL PUSH
As charities have been forced to boost their online presence, many have turned to sites such as Giving.sg or Give.asia to make up for their cancelled physical fundraising efforts.
The COC has also rolled out a webinar series to help charities adopt online methods of fundraising.
Largely through online fundraisers, Habitat for Humanity Singapore managed to raise 10 per cent more this year for its local programmes, even as its corporate support fell considerably.
"Several individual and corporate supporters started their fundraising campaigns or events online to help us reach more donors," said Mr Yong Teck Meng, national director for Habitat for Humanity Singapore, which rehabilitates homes for the needy.
NICHE CAUSES
With charities moving online, however, those supporting niche causes are finding it more difficult to compete.
Babes Pregnancy Crisis Support, which assists pregnant teenage girls, has seen a 60 per cent drop in donations compared to the same period last year. It has had to scale back on its usual assistance to beneficiaries, and is providing them with the bare essentials instead.
Buds Theatre Company, which offers theatre training to disadvantaged youths, has encouraged its seven staff members to look for alternative employment temporarily because donations and earnings from education programmes have dropped.
"The arts is generally a sector that is last on the list of most people's donation priorities," said its artistic director Rebecca Lee. "This is not something new, healthcare, human rights, education have always received greater consideration, and rightly so."
RSVP Singapore, an organisation of senior volunteers, said its ventures into online fundraising have been "somewhat limited", with overall donations having fallen by up to 40 per cent since the pandemic hit.
"While our cause is meaningful, individuals and corporations do not see it as a dire need in this current situation," said its chairman Koh Juay Meng.
For Thye Hua Kwan Moral Charities, which has not been affected by drops in donations, its focus now is to find more people who need help rather than to raise funds.
"Now is the time to give and not to take donations," said its chairman Lee Kim Siang. "We are very mindful of this… when times are bad, as a charity you must make the extra effort to help the poor and the needy, that's what we're doing."