Covid-19: Some employees still made to return to workplaces when working from home is first option
SINGAPORE — Her job in a web design agency could all be done from home, but her bosses still required employees to be in office. While there, her employers were often seen not wearing their masks. Speaking on condition of anonymity, Rachel (not her real name) who is in her 30s told TODAY that she was so frustrated and upset, she quit her job to protect herself.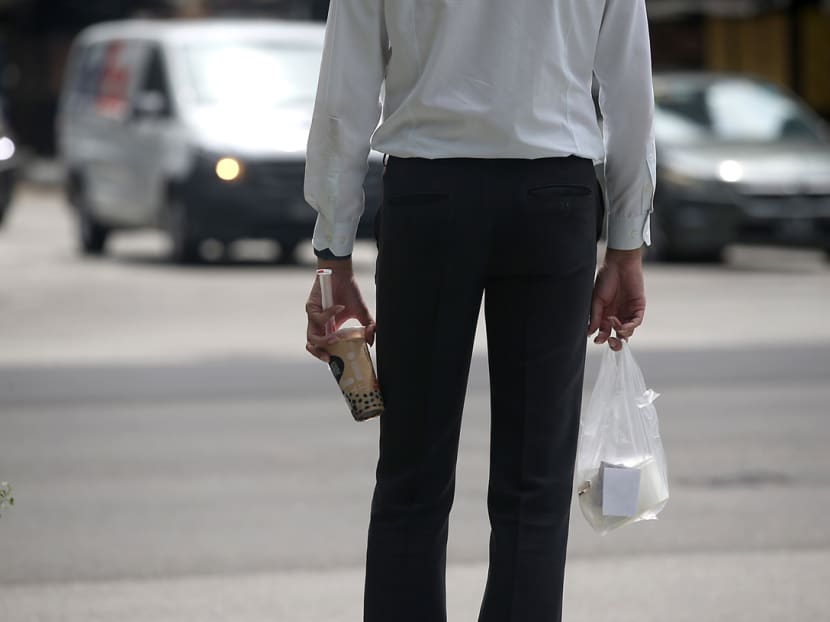 Some employees have been asked to continue working from their offices against the Government's call 
They said their companies did not give good reasons for this arrangement
The workers are worried about being exposed to Covid-19 with the rise in community cases
Some employers said workers who provide essential services cannot work from home
Others cannot access digital systems from home because of security reasons
SINGAPORE — Her job in a web design agency could all be done from home, but her bosses still required employees to be in office. While there, her employers were often seen not wearing their masks.
As Singapore is in a state of heightened alert with growing cases of Covid-19 in the community, so, too, are workers more anxious and feeling like they are under the mercy of their bosses when their health appears to be sidelined.
The Ministry of Manpower said in an advisory on May 14 that employers "must ensure all employees who are able to work from home do so". This is part of an overarching set of recent infection control measures to arrest the disease spread in the community.
Speaking on condition of anonymity, Rachel (not her real name) who is in her 30s told TODAY that she was so frustrated and upset, she quit her job to protect herself.
She said that in her office, they were split into two teams who alternated their working days, but she believes that she was still susceptible to the coronavirus because there were no cleaners hired to disinfect the office in between their shifts. 
"Every day when I was heading into the office, I went with dread — because I didn't know if the next person to get Covid-19 was going to be me." 
The lack of safety precautions in her company and what she saw as the inconsiderate behaviour of her employers finally reached a boiling point for her. She resigned some time over the last month. 
"I just decided that this was not worth it. I didn't want to get Covid because of my bosses' ignorance or complacency or just really 'zero' care for employees," she said. 
Rachel was one of a handful of employees interviewed by TODAY who had been asked by their employers to work in their offices despite the Government's directive. 
Several of these workers said that they are not providing an essential service or that their jobs can be done from home. 
Some also felt that their management did not give them good enough reasons for keeping them at their workplaces, believing that their bosses merely wanted to see that their staff members are physically in the office. 
They spoke to TODAY on the condition that they not be named because they are worried that they may lose their jobs. Some details have also been purposely kept vague to avoid identifying them. 
Since last Sunday (May 16), stricter regulations have been in place to limit the number of people gathering in public, at events and at home, and people are not allowed to dine in at eateries.
These rules will be in place until June 13 but the Government's Covid-19 task force will be reviewing the situation in about a week or so to see if the infection controls are working.
NO GOOD REASONS GIVEN
Mary (not her real name), who is doing part-time administrative work in a professional services firm three days a week, said that her employer told her to continue going to the office on all three days.  
When Mary, 51, who also works as a private-hire driver, asked her employer why she had to continue working from the office, she was told that it was because she was a part-timer. 
"Why must (some people) go in every day? During circuit breaker last year, we could pick up the phone every day from home. All calls are directed to that phone number. Why can't we do it now?" she asked. The circuit breaker was Singapore's partial lockdown last April and May when non-essential activities had to stop and people had to stay home. 
Mr Ng, who is working in a company near Tan Tock Seng Hospital, echoed the same sentiments. 
He was working from home in the first two weeks of May on his employer's instruction given that the company was located near the hospital, which was the site of Singapore's biggest Covid-19 cluster in the early part of the month.
When community infections continued to rise and the Government announced on May 14 that it was tightening restrictions on movement and gatherings, he thought that his company would extend the work-from-home arrangement.
Instead, it sent an email asking operational staff members to return to work because they have to prepare for an upcoming major project. 
He noted that the same major project his company had to undertake last year could be done with everyone at home during the circuit breaker.
Mr Ng, who declined to reveal his full name, said: "We are just next door to Tan Tock Seng Hospital. The cluster isn't going away… Going to Novena (area where the hospital is located) almost every day on the train… It's pretty worrying." 
Now staying with his older parents, Mr Ng said that he tries to avoid contact with them as much as possible after he returns from work.
'WE ARE EXPOSED'
In Mary's company, she noticed that colleagues from split teams who should not be meeting have turned up in the office on the same day. 
"We are exposed. Everyone is exposed. This is why I'm disappointed with the arrangement… I feel safer driving on private hire than being in office," she said. 
She told TODAY that she plans to report her company to the Ministry of Manpower. 
Rachel who quit her job said that she has already made the report. She did not buy the reason given by her web design firm, which said that it was providing an essential service since demand for digitalisation has gone up during the pandemic. 
However, she believes that the core problem was her employers' basic distrust of their workers. 
"The bosses, they cannot stand the fact that they cannot see people in the office doing work. They just cannot trust that 'while you are at home, I trust you will finish the project'," she said. 
This problem seems to be apparent not just in small- and medium-sized companies where Rachel was working, but also in large banks. 
Wayne (not his real name), who is part of a team handling the back-end operations for a bank, said that the current arrangement to have about 30 per cent of his company's workforce in office is not fair. 
He believes that his work could be done from home since he has all the required access to the bank's systems. 
"I think it is the management that prefers to have staff present physically in the office. It is more or less down to trust issues… because they are not willing to provide access to everyone in the team," Wayne, who is in his 30s, said. 
For now, he is not too worried about being exposed to the virus. His company has put in place enough precautionary measures such as paying for his taxi trips to and from office. 
A consultant in a real estate firm told TODAY that he is also not too worried about having to work from the office three days a week because he has already been vaccinated with two doses. 
Being in the same workplace does help in getting work done faster, the 45-year-old said. 
"I have to strike a balance between work efficiency and safety. At the moment, it's still not too bad."
WHAT COMPANIES SAY 
Employers interviewed by TODAY said their staff members are asked to work from home except where their physical presence is needed or if they carry out essential services. 
Mr Patrick Chew, head of operational risk management at OCBC bank, said that its managers will enable staff members to work from home "as much as possible". 
For those unable to work from home, such as those serving customers at bank branches, Mr Chew said that staggered working hours, safe distancing and temperature screening are among the precautionary measures that the bank takes.
United Overseas Bank's head of group human resources Dean Tong said that more people have been asked to work from home where possible, but colleagues in critical job roles, such as those at its branches or handling information technology work are in the office because banking is an essential service. 
There are staggered work hours and split shifts for teams, and employees have to wear masks and be 1m apart from each other. 
DBS bank said that at least 70 per cent of its workforce in Singapore have been working from home since May 16. 
Those who need to head to the workplace are in roles where secured systems cannot be accessed remotely or are in frontline roles.
Mr Sam Chee Wah, general manager of manufacturing company Feinmetall, said that all of his employees who used to work in the office have been working from home for the past one week. 
Only employees on the manufacturing line go back to the workplace. However, he said that his company had adjusted their working hours from 10am to 4.30pm so that they need not travel during peak hours and therefore reduce their exposure to the virus. 
Ms Jasmine Chee, who is the principal at tuition centre Thinker Education, said that it has moved all lessons online. 
Only one administrative staff member still goes to work at the centre to serve parents who go there to collect worksheets for their children.
Ms Chee is looking to have all employees working from home by next weekend when parents have collected all the worksheets.